Taking advantage of vertical wall space, a pair of metal shelves draws your eyes upward while also spotlighting the marble farm sink below. The accessories, neutral save for subtle pops of yellow, are smartly organized with the most frequently used pieces on the easy-to-reach bottom shelves and the once-in-a-blue-moon platters and vases stashed on the uppermost shelves.
All-white open shelving fades into the background, leaving your focus on an eclectic serveware collection of vintage sake vessels, wooden bowls, and earthenware mugs styled as artfully as objets on a bookshelf—a mix of vertical and horizontal vignettes, alternating patterns and neutrals, and everything grouped by type.
A place for everything and everything in its place perfectly describes a built-in that was purpose-made for showing off a china collection when stacking the plates just won't do.
A mix of open shelves and cabinets gives you the best of both worlds—a behind-closed-doors spot to stash the less-than-pretty items in your life (necessary sippy cups, beloved World's Best Dad mugs) and plenty of in-view space to display your sleek canister collection, cookbooks, and piece of art or two.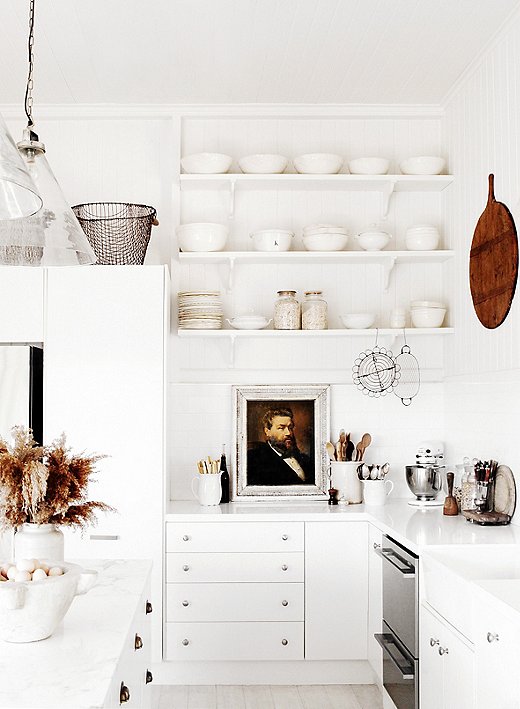 In-the-know designers love a collection because even the most mundane items look stellar when en masse. Not that there's anything mundane about a gorgeous grouping of white tureens, but their similar size and scale adds punch to this white-on-white shelfscape.
Since open shelving lets your eyes pass all the way to the wall behind it, it's a great way to show off a pretty wall treatment. When combined with another right-now trend—subway tile—you get a look that's both old-school cool and easy to clean.
We all know that mirrors are the oldest trick in the book for making a space appear larger than it is. When open shelves are added, you still benefit from the room-widening effect, plus you score a spot to store your stuff.
Live in an apartment and love the look of open shelves but can't do any real renovations? Easy peasy: Just temporarily take off a few of your cabinet doors. Displaying all-white serveware (even serving spoons) makes for serious visual impact. And showcasing items in use daily ensures a dust-free display.
For the dedicated minimalist, one long shelf is a design-forward twist on the open-shelving craze. It lets you corral your items in one space (or behind closed doors), leaving the rest of your surfaces blissfully bare.
No built-ins? No problem. A sizable shelving system along a bare wall will give you the same effect and is a great solution for the tabletop addict (there are several in our office!). Bonus point: The everything-out-in-the-open situation also means that your little ones can more easily help you set the table.