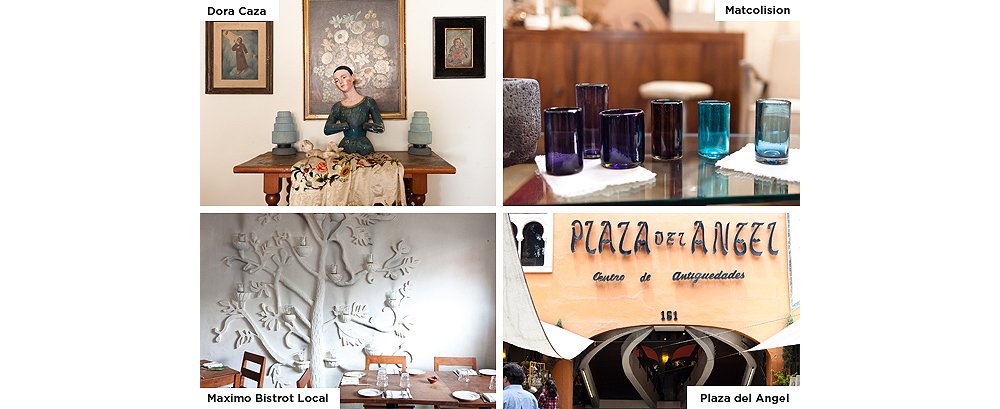 Shop
Matcolision
There's truly something for everyone at this shop, housed in a soaring warehouse space. The two owners sell a range of glassware, textiles, furniture, and accessories, all made by local designers and craftsmen, alongside one-of-a-kind vintage finds.
Dora Caza
Amsterdam 43, PH Colonia Condesa, Cuauhtemoc, 06100 Mexico City,
521-555-256-4956
As a private collector of Mexican antiques, owner Catherine Holt, who had an antiques shop in New York City before relocating to Mexico, runs her well-edited store right out of her home. Call for an appointment.
Trouvé 
Owner Javier Carral has established his store as the spot for unique midcentury finds and himself as an expert collector of designers such as Arturo Pani. Linger for a while and let Carral share the backstory behind some of his favorite pieces.
Plaza del Angel
Londres between Amberes and Av Florencia, La Zona Rosa
Chock-full of passageways filled with both high-end antiques and a good amount of junk thrown in to keep the treasure hunting interesting. Open Saturdays only.
Stay
Hotel Brick
Design types are sure to love this 17-room boutique hotel for its unique juxtaposition of styles (the building is Beaux Arts in the front, with a multistory glass addition on the back) and its central location, just a short walk from a ton of museums, galleries, and cafés.
Eat
Maximo Bistrot Local
This eatery's commitment to sourcing local, seasonal ingredients also extends to the restaurant's decor—everything from the clean-lined wood tables and chairs to the simple napkins and plates is made by artisans in the area. The hip crowd it attracts makes for great people watching.
Fonda el Refugio
If an authentic Mexican dining experience is what you're after, this classic, old-timey place is where to book a table. The menu pulls together regional specialities from all over Mexico.
Explore
Palacio de Bellas Artes
Pure Beaux Arts outside and Art Deco inside, this building is the most important cultural center in Mexico (think Lincoln Center in New York) and boasts immense murals by some of the country's greatest artists, including Diego Rivera. Inside the concert hall is an enormous stained-glass curtain by Tiffany.
Mercado de la Merced
The food markets in Mexico City are incredible, but this multibuilding emporium is the mother of them all. Fruits and veggies reign in the market's main building, with specialized offerings such as chiles and nopales (catcus leaves). Delicious street food makes spending an afternoon here that much more enticing.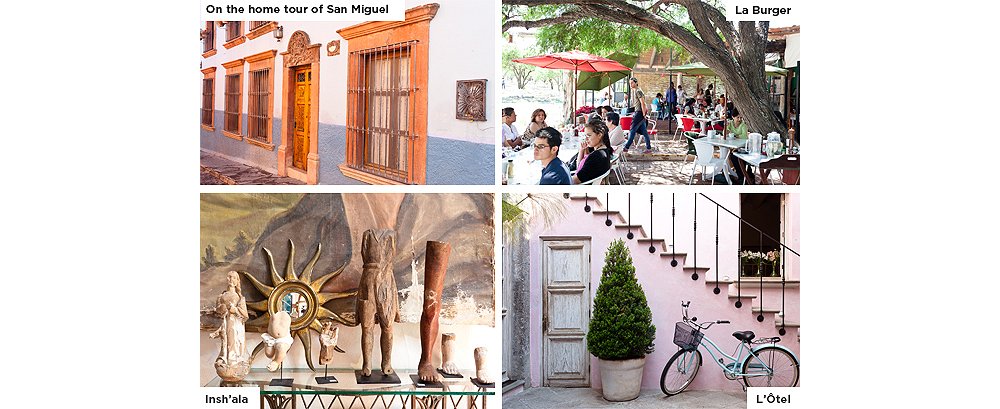 Shop
Insh'ala
Owned by our very own guide to Mexico, Carol Romano, this standout shop is the place to go for one-of-a-kind treasures. Romano mixes tableware by local artisans with her finds from buying trips to Morocco, Turkey, and Syria. It's the type of place where you may go to browse but you'll undoubtedly end up buying.
La Calaca
Filled with owner Evita Avery's collection of antique and contemporary Mexican folk art, including almost-impossible-to-find antique tabletop pieces, this shop is an institution in San Miguel.
Casa Katalina
Jesús 26, San Miguel de Allende,
26-415-150-0061
A jewel box of a shop offering custom-designed and original objects from Mexico, such as antiqued mirror trays and boxes.
Stay
L'Ôtel
This beautifully decorated four-room bed-and-breakfast is an attraction unto itself. The rooftop terrace includes a pool and amazing views of the city, and it's owned by an ultrastylish couple who did all the decorating themselves. Did we mention the complementary bikes?
Eat
La Burger
With some of the best steaks and fries around, not to mention burgers, this casual spot is packed with locals on the weekends, all vying for a spot at one of its outdoor tables.
The Restaurant
For a more upscale dining experience, this restaurant inside a 300-year-old colonial house with Moorish arches is arguably the best culinary experience to be had in San Miguel.
Cumpanio
Part bakery (panadería), part pastry shop (pastelería), this is the perfect place to start your day. If you can't make it there until later there's another type of treat in store for you: The location also has a well-designed restaurant for more-savory evening fare.
Explore
Tour San Miguel's Private Homes
The streets of San Miguel de Allende are rich with doors leading to beautiful homes, and sometimes you're lucky enough to get a peek inside. Make the peeking official by taking a tour, run by the Biblioteca Pública, the local public library.
El Charco del Ingenio Botanical Garden
Take a long walk through this botanical garden and nature conservation area located above the town of San Miguel.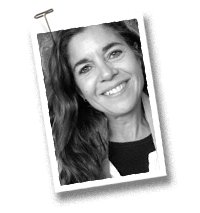 Our Insider Source: Carol Romano, owner of Insh'ala
"I've always done a lot of buying for my store in Mexico and I'm constantly on the lookout for beautiful, one-of-a-kind objects."