If there's one Los Angeles party you want an invite to, it's Cynthia Vincent's outdoor movie night under the stars. The Twelfth Street fashion designer has been hosting screenings in her dreamy backyard for more than 20 years, so we were beyond thrilled to join. See how she pulls off this fun alfresco fete, score her laid-back, boho style tricks, and shop the look. Ready, set, action!
THE SEATING: Layered and Lively
Cynthia created cool, comfy nooks for lounging by piling her patio furniture with throws and pillows pulled from inside her home. Partygoers also kicked back on rugs covering the ground, which provided extra padding and kept their garb grass-stain free.
My personal style is eclectic. It's a mash-up of influences from all over. I always say all tribes are welcome. It's how I design and how I decorate.
THE SET-UP: Easy Does It
All you need is a sheet, a clothesline, and clothespins to pull off a Cynthia-style screen. As for placement, hang it in a spot that will be bathed in the least amount of "other" light possible because there's no faster way to kill a movie screening than with street-light glow. Cynthia also has her own projector (they're a cinch to rent if you don't), and built-in outdoor speakers, but swears by Stellé's Audio Pillar, a portable system that works with Bluetooth she's used in the past and loved.
When the movie started, we had extra chairs, but everybody went straight for the floor. Strangers were practically on top of each other. We were passing around Milk Duds and popcorn. It was so fun!
THE FOOD: Twists on Traditional Theater Treats 
Cynthia considered standard movie munchies then did them one better. Her insanely delish spread included everything from a gourmet nacho bar to three types of popcorn to vodka-soaked gummy bears (it's a party, after all!). Of course she also stocked up on the can't-beat-em classics: Milk Duds and Junior Mints.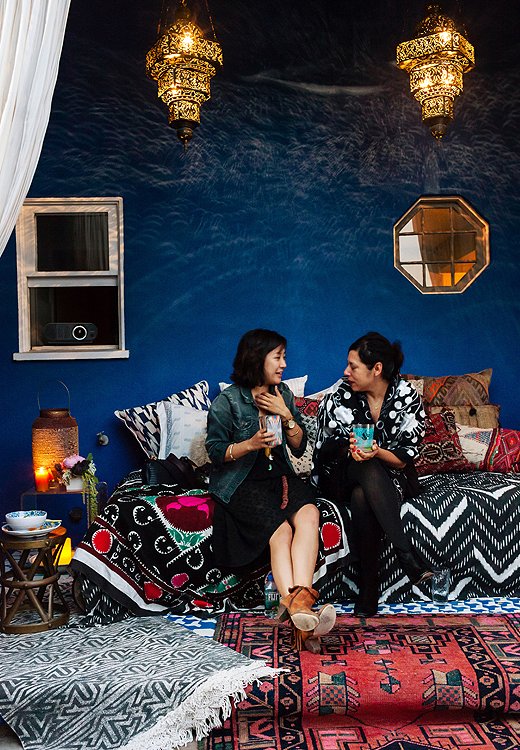 THE TIMING: Sunset Showtime
The bash started at 7pm (though many enthused guests arrived early), giving people time to catch up before the screening kicked off at sundown. After the credits rolled, the party picked back up as Cynthia cranked the music up and everyone swapped thoughts about the film, one of Cynthia's favorite parts of the night.
I'll set out big stacks of bedding, throws, and sheepskins to make sure people are as comfortable as possible.
THE FILM: A Cult Classic
A die-hard movie buff, Cynthia chose the 1971 black comedy Harold and Maude for this crowd since many had never seen it. In the past she's screened North by Northwest (one of her all-time faves) and My Fair Lady—both big hits. Up next? A kids-only showing of Bedknobs and Broomsticks as requested by her daughter.