There's something arresting and transporting about homes veiled by vines and lavish blooms. A bungalow overgrown with ivy and vines immediately evokes images of an English countryside cottage, while an arched entry crowned with bougainvillea inspires visions of blue-and-white homes stacked along the Greek Islands.
With the arrival of spring, we're spying myriad facades in bloom along tree-lined streets and tucked away on corners, and we're feeling inspired to bring the look home.
Read on to discover a few ideas for your outdoor spaces that can easily take root with just a little bit of planning. And as with all things gardens, be sure to get the full scoop on the right flowers, species, and care for the plants you're plotting for your home.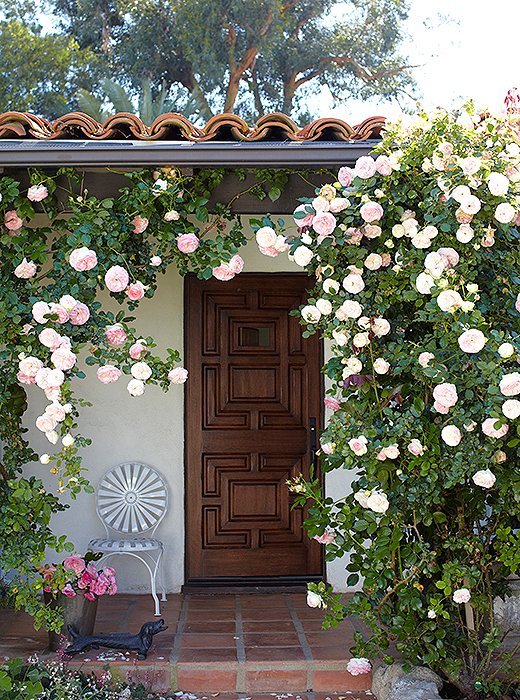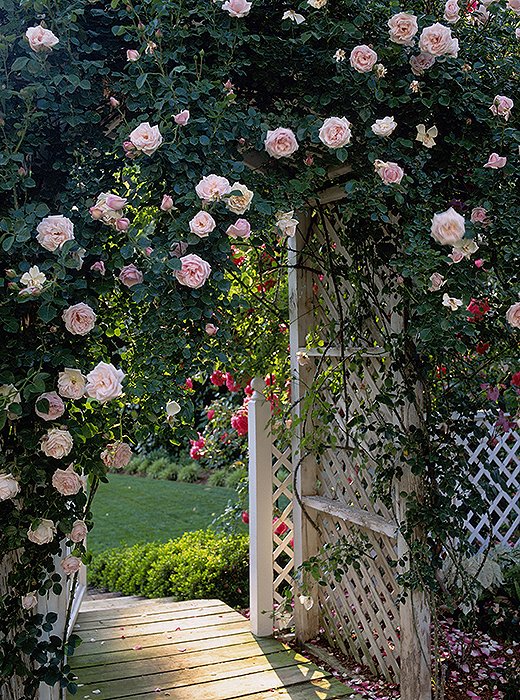 Frame It with Fragrant Rosebushes
Classic rosebushes can grow into fabulous floral frames that bring colorful structure to your entry and gardens. Do as designers such as Bunny Williams and Charlotte Moss do and let roses wind freely along fences, trellises, and archways. Along with their delicious, sweet scent, they'll add allure to any alfresco space the moment they burst into bloom.
Good to know: Rosebushes should be planted as early as six weeks before your garden zone's last frost date or as late as two weeks after; you can plant climbing roses in early spring. Regardless of the type of rose you choose, it should be placed where it will receive direct sunlight (ideally six hours) every day.
Best time to plant: As with all plants, the best time of year to plant depends on your garden zone. For roses, plant them when the ground isn't frozen, very dry, or conversely, wet and muddy from spring showers. Typically a good time frame is late autumn or winter (around February) to early spring in April.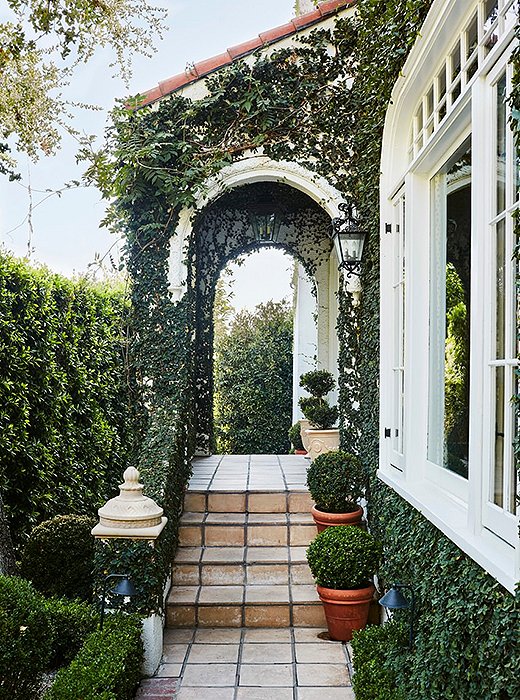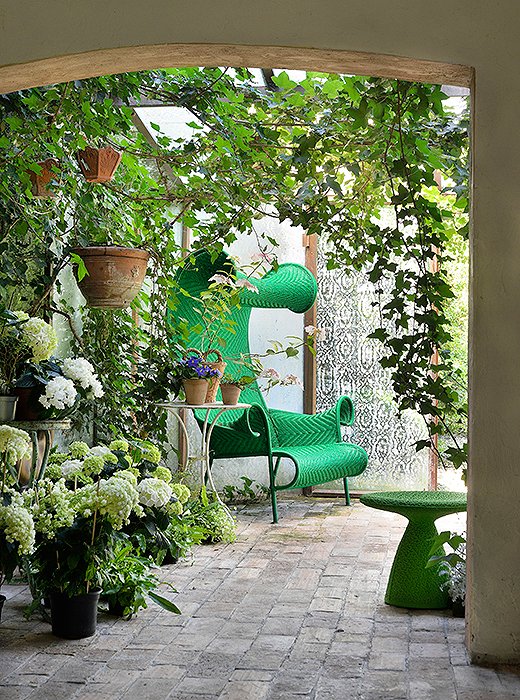 Leave It to Ivy Vines
Let climbing ivy vines and evergreens scale your home's facade and walls carefully; it's one way to channel the lush foliage-covered exteriors of a charming Cotswold cottage. Mix in other large leafy greenery and light-hued hydrangeas around the ivy to create an overgrown look that's bound to enchant no matter your outdoor space.
Good to know: Be sure to check with your garden shop for the right ivy to bring home—some species of this vigorous vine are invasive and are not meant for planting. Also ask for the best ivy for your exterior's facade material—ivy spreads speedily and can sneak into gaps, crevices, and pipes. Lastly, some careful trimming and maintenance is required, especially around window and trims.
Best time to plant: Fall or early spring. If you're bringing in multiple pots of ivy to grow along a wall, be sure to spread them out to give them plenty of room to climb (they can cover a wall of more than 50 feet high). A wall that gets direct sunlight to keep them dry is ideal.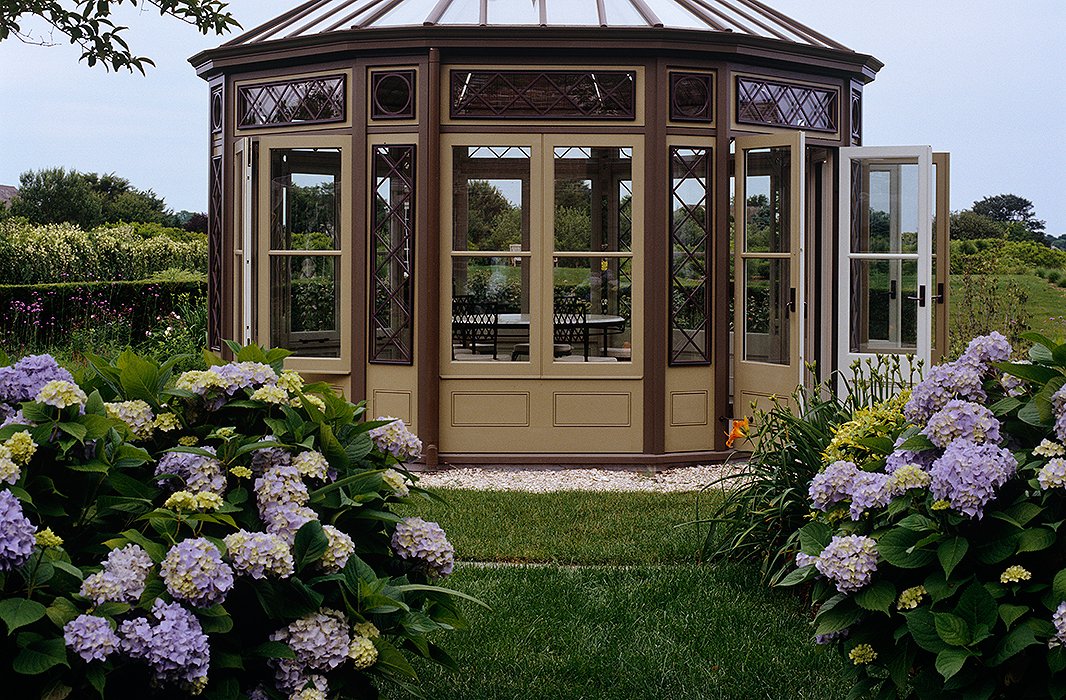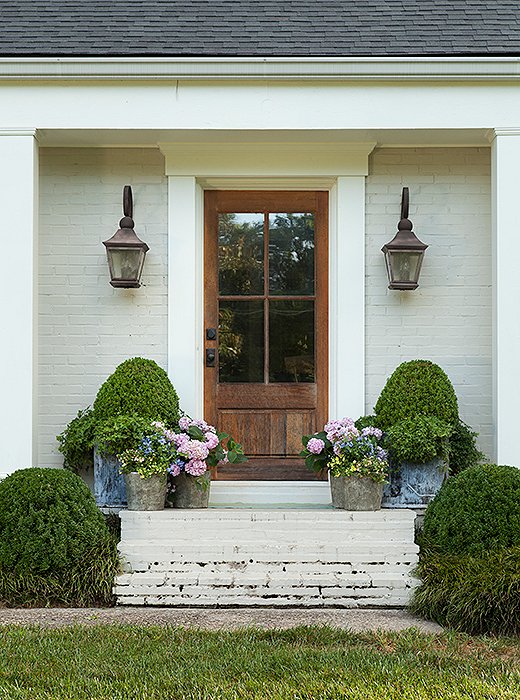 Pave It in Hydrangeas
These beautiful clustered blooms provide welcome color indoors and out—whether they're gathered in a vase, flanking your front door in simple pots and planters, or blossoming on full hedges in your garden. With their soft full petals, it's easy to see why they're a decorator favorite for freshening up and finishing spaces.
Good to know: Hydrangeas, in keeping with their name, need to be continually hydrated. Some 75 species of hydrangeas in a range of pretty hues can be found all over the world, from the Americas to Southern Asia. And a word of caution: Don't let the gorgeous colors deceive you—these full-blooming flowers are slightly toxic if consumed.
Best time to plant: Late fall to early spring. They thrive on rich, porous, and moist soil, full sun, and some partial shade. Just be sure to water your hydrangeas frequently as they blossom into summer.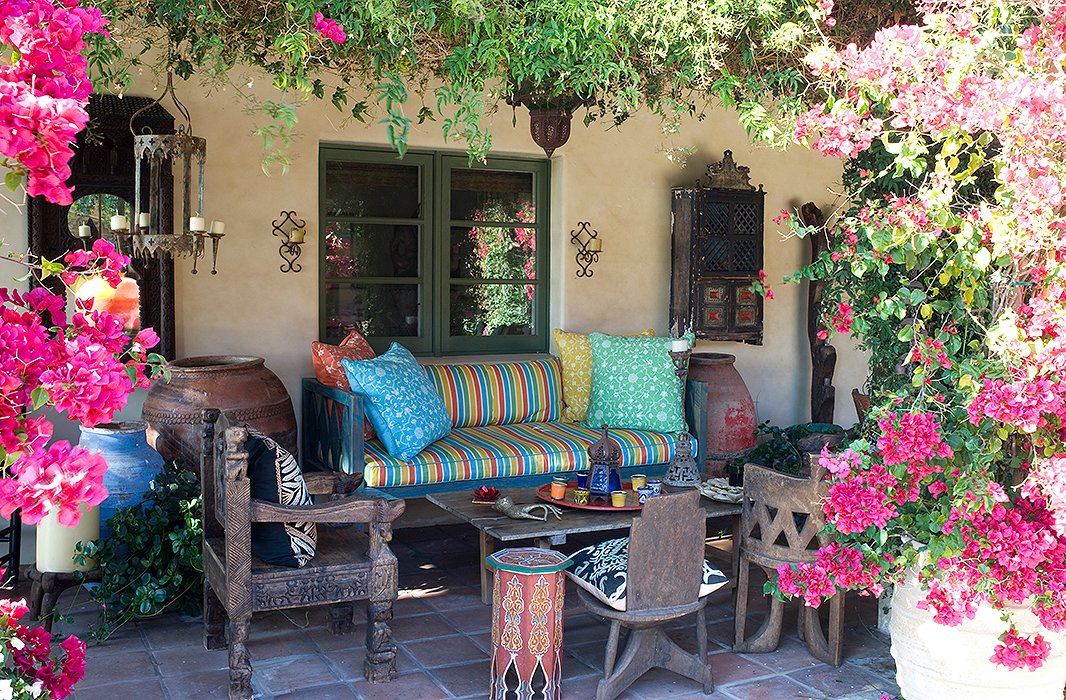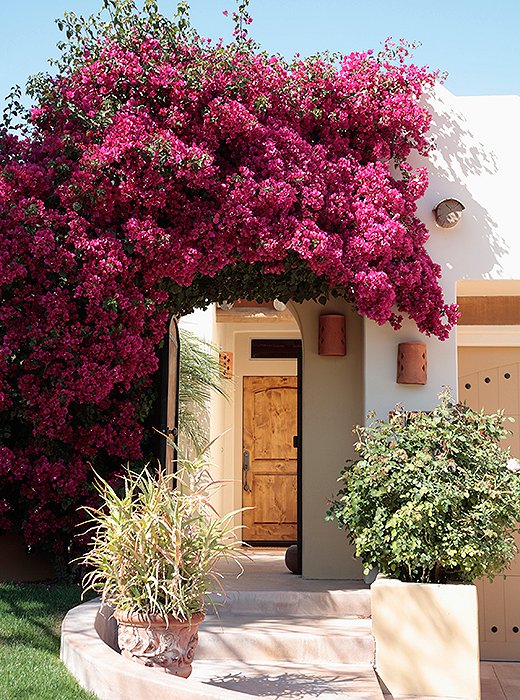 Brighten with Bougainvilleas
When it comes to a wild burst of color, there's no denying the vividness of the bougainvillea, a voluminous floral with deep-pink petals. In full bloom, bougainvilleas bring an arresting focal point to entries and outdoor lounge areas alike; their gorgeous color makes them a vivacious complement to pillows and textiles in outdoor spaces.
Good to know: Native to South America, bougainvilleas are perennial vines that flourish in full sun and relatively hot and dry temperatures and regions; they require only a little water and some fertilizing and pruning each season. Plant them near walls and facades to train them to climb. 
Best time to plant: Plant these profuse bloomers anytime between May and December. They can stay abloom for up to 11 months if planted in the right climate, often making them gorgeous showstoppers even during winter's peak. They'll then regrow each spring to their full shape and color.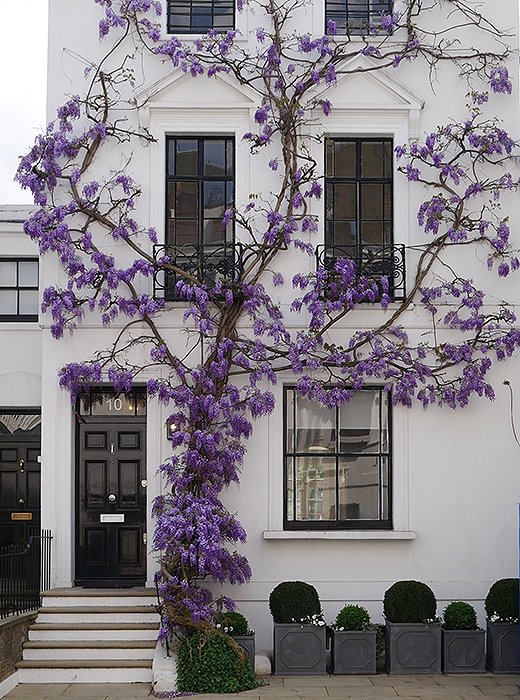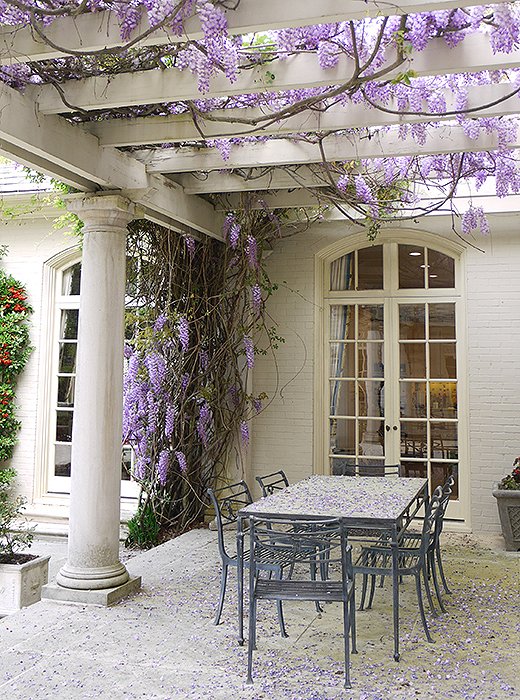 Make Way for Wisteria
Few florals cause us to stop in our tracks as delicate weeping wisterias do. These dripping lavender beauties have a serenity about them that inspires calm wherever they hover—be it on a townhouse facade, above an alfresco dining space, or in an allée over a pergola that frames a garden path.
Good to know: With wisteria trees, a fair amount of planning is required. To train wisteria to entwine a pergola, make sure it's planted along a sturdy structure, and start by allowing two or three young shoots to wrap loosely around each other.
Best time to plant: Either April or the height of fall. You'll have to plant this tree (moist, well-drained soil is best) seasons ahead before you can reap the rewards of its beautiful wispy blooms. Once planted, wisterias can live for long periods with a bit of pruning twice a year.