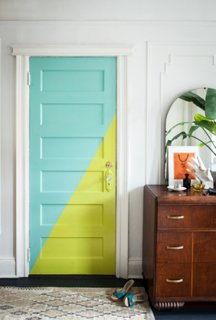 One of the things I love about my bedroom is all the original molding on the walls. I toyed with painting the walls a color but settled on a clean fresh white to keep the look from getting too complicated. That being said, after a long winter, I decide to give my neutral palette an unexpected splash of color just in time for spring.  Keep reading for a few tips and tricks for a flawless paint job.
Here's what you'll need:
1 quart green paint (I used Benjamin Moore Granny Smith CSP-860 in semigloss)
1 quart yellow paint (I used Benjamin Moore Fun 'n Games 647 in semigloss)
Painter's tape
Paintbrush
Tip: If you want to experiment with your own color combo for this project, pick out 10- 12 swatches, and try mixing and matching them until you get a combination you like.  You might be surprised at what looks good together.
Base Coat
Begin by painting the door all one color. I chose to start with the green because I knew I wanted my door to be mostly that color.
Tip: When painting a paneled door, start with the panel edges. Then paint the flat areas in long, even strokes.
Accent Color
Once the first coat of paint is dry, use your painter's tape to mark off the area for your second color. To prevent seepage, smooth the tape edge in place with your finger. Begin applying paint to the taped seam first.  To ensure a crisp edge, brush the paint across the seam from the tape to the edge of the door, working in thin layers to prevent drips. After you have painted out the taped edge, move on to the panel edges, and finish by painting the flat areas, just as you did before. Now all that's left is to carefully remove the painter's tape and stand back to admire your work of art.
Inspired to go a little further? Read all about how to create this upholstered door on  Design*Sponge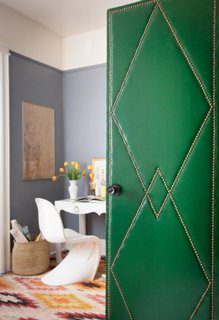 Photography by Lesley Unruh