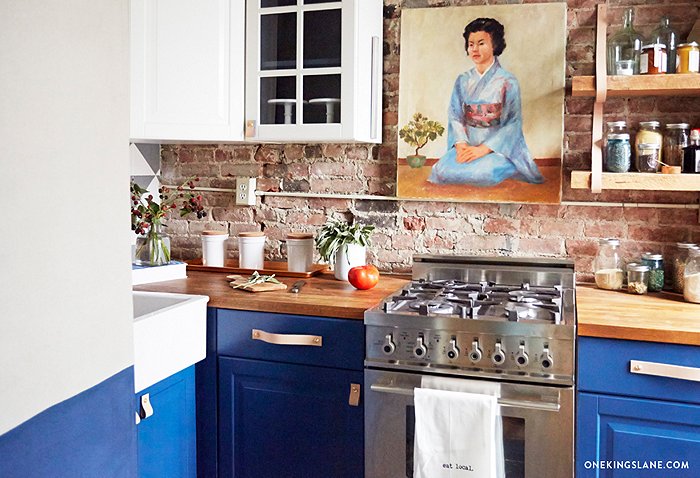 When Juliette, a friend and co-worker, asked me for a little help putting the finishing touches on her kitchen, I was totally up for the challenge. First, we added a fun pop of color in the form of blue lower cabinets (more on that below). Once the cabinets were painted, I was feeling pretty good about things. One problem remained, however: the stacked washer and dryer perched prominently in the corner. Ugh!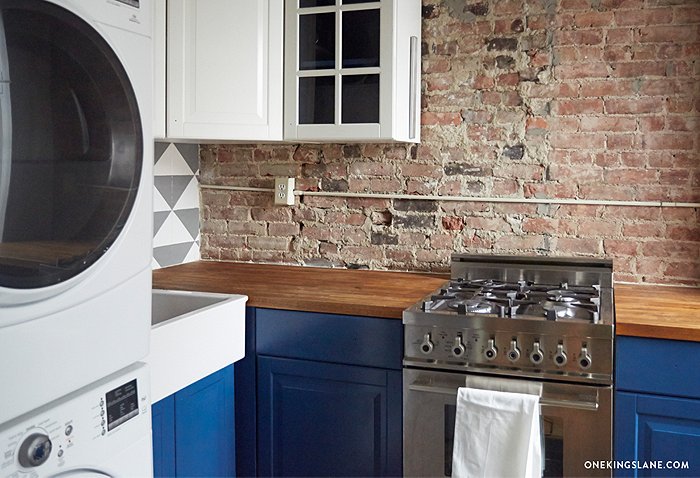 The Solution
Since hiding the laundry unit was our only option, I decided to use an inexpensive canvas drop cloth to create fabric panels to hang in front. For added durability and style, I used the leftover paint and primer from the cabinets to give the bottom of the panels a painted edge that lines up with the painted lower cabinets and helped them visually disappear into the space. Ready to see how I did it? Let's get started!
Tip: There's sewing ahead, but if sewing is not your thing you can use premade curtains or have the seamstress at your local dry cleaner sew these for you.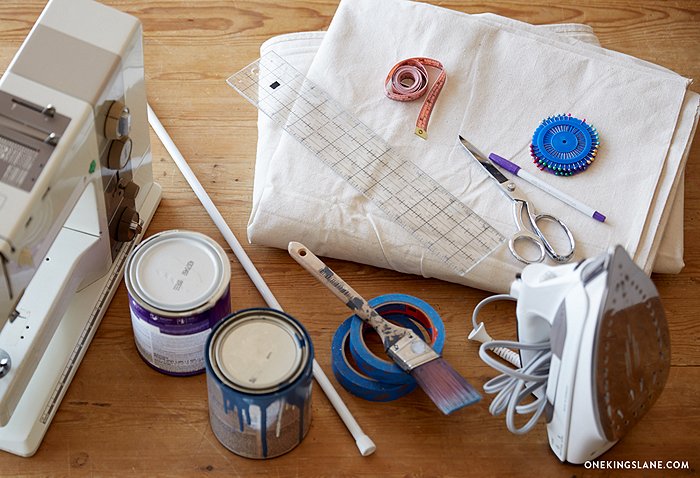 Here's What You'll Need:
Sewing machine
Iron
Fabric marker
Measuring tape
Scissors
Drape hardware appropriate for your space (I used ceiling mounted)
Latex house paint
Primer
Paintbrush
Painter's tape
Large canvas drop cloth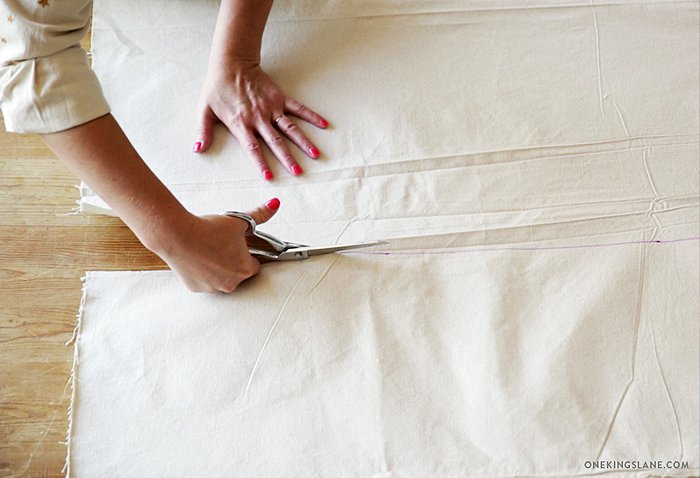 Cut to Size
To begin, I measured the finished length and width of the space I wanted to cover and then added one inch to both sides and the bottom edge for a seam allowance. Along the top edge I added 6 inches to accommodate my curtain rod channel. Use a tape measure and a fabric marker to mark out the dimensions of your panel (with the seam allowance) on the canvas, and cut it out.
Tip: It's a good idea to hang your curtain rod before you measure. That way you are sure to get an exact fit.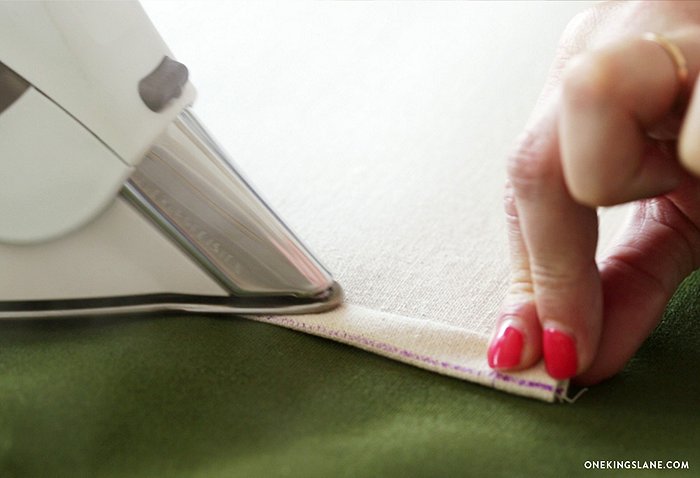 Fold and Iron Your Seams
Because the canvas drop cloth is really thick, I found it helpful to iron my seams before I sewed. To make sure I got a straight edge I used my fabric marker to mark a line where the finished edge of the panel should be. That line served as a guide when I was ironing and folding.
Tip: Folding your edges over twice will conceal the raw edge of the fabric inside the seam.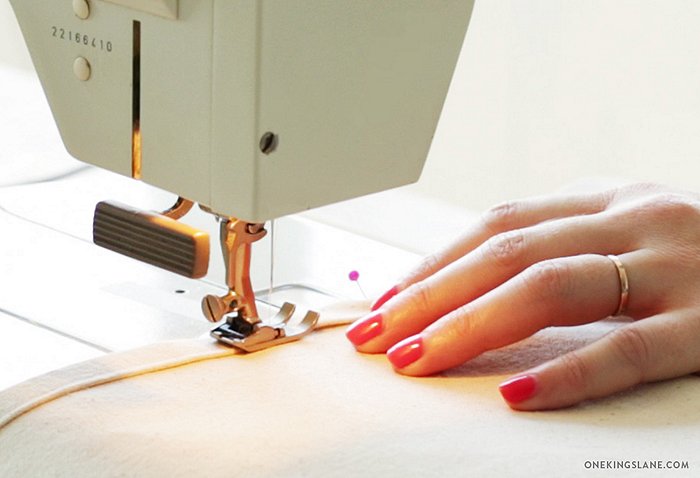 Sew
Next, simply sew your seams. I like to sew the sides first and then tackle the top and the bottom. This helps keep things looking even and ensures that you can get your curtain rod through the top channel.
Tape and Prime
Measuring from the bottom up, place a line of painter's tape along the edge of the area you plan to paint. For this project, I made sure my painted edge matched up with the top of the counter. Before you paint your chosen color, prime the fabric to get an even coat.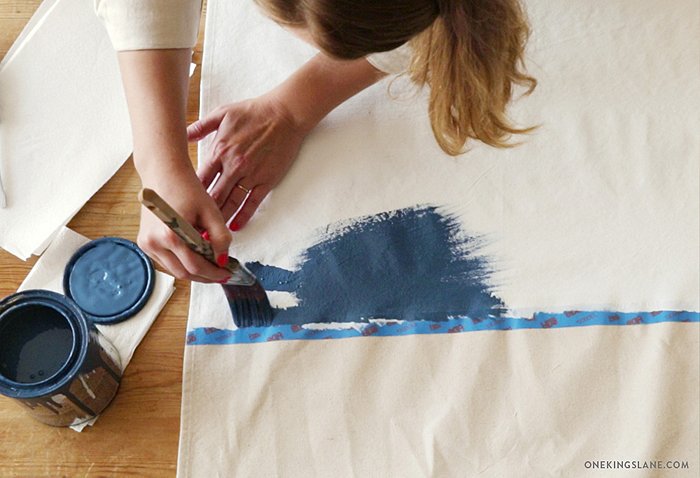 Paint
Apply the paint. One coat should do the trick. Once this is done, you're basically finished: Just let it dry and hang! I used a curtain rod that I attached to the ceiling for a clean look.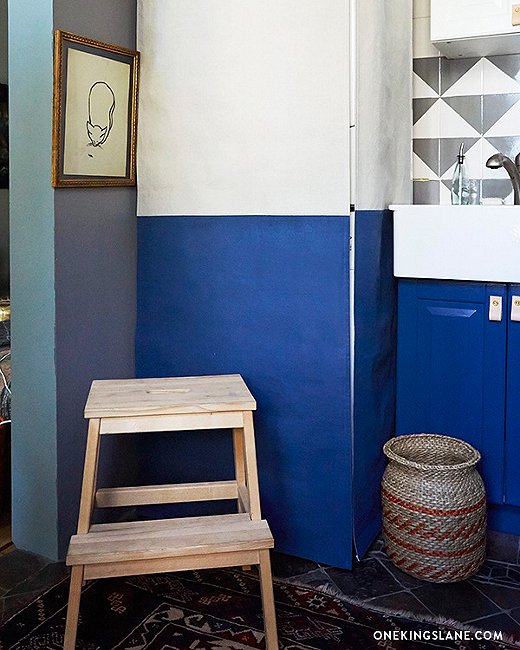 Other Drop-Cloth Curtain Ideas:
Close off a doorless closet
Use for inexpensive window coverings
Add privacy to a glass front door
Create a corner fort for kids
Tips for Painting Cabinets
Painting prefinished cabinets is a great way to give them a custom look, and it's really simple. Here are a few tips to help you along:
#1: Prime Time
The key to success is the primer. I used Zinsser shellac-base primer to prep the surface of the cabinets before painting. This stuff will stick to anything! You'll  be sorry if you use anything else, trust me.
#2: Work Clean
After making sure the cabinets were clean, I used a paintbrush to apply the  primer. Once the primer was  dry (about 45 minutes), I gave the cabinet a coat of blue. I used Ralph Lauren Rue Royale paint in a semigloss finish.
#3: Ideal Tools
It's really a matter of personal  preference, but I like to use a 1.5-inch soft-bristle paintbrush for cabinets. I used the same one for both the paint and the primer.
For more projects, check out my Weekend Decorator project page. Have a vexing design dilemma? I'd love to help! Hashtag a snap with #WeekendDecorator on Instagram. 
Photos by Manuel Rodriguez