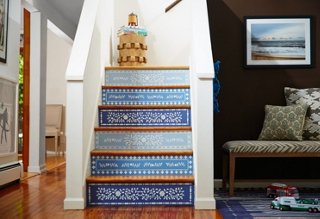 The stark staircase in the home of our senior style and photo director, Elana Frankel, has always bothered her. It just didn't reflect the exuberant style and energy of Elana or her young family. In short, it needed a little love. When she turned to me for help, I jumped at the chance. She knew she wanted to paint them some shade of blue, but otherwise she gave me free rein to have some fun.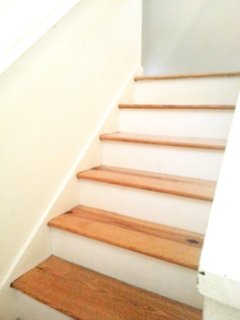 Before
Elana's home is actually a converted church built in the 1800s. The stairs, while functional, felt a bit blah in the otherwise unique structure.
After
Elana is a big fan of prints, so I wanted to incorporate pattern in some way. I'd been noticing a lot of beautiful stenciling online, so when I found a mix-and-match stencil set inspired by bone-inlay furniture, I knew I had a winner. Rather than using one shade of blue, I decided to alternate among three shades to create a subtle ombré effect.
See below for my step-by-step guide to the project.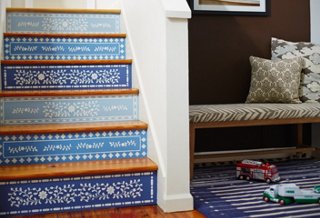 What You'll Need
Stencils
Flat, eggshell, or semi-gloss house paint
Stencil brushes
A paper plate
Spray mount
Painter's tape
Sand paper (150 grit)
The Prep
I started by lightly sanding the stair risers, then wiping each down with a damp cloth to remove the dust. After masking off with painter's tape the area to be painted, I gave each riser two coats of paint.
The Stenciling
Once the paint was dry to the touch, I used white paint to stencil the pattern onto each riser. Stenciling is really easy if you follow a few simple tricks:
1. Lightly mist the back of your stencil with spray mount. This will help hold it in place and keep your lines crisp.
2. Apply paint in a tapping motion with a flat-end stencil brush.
3. Use very little paint on your brush, building up layers until you reach the desired shade. A paper plate works great as a palette because the surface allows you to tap excess paint off your brush.
That's it! To my delight, Elana was as thrilled as I was with the final result.
Resources:
Paint: Farrow & Ball in Lulworth Blue, Cook's Blue, and Pitch Blue. Benjamin Moore in White Dove. Stencil and brushes from Cutting Edge Stencils. 
Photography by Tony Vu and Tara Striano