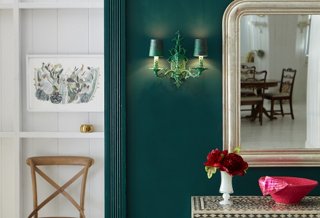 After passing by many a forlorn sconce at thrift stores and flea markets, I realized one reason these beauties may have been passed over is because their modern potential was getting lost in their dated finish. So I decided to go on the hunt for a sconce that had good bones with an interesting shape and detailing and breathe a bit of new life into it with an updated color, texture, and shade.
Here's What You'll Need:
Primer
Eggshell wall paint (I used Benjamin Moore Cactus Green)
High-gloss wall paint (I used black)
Paintbrush (I prefer a small soft-bristle flat brush about 1/2″ wide)
Wall sconce
Sconce shades
Let the DIY Begin!

Step 1: Prime It
Begin by painting the sconce (make sure it's clean and dry first) with a primer, and allow time for the surface to dry. Keep in mind that not all primers are right for the job, so make sure to read the label and choose according to the material you intend to paint. (Never hesitate to ask for a recommendation when stuck in the paint aisle!)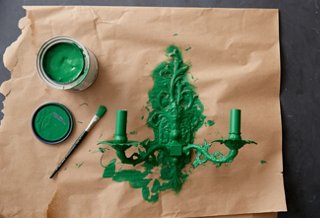 Step 2: Paint It
Next apply the eggshell wall paint on top of the primed sconce, and allow to dry. For this project I chose Benjamin Moore's Cactus Green because it matched the wall color of the room—I thought it would be fun if the light fixture was nearly camouflage with the wall. However, the most important trick with paint is… to choose a color you love!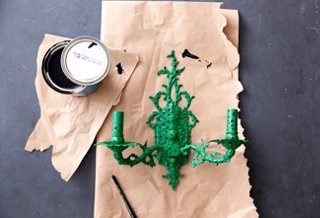 Step 3: Dot It
To get uniform dots my favorite trick is to use the wooden end of the paint brush. Simply dip the wooden end into black paint (tip: for contrast use a high-gloss paint) and dot away! A light touch to the surface is all you need to get a consistent and round dot, so try a staccato approach.

Step 4: Hang It
To finish, attach the bulbs and shades, and then hang! Now, you have a few options here to keep in mind. I chose shades that clipped onto the top of the bulbs because this sconce did not have any hardware for a lamp harp. Also, their malachite pattern and color add to the tone-on-tone effect I was going for. If you prefer a more deconstructed look, try a flame or Edison bulb and go sans shade!
Now watch the project come to life!!