We've gathered a few of our favorite hallmarks of this distinctly Floridian approach to decorating, each bound to add some sunshine to your interiors.
Lilly Pulitzer Palette
The saturated hues and bold prints of Pulitzer's shift dresses reached their popularity pinnacle when Jacqueline Kennedy donned one on the cover of Life magazine in the 1960s, but her daring color combos have never gone out of style. The key here is to keep your colors on a similar spectrum; think turquoise, lime green, sunny yellow, and coral.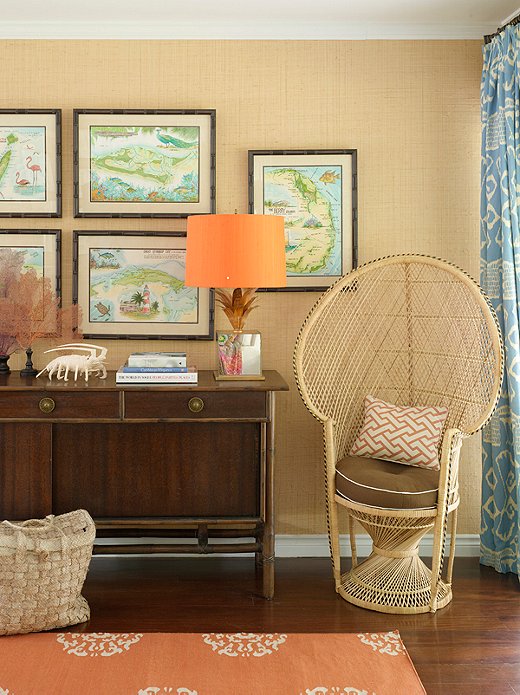 Touches of the Tropics
Like nautical style, its Northeastern counterpart, Palm Beach style embraces all aspects of sea life—but with a distinctly tropical spin. Shells and coral are often-spotted elements, but palm fronds and the stately peacock chair, which is making a major comeback since its Swinging '60s heyday, take the look to a more exotic place.
White, White, and More White
The perfect foundation for this style's bold hues: bright white, of course! Walls up and down Worth Avenue, Palm Beach's answer to Manhattan's Fifth Avenue, are coated in white, and it often pops up in upholstery as well (see which white paints designers deem perfect here). A few other noncolor elements to be on the lookout for when living this look: glam mirrored surfaces and Lucite.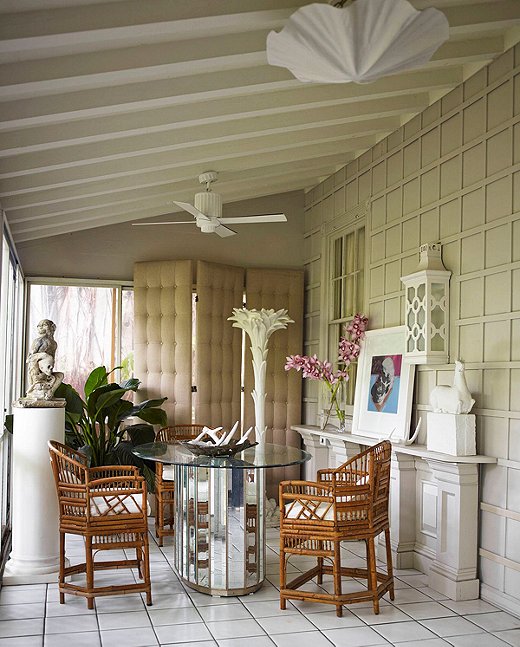 Something Serge Roche
The 20th–century French designer's use of shell and palm motifs in his sought-after white plaster sconces, torchères (a fancy way of saying floor lamps), and tables cemented his pieces as a staple of this style. Collectors and designers are always on the hunt for originals, but stunning pieces "in the style of" Roche are readily available to the rest of us.
Bits of Bamboo, Rattan, and Wicker
If it's bamboo, rattan, or wicker, it's Palm Beach—with extra points if it's lacquered in white or turquoise. Even though these pieces bring with them the escapist aura of the beach, designers like Celerie Kemble, a Palm Beach native, have time and again proved that they work just as well in urban interiors.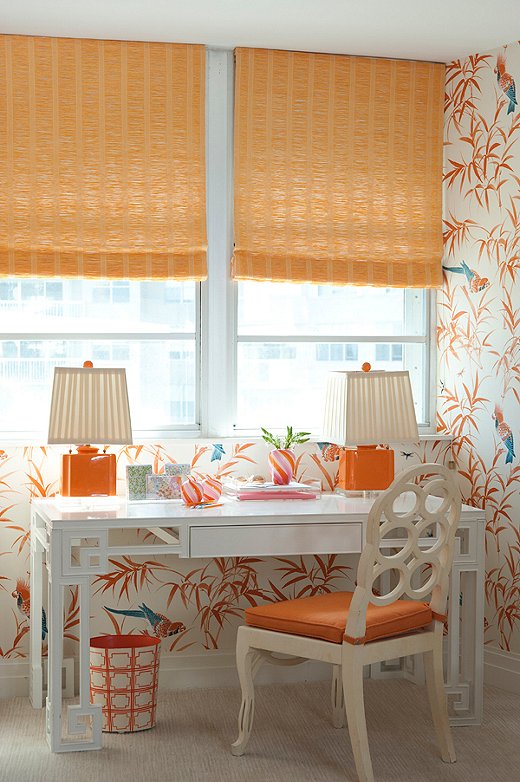 Motif Mash-ups
Where else are you likely to see fretwork combined with an aviary print, plus some caning and maybe a Greek key or two thrown in? It's this fearlessly fun approach to decorating that makes this style one of our favorites. Sticking to a limited palette is an easy way to make a mix of motifs feel connected.