The cool factor of L.A-based design collective Commune is off the charts, with projects it has worked on ranging from the Ace Hotel chain to Irene Neuwirth's new jewelry shop to the packaging of cult beauty line R+Co. Pam Shamshiri, one of the founding partners, works primarily on Commune's residential projects (and those uber-cool Ace Hotels) and is one of our ultimate design muses, pulling from her background as a movie-set designer to create spaces that combine a touch of drama with clever color play and smart layouts. (She also helped her friend Katie Tarses pull together what may be one of our all-time favorite rooms: this solarium.) In other words, she's been topping our list of women whose brains we wanted to pick for a while. So when we got the chance, we jumped at it, shooting Commune's West Hollywood office and talking with Pam about everything from design tips to favorite local haunts to truths she wishes someone had told her as a working mom.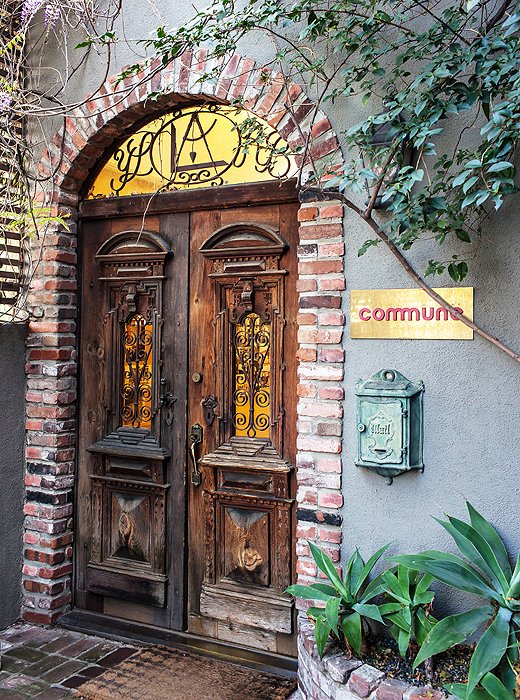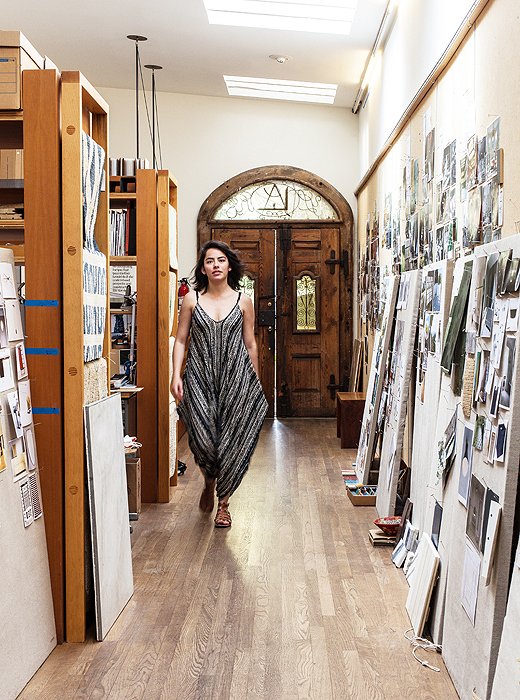 How did Commune begin?
I'd been living in New York doing movie-set design for a long time, working and traveling like crazy. Then I met my husband, Haines, and decided I was ready to start a family. We moved to L.A., and I founded a design company with my brother Ramin. We did that for a few years, and then over a sushi dinner with our friend Roman Alonso and his friend Steven Johanknecht, the four of us came up with the idea for Commune. It happened really fast!
How did your backgrounds gel?
We were old friends with Roman, and he introduced us to Steven. They'd worked together at Barneys and had experience building brands—launching Miu Miu in the U.S., that kind of thing. And we knew all these artisans and craftsmen from the film biz in L.A. We were all used to using design in a holistic way to tell a story or convey an experience; together we thought we could design anything—residential or commercial—assembling a custom-made group of talented people for each job. We thought we'd have no employees, that everybody would be completely freelance.
So that's where the name Commune comes from?
Exactly!
How would you describe the working environment?
It's so great. Very collaborative—a bit of a think tank. We're doing architecture, interior design, and graphic design. People are exchanging ideas and getting into each other's projects. There's a ton of open discussion and ideation.
Did you stick to your original freelance model?
[Laughs.] No! We're a company of 40 now. We decided that we needed to hang on to good people whenever we find them.
So now you have two children…
Yes, two boys. Reza is 10, and Basel is 5.
Any secrets to striking a family-work balance?
So tricky! Every day is a challenge and requires a different tactic. I have a wonderful nanny who's been with us since Reza was born, and a second nanny on nights and weekends. I've realized that that's the best way for me to spend quality time with my kids—letting someone else handle some of the house stuff. I also have a lot of support at Commune from people I've worked with for years, which makes all the difference. And I do try to get away with my family as much as possible to recharge.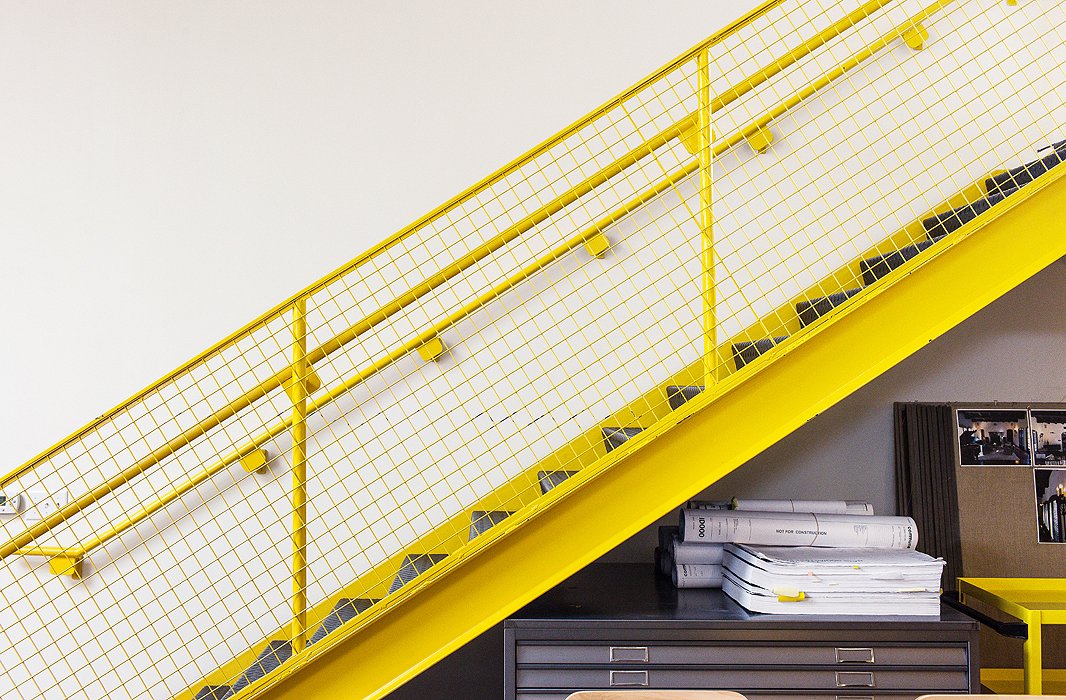 As a design-minded mom, do you have any tips for creating chic, family-friendly spaces?
On a practical level, customized storage, lots of baskets, 100-percent wool rugs, and good fabric. On a broader level, it's important to set house rules.
Do you have any family rituals you cherish?
My husband and I do family night with the kids once a week, usually on Friday night. And that's been fantastic. One of us will plan an adventure, and we'll all get together and do it. Like the other night was the L.A. Marathon, so my husband planned it, and we climbed up to Mulholland and waited for the marathon lights to go on. Another time we went to the movies, then walked Hollywood Boulevard at night.
Where would we find you on a Sunday?
We stay home on Sundays. I lock us up in the house on Sundays! But really I wake up early and go to the farmers' market, then spend the day cooking, and at night all our extended family comes over.
How do you unwind during your rare off-duty moments?
I cook, read, or steam and do a hot soak in our Hinoki tub.
Can you call out your one best time-saving tip?
I lay out my outfits for the whole week on Sunday. I do my both of my sons' outfits too.
Are you a morning person or a night owl?
Definitely morning. I'm up by 5:30 or 6, to get a little time to myself before everybody else gets up. I just enjoy enjoy getting dressed and gathering my thoughts, maybe responding to a few emails. I'll make lunches and walk the dog before everybody else gets up. He's an Australian shepherd Reza named Roquefort after the cheese.
Coffee or tea?
Tea drinker. PG Tips is my favorite. But I also drink a lot of sencha green tea.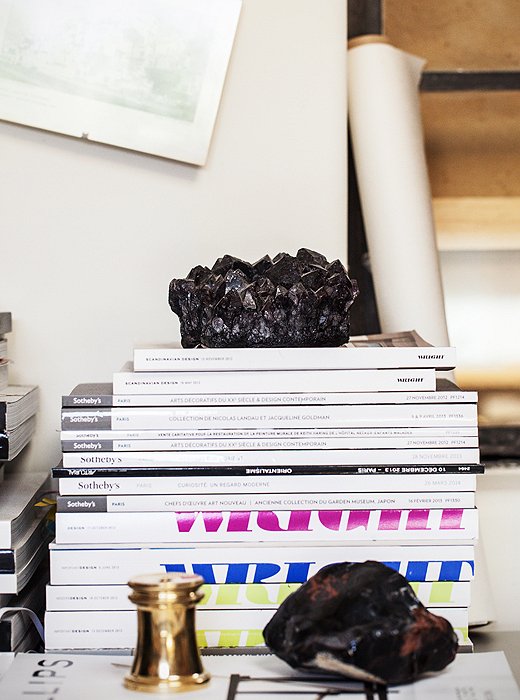 What does a typical workday look like for you?
I'll drop both kids off at school, then go to the office, where my morning is spent in back-to-back meetings—every half-hour to an hour on all the projects I'm overseeing. If we're pinning up inspiration, I'll set aside larger blocks of time. In the afternoon, I get out of the office and hit our vendors and job sites. I always try to work out—Pilates or boxing—at the end of the day, which keeps me sane and lets me come home a little more centered.
Where do you guys tend to pull inspo from?
One thing we do is all go to the library! It's practically mandatory. Everybody has a library card, and we go to the library, do research, and pull from the library books. Nobody else is pulling from the library, and we want to see all those images that nobody else is looking at.
Are you currently stalking anybody superinspiring on Instagram?
Lots of Japanese and Danish people I don't know.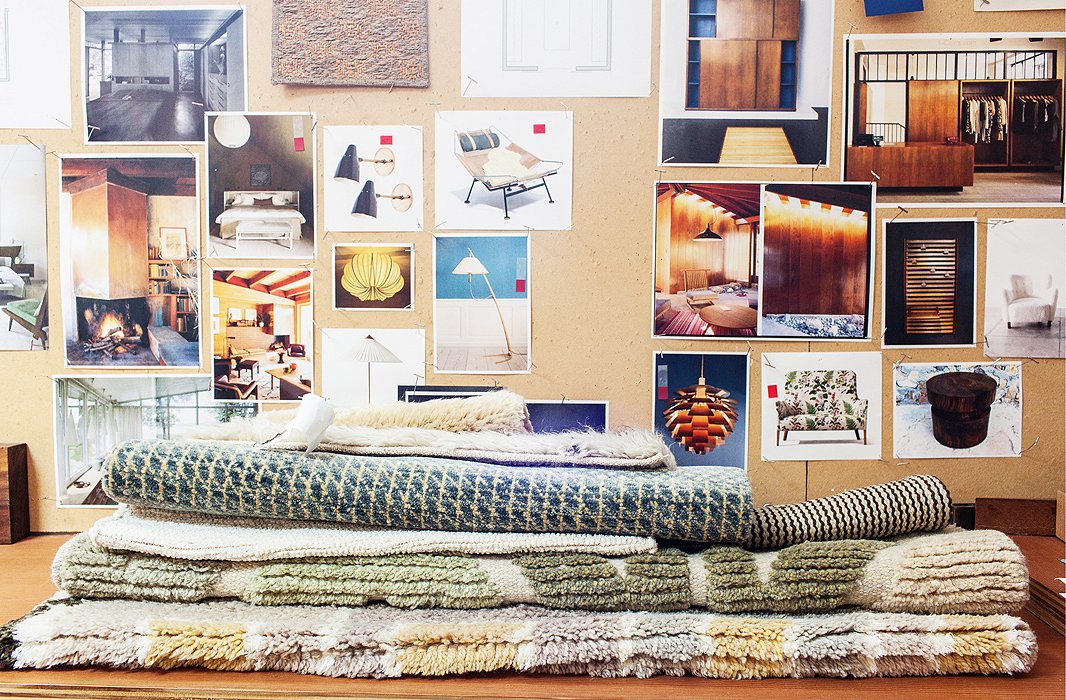 What's your favorite part of your job?
I really enjoy my clients. Been smart about choosing clients. Nothing makes me happier than when a house or business matches their needs.
Are there any common design mistakes you see in people's home?
Mixing woods is tricky. I'm not a fan of the matchy-matchy look, but when you mix woods they need to be far enough apart that they don't clash. I think contrast and value change is another one that people should be more aware of. Your furniture should contrast enough with floors or walls so that you can actually see everything.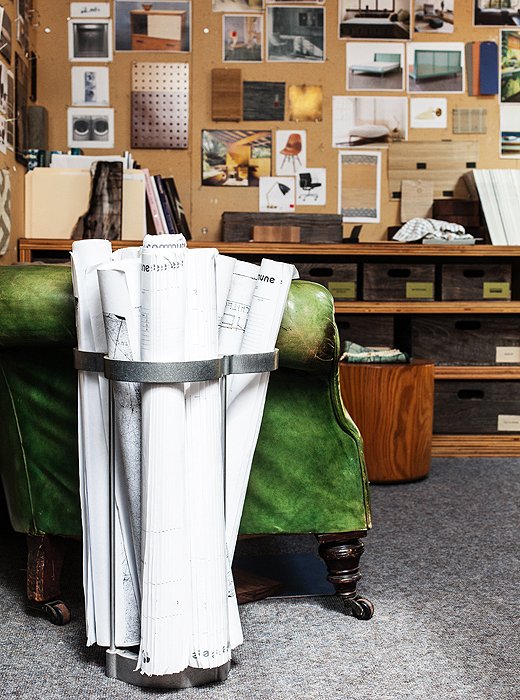 Who's the one noteworthy person you'd love to design for?
Björk because she goes for it.
What goes through your mind when you stand back and look at a finished project?
I always have to take a break from it because I'm my biggest critic and initially can only see what could have been better. After some time passes, I'm able to enjoy the broad strokes and see that it communicates the right experience.
How do you overcome design block?
Leave the office and come back… look at books. If it's a really big block, I try to take a trip. That usually means I'm tired—worn out.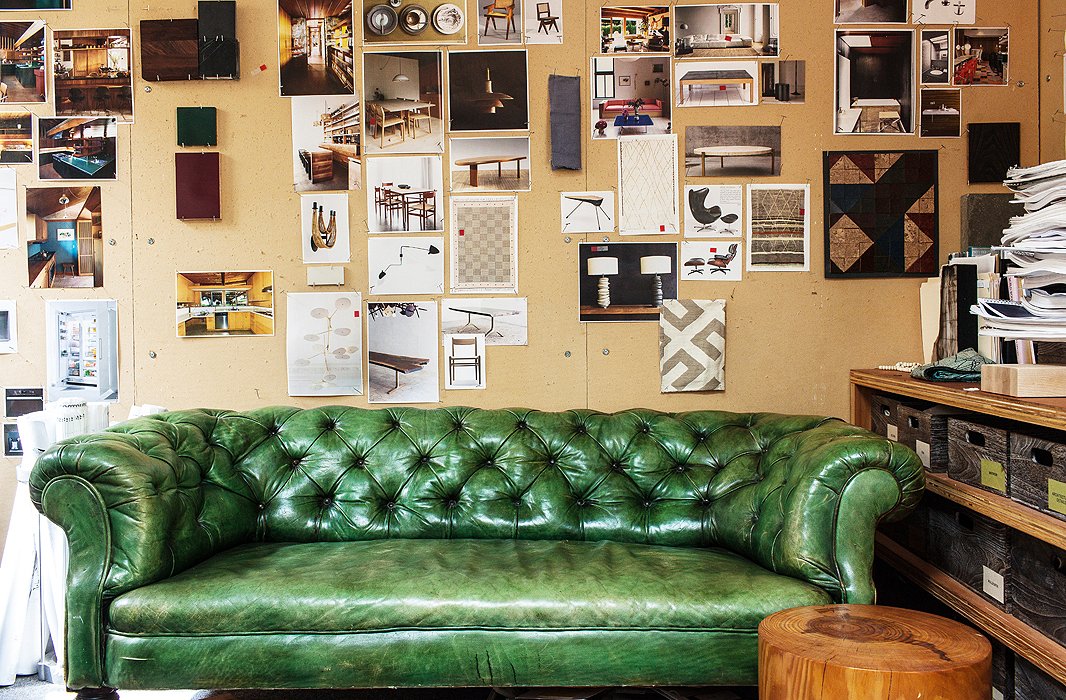 Where are some of your favorite places to travel?
We traveled around Greece last summer—Athens and Patmos. The kids really loved it and took a lot away from it. It was a huge thing for them to see the Parthenon. My parents live between Tehran and Rome, so every Christmas we do Rome. That's incredible for the kids, like one big museum. And it's a great time to go—cold, yes but the city empties out.
Are there any local spots you love?
I love going to MoCA and LACMA. We try to go to every show that opens. Melrose Place for shopping. JF Chen and Galerie Half for inspiration. And Blackman Cruz for furniture. And we go on a lot of historic-house tours. My kids have seen everything! Old adobes. The Gamble House. All the Frank Lloyd Wrights. That's like our pastime!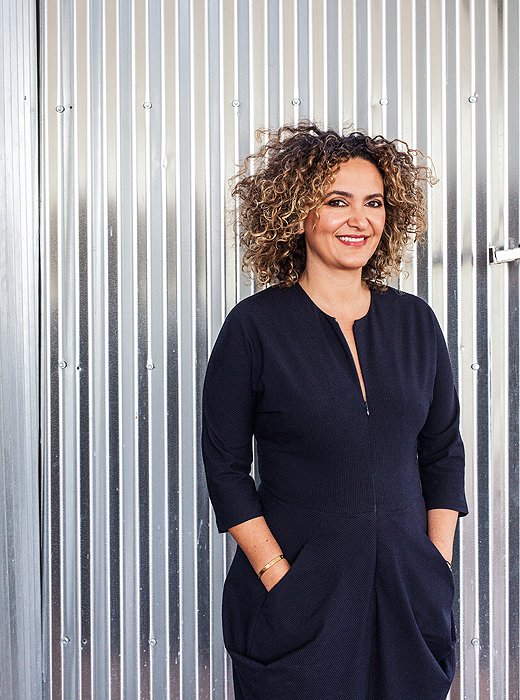 Did you ever receive any great business advice?
Not to get too caught up in balancing the checkbook. As scary as it can be to make a decision that makes no financial sense, it can be worth it for a payback years later, or for the love of it, or for a really fantastic project. Or if there's a lesson learned.
Also, you're truly only as good as your team. I've heard that before, but now, with 10 years behind us, I realize how true it is. I'm focused more now on mentoring, teaching, and fostering the next generation of designers. Making sure their growth is being taken care of.
Do you specifically try to mentor young female designers?
I try to mentor anyone young and talented, but I feel like I had some great women mentors, so I try to make it an open forum for the women I work with. I openly talk about priorities, being a working mother. I try to prep women for what's to come, that you need to plan ahead for a family.