Eva Kosmas Flores of the insanely gorgeous food blog Adventures in Cooking whips us up a light pasta featuring fresh seasonal ingredients.
This dish combines the best produce of summer with one of my favorite forms of pasta, linguine. Linguine noodles are a bit less wide than fettucine but are still easily coated with sauce and are great for tossing with larger bits of vegetables, like halved cherry tomatoes. Beautiful little pattypan squash are thinly sliced and then panfried in olive oil before being tossed into the mix, but the rest of the vegetables are added in raw to make the most of their fresh summery flavor. The entire dish is tossed with a simple lemon vinaigrette, making a deliciously bright and savory pasta that leaves you feeling light and airy rather than weighed down. It's great served warm or chilled; you can even use this recipe as the base for a cooler pasta salad. It's perfect for squeezing one last picnic lunch into the end of summer.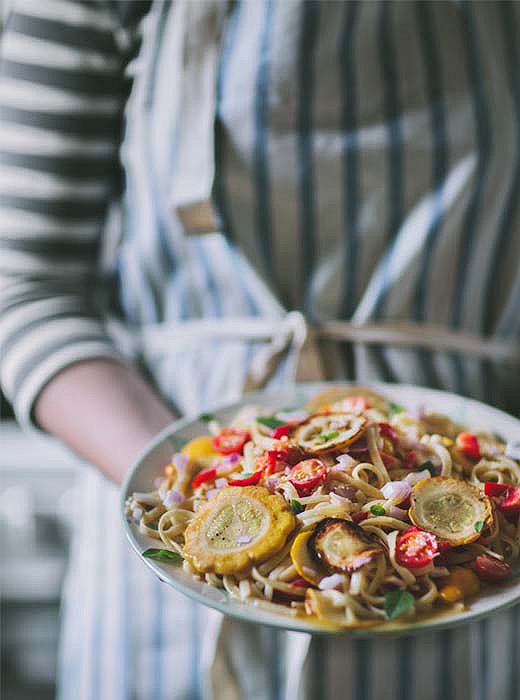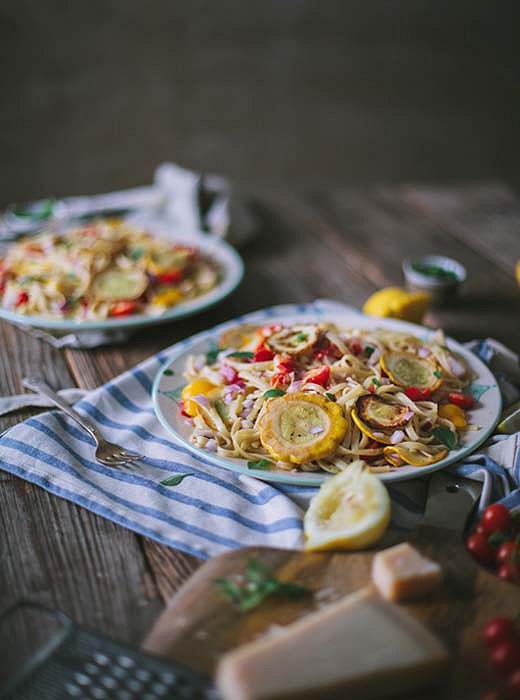 Tomato and Squash Pasta Primavera
Serves 2-3
Ingredients:
3 tablespoons olive oil
1 cup thinly sliced yellow pattypan summer squash
1/2 lb dry linguine pasta
1 cup halved cherry tomatoes
1/4 cup fresh basil leaves
1/2 red onion, finely chopped
1 red bell pepper, seeded and chopped
3 tablespoons Parmesan cheese
Lemon Vinaigrette:
1/2 cup olive oil
2 tablespoons lemon juice
1 tablespoon heavy cream
1 tablespoon lemon zest
1 teaspoon white vinegar
1/2 teaspoon salt
1/4 teaspoon pepper
Directions:
1. Heat 1 tablespoon of the olive oil in a large frying pan over medium-high heat. Add the summer squash and panfry until lightly golden brown around the edges, about 4-6 minutes per side, working in batches as necessary. Remove them with a slotted spoon and place on a plate lined with paper towels.
2. Bring a large pot of water to a rapid boil. Add the linguine noodles, and prepare according to the package directions. Drain, then immediately toss with the remaining 2 tablespoons of olive oil to coat the noodles (this will keep them from sticking together as they cool).
3. For the lemon vinaigrette, whisk together the olive oil, lemon juice, heavy cream, lemon zest, vinegar, salt, and pepper in a medium bowl until completely smooth.
4. Toss the linguine in a large bowl with the lemon vinaigrette, summer squash, cherry tomatoes, basil leaves, red onion, bell pepper, and Parmesan cheese until combined. Serve immediately.