If pastel tones bring to mind your baby-pink childhood bedroom or your great-aunt's mint-green kitchen, it's high time you took a fresh look at these soft (and surprisingly versatile) hues. With a few strategic juxtapositions, pastel colors can add a wonderful freshness to a space—and work wonders to balance out a room's bolder tones. Read on for a breakdown of our favorite pastel color pairings, and learn exactly how to make each one work in your home.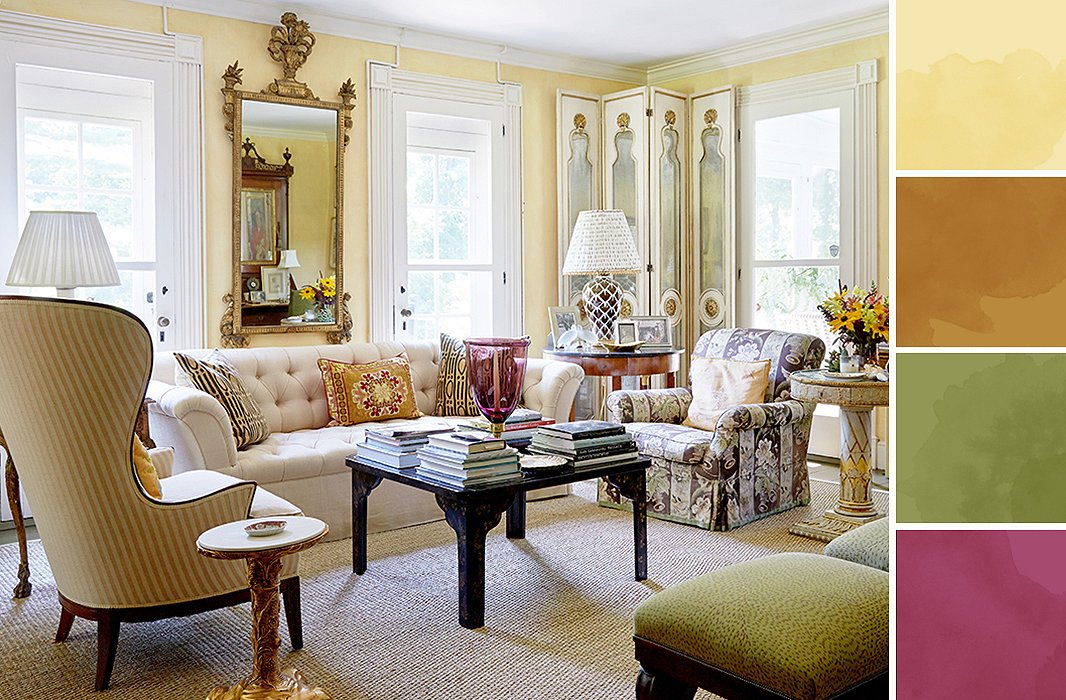 Sunny Yellow
The most user-friendly pastel might be this soft, buttery shade. On a piece of furniture, such as the classic wingback shown above, it reads as a near-neutral. On the walls, it casts a flattering, golden glow (but won't ever steal the spotlight).
To give this color some depth and richness, mix in a bit of patina with antique-gold finishes: a vintage mirror, a gilded side table. A few deeply hued details, such as the green upholstered stools and the berry-hued glass hurricane here, add punctuation and help the eye move around the room.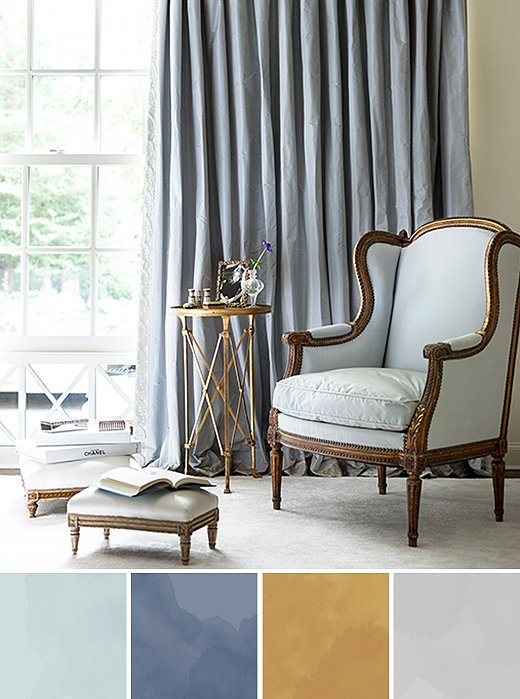 Powder Blue
A tone-on-tone approach takes this hue into polished territory. Start with the lightest version of the color, such as that of this elegant upholstered bergère, then layer in a deeper tone with a silvery-gray cast. Pearly white keeps everything light and airy, while aged-brass and gilt accents lend a touch of European luxe.
Lush Lilac
We know pastel purple might be a tough sell. It's certainly not the first color that comes to mind for a refined—and decidedly grown-up—space. But take this space as proof of lilac's sophisticated side: Paired with relaxed, rustic textures (a natural-fiber rug, distressed wood), gorgeous gilding (an antique mirror), and classic patterns (ticking-stripe wallpaper), a purple patterned chair becomes an integral part of a stylish whole.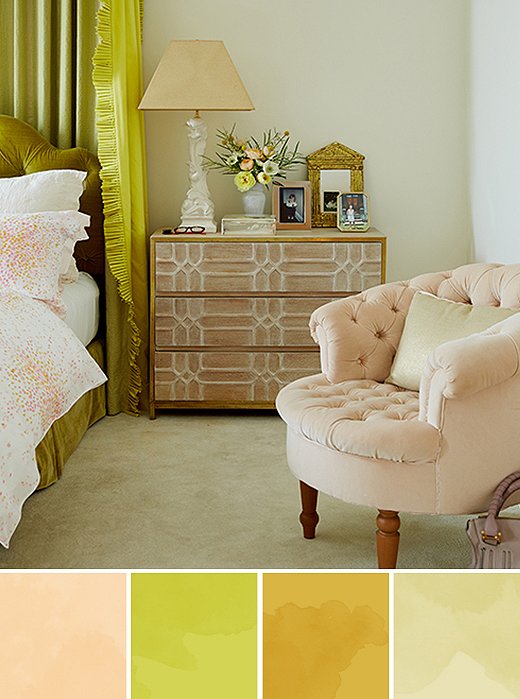 Pale Peach
This just-warmer-than-cream hue can handle a bold counterpoint, so don't be afraid to get a little daring. In this dressed-up master bedroom, a vivid chartreuse canopy and a green velvet bed work in perfect harmony with the peachy tones of the accent chair and bedding: The green tones cut the sweetness of the pastels, and the pastels likewise soften the strong greens.
With such a bold pairing, we recommend keeping everything else neutral, as in this room's beige carpet, light wood nightstand, and white sheets.
Blush Pink
Light pink… on the porch? It's not as much of a stretch as you'd think. Paired with rich espresso browns and faded golds (plus plenty of natural greenery, of course), this delicate hue is unexpectedly chic. We love the juxtaposition of pink-painted iron chairs with a classic trestle table, all grounded by global-inspired outdoor rugs. But the look could easily move indoors, with a set of pink upholstered dining chairs and a dark wood table.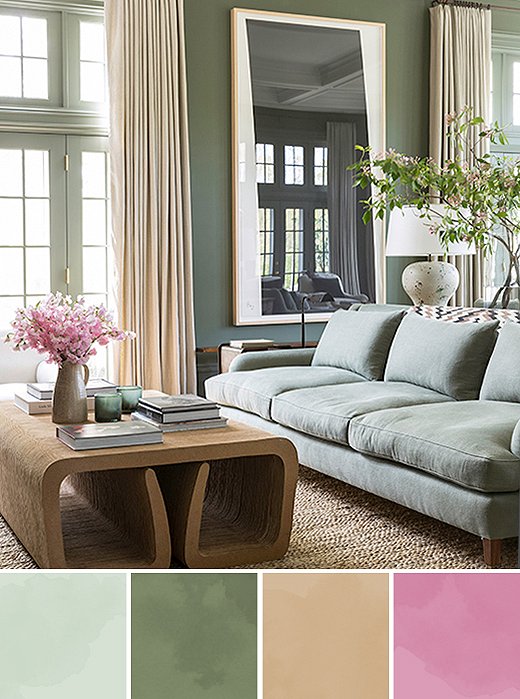 Soft Sage
Even the most pastel-resistant among us can probably get behind sage green. This dreamy shade is highly changeable, leaning warmer or cooler as the daylight shifts and as other colors are added or subtracted around it.
We're particularly fond of sage paired with crisp whites and natural accents, as in this light-filled living room. A natural-fiber rug and airy curtains set off the luminous sage-tone sofa, while walls in a deeper green add subtle contrast.