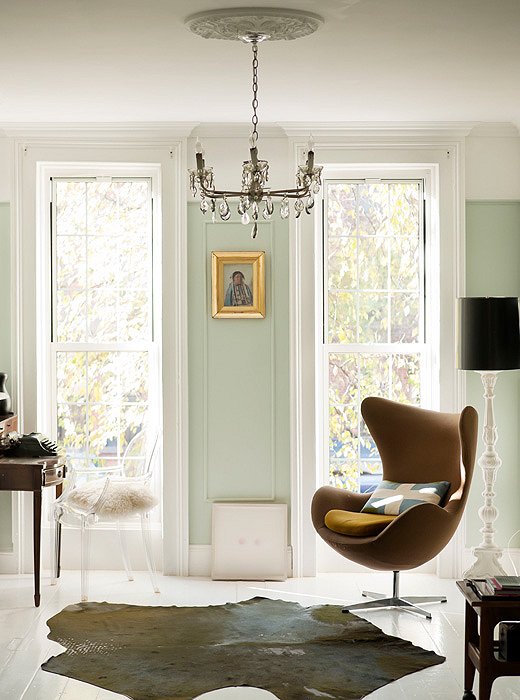 After restoring this Brooklyn brownstone to near perfection, decorator and owner Victoria Sullivan wanted the interiors to provide a serene setting that really allowed the interior architecture and natural light to shine. Pale sage was the perfect complement to the ornate molding and and the high-gloss white floors. If you're truly a lover of eclectic decor (see the antique desk paired with a Louis Ghost chair in the corner), this may just be your perfect spring update.

Paint color: Quiet Moments by Benjamin Moore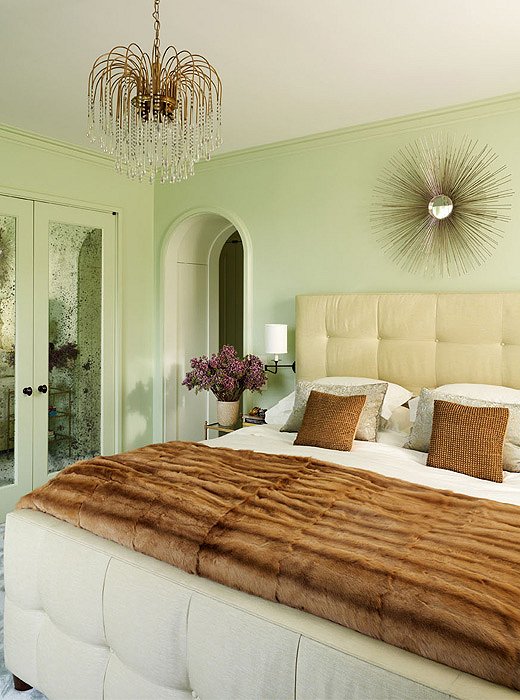 This Manhattan bedroom oozes a sexy luxury. Let's break down what's working here: The cool green walls balance the warm tones of the 1940s Italian chandelier and brass starburst mirror while providing a pop of personality that you simply won't get with white walls. (The tufted headboard and bed frame and the fur throw don't hurt either!)

Paint color: Hancock Green by Benjamin Moore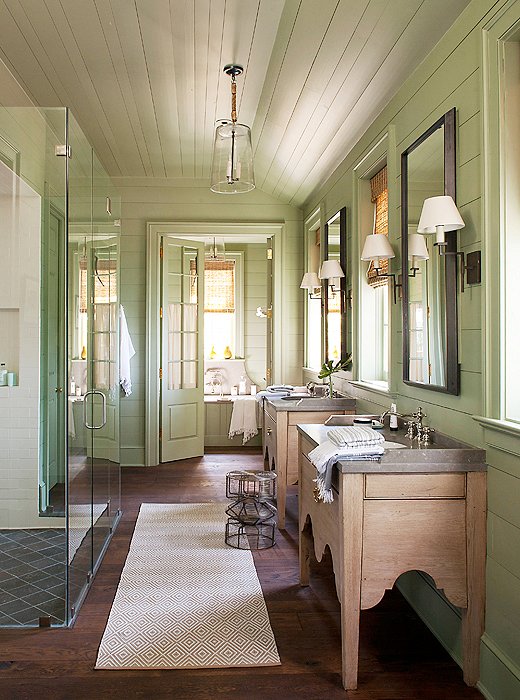 Architect Bill Ingram designed this generous bathroom to have a soothing effect, like that of a spa. "It's very calming to walk into a room that's been dipped in one color," Ingram says. We love that he took a departure from the ubiquitous ivories of the interior world (although the glossy ceiling coat is perfection) and opted for a more unexpected choice.

Paint color: Weekend Getaway by Benjamin Moore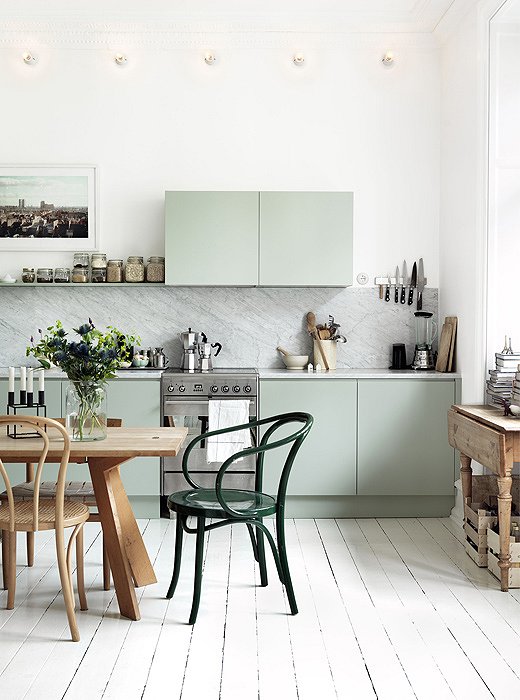 Modern Scandinavian design may be all the rage on Pinterest right now, but we've been longtime fans of the look. While the tenets of style remain true to form here, with the clean lines of the modular storage and the layered textures of the raw woods and Carrara marble, what really sets this space apart is the pop of the perfect pistachio cabinets!
Paint Color: Natural Colour System S3005-G507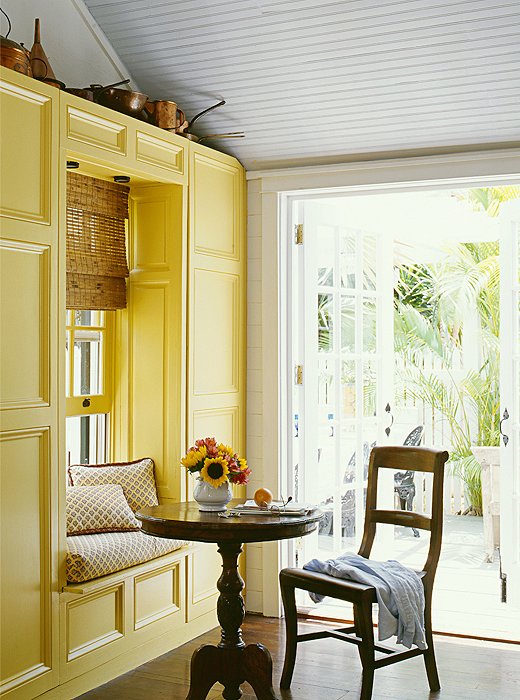 If you're wondering what to do to spruce up dividing walls, a nook, or built-in cabinetry in your home, may we suggest a coating of fresh yellow? In a space that may not have room for art or ample furnishings, the cheery color can provide that decorative flair you're looking for.

Paint color: Babouche 223 by Farrow & Ball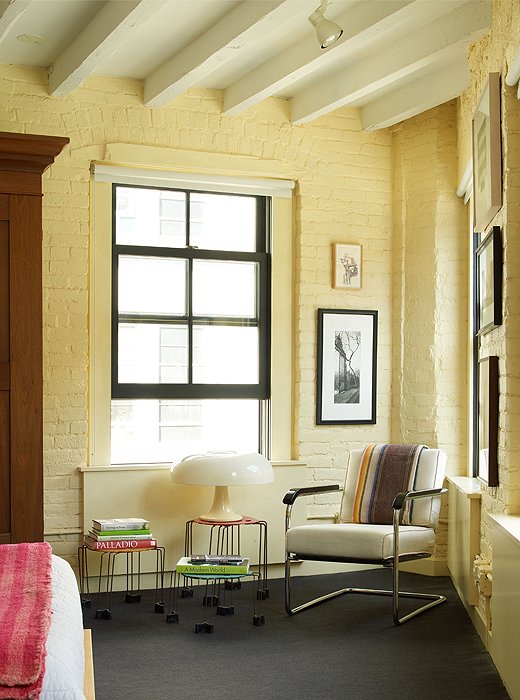 After searching for the best color to paint over the brick walls of his bedroom, architect Ted Porter opted for a rich and warm color that would be like waking up in a swath of sunshine. The brick underlay gives the walls an earthier tone, reminding us a bit of the streets of Turkey or Morocco—a perfect counterpoint to the midcentury furnishings.

Paint color: Morning Sunshine (not so ironically) from Benjamin Moore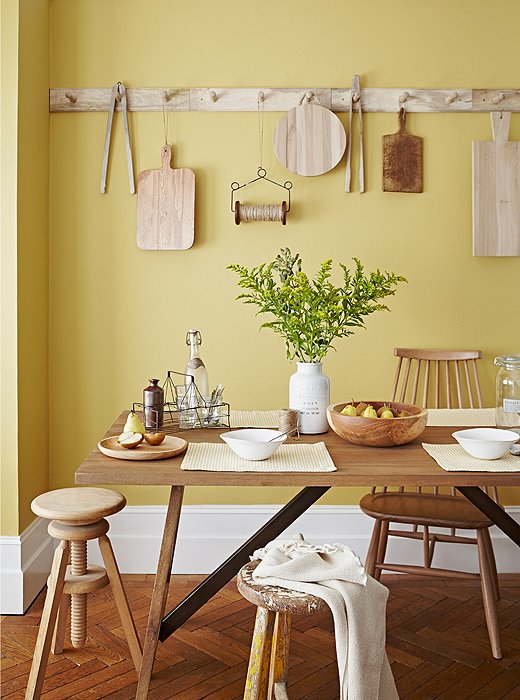 "Kitchens often have so little wall space you have to make the color count," says designer Beverly Ellsley. What better way than to add a dose of sun-drenched glow (especially if you don't naturally have much) that will allow the space to change ever so slightly as the time of day does. Pale yellows also pair perfectly with raw wood, so opt for a few rustic pieces in your kitchen as well.

Paint color: Sundance by Benjamin Moore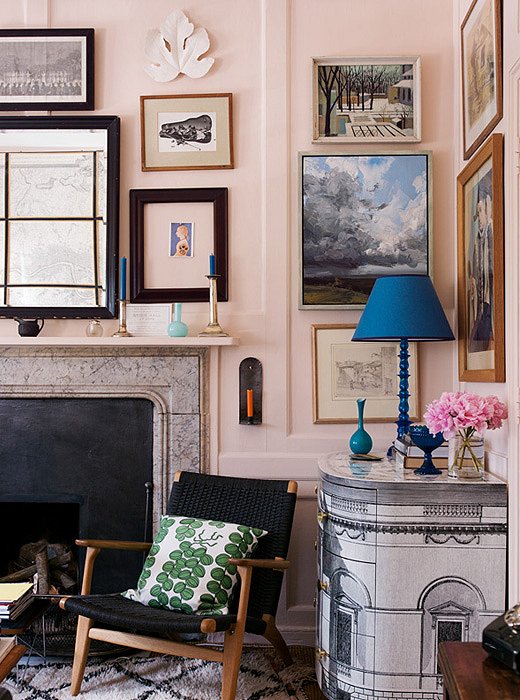 Think you can't have a salon-style wall on a colored backdrop? Think again! The graphic nature of an art wall lends itself perfectly to a pale hue that allows the eye to softly settle after traveling from framed piece to piece. The sitting room of this London flat has plenty of intrigue (hello, trompe l'oeil console!), yet we're totally smitten with its perfect pink walls.
Paint color: Pink Ground 202 by Farrow & Ball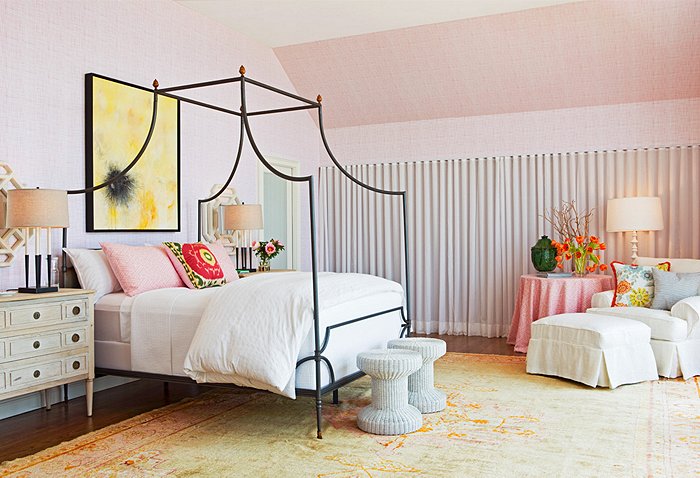 To find that perfect pink, DC-based designer Shazalynn Cavin-Winfrey suggests choosing "a pink that is found in nature, like the pink in a sunset." Once we got past this room's gorgeous metal canopy bed, this became clear in the similarity of the pink tone to that of cherry blossoms. What's more spring-y than that?

Paint color: Perfection 7001-12 by Valspar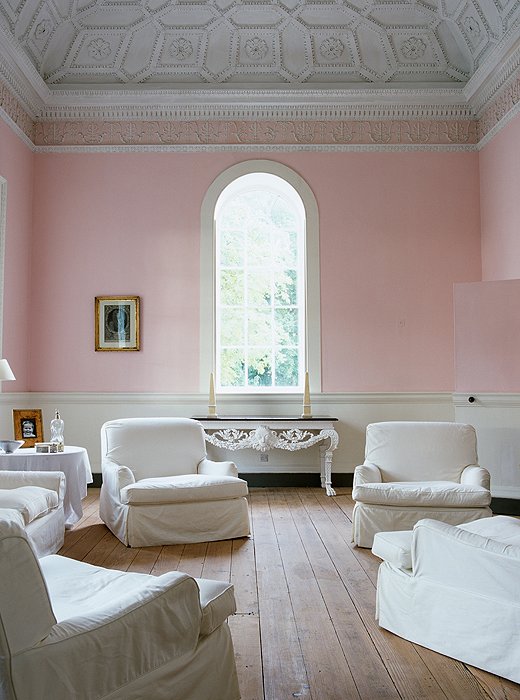 If the molding, wainscoting, and furnishings in this grand room all had touches of pink, the result would have been a bit of a candy-coated nightmare. Instead pairing the pink with a chalky white gives the space energy and an au courant feel.

Paint color: Sunset Snow by Pratt & Lambert
We've talked a lot about walls here, so it's time to turn the gaze upward to the ceiling! If you're not ready to commit to an all-pink dining room, why not try a swath of pink persuasion above your dining table? The light pink glow that will bounce off your light fixtures, mirrors, and other reflective surfaces is THE most flattering light for you and your guests. Seriously!

Paint color: Pink Heather by Glidden