The peacock chair (aka the fan chair), with its flared back and intricately woven details, likely originated in East Asia as a thronelike, head-framing seat reserved for royals. Then in the 19th century the designs made their way via trading routes to the United States and England, where they were popular garden-party perches. Cut to the swinging 1960s and '70s: After a lull in popularity, the chairs were back in a big way, turning up as the boho-glam photo-shoot prop of choice for everyone from Stevie Nicks to Cher to Brigitte Bardot. In fact, we fell so hard for the image of BB above—swoon—we've had it tacked to our inspiration board for months.
Today, the chairs are experiencing a major retro revival. But that doesn't mean you have to rock a freewheeling boho style in order to find a spot for a peacock chair in your place. Here are five ways to work them.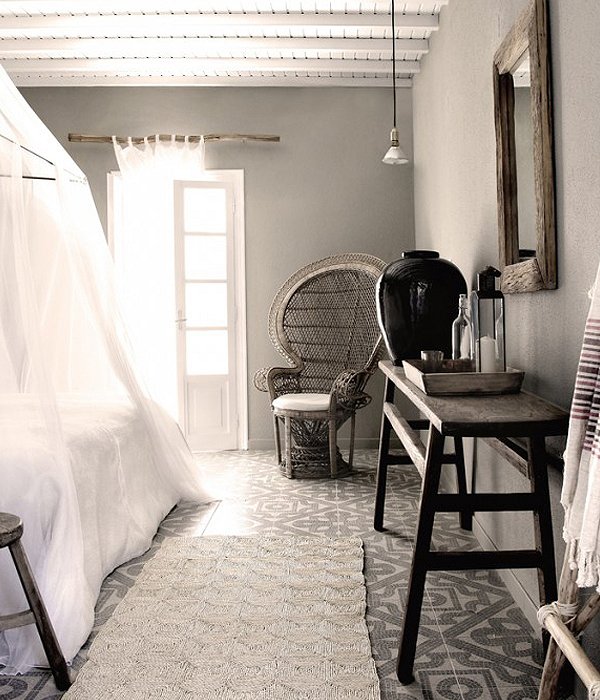 Paired with Rustic Decor
Think of peacocks as the quirky-cool little sister of more-traditional wood pieces like farm tables and benches. With their show-off silhouettes and whimsical woven flourishes, they're a bit more playful, but thanks to their natural-wood coloring, there's never any doubt that they're part of the family. And so in lake houses, cabins, and beach shacks, they fit right in.
Mixed with Tropical Details
While other chairs come with the standards—legs, seat, back, arms (maybe)—peacock designs come with something intangible: those ever-present island vibes. They mesh effortlessly with bright hues, floral prints (have a seat cushion upholstered in your fave), and found objects like coral, driftwood, and sea glass, and they will transform a mundane day at home into a sublime staycation.
Surrounded by Eclectic Accents
Due to their unconventional, fanned-plume shape, these chairs' seat backs won't take a backseat to other bold, graphic elements in busy rooms. Instead, they hold their own. Bring an element of sophistication to the space by offsetting their curviness with straight lines (square pillows vs. round; rectangular prints vs. circular). Side note: In spare rooms, a single, well-placed piece can pack a punch, but in vibrant, crowded rooms, there's power in pairs.
In an Alfresco Space
We think everyone's terrace, patio, or balcony deserves a peacock chair of its own because, much like its feathered namesake, outside seems to be this chair's natural habitat. Its loosely braided design allows summer breezes to cool down its occupant, and its substantial height alone (chairs are often five feet tall) is enough to define a space, turning a forgotten corner into a lounge area. Finish the thought with a couple of planters and a pouf.
Juxtaposed with Modern Elements
Sleek spaces defined by clean lines and a neutral palette need a little oomph. A pop of color is the back-pocket trick of many designers, but a hit of texture will do nicely too. Consider dialing up the drama by painting your chair dark brown, navy blue, or jet black with a trusty can of spray paint.