One Kings Lane style guru (and resident Weekend Decorator) Megan Pflug is back with her latest crazy-cool DIY solution.
During the past few years oversize digital prints have become increasingly easy and affordable to make, which got me thinking about all the possible applications for some image-transfer action. I love the idea of applying images where you'd least expect them, so when I first spotted a plain-Jane credenza in a local vintage store, inspiration struck. The flat front and simple lines were the perfect blank canvas. With a little paint and one huge digital print, I managed to not merely revive but reinvent an unloved piece of furniture. Keep reading for my step-by-step guide.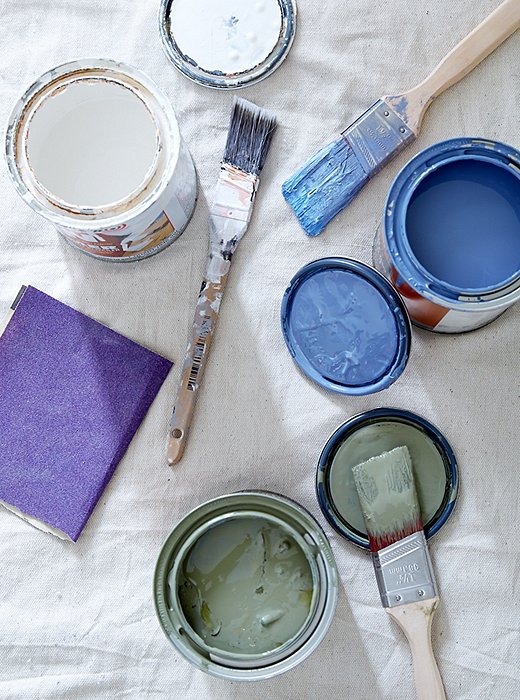 Here's What You'll Need:
An oversize digital print on matte paper (sized to fit your surface)
Mod Podge, matte finish
Primer
Paint (optional)
Water-based polyurethane
1.5-inch paintbrush
Painter's tape
100-grit sand paper
X-Acto knife and extra blades
When looking for the right furniture for this project there are a few things to keep in mind. First and foremost, you want something with flat surfaces. This will make gluing down your image easy. You also want to choose a piece made of a porous surface, ideally wood.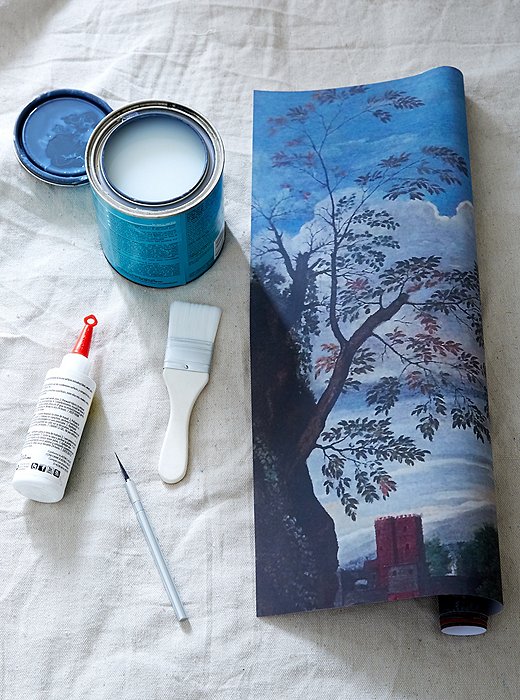 Step 1: Order Your Print
I knew I wanted the look of an Old World landscape painting for this project, so I chose an image from a book of vintage paintings. I scanned it at 600 dpi and used Photoshop to crop into the image so that it matched the proportions of the front of the credenza. I sized my file two inches longer than the actual size of the credenza to give myself a little wiggle room. Once I had my file formatted I was ready to print it. Because of the size of the print required, you'll need to have the image professionally printed, but don't run for the hills just yet. There are a lot of places online offering high-quality oversize printing. I used Skink Ink Fine Art Printing; definitely check out its website for details. The quality of the print really matters, so make sure to go with a place that offers good-quality paper.
Tip: If you're not comfortable scanning and formatting the image yourself, most professional printers can do this part for you. All you need to do is provide them with the original image.
Step 2: Sand and Prime
To prep the surface of my credenza I lightly sanded it and used a damp rag to remove any dust left behind. Once the surface was clean and dry I applied a coat of primer to the credenza, including the front where the digital print would go. The primer helps the paint and the photo paper adhere.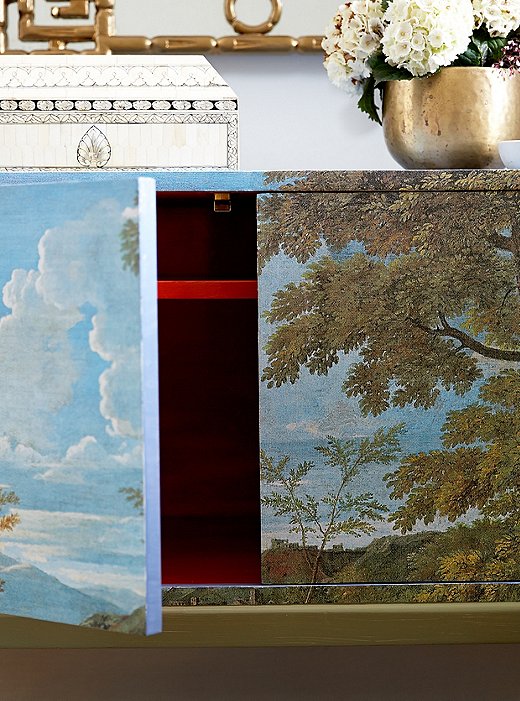 Step 3: Time to Paint
I painted my credenza several colors inspired by hues from my digital print, which is totally optional. For the sides and the top of the credenza I used two shades of blue, Benjamin Moore's Stratford Blue and Airway. I painted one color at a time and used painter's tape to mask off each painted section, creating a diagonal pattern. For the interior I used a bright tomato red for contrast.
Tip: If you do decide to paint your piece, skip the area where the digital print will be—it needs only primer.
Step 4: Attach the Print
Once the paint was dry I covered the front of the credenza in a thick layer of Mod Podge, carefully avoiding the painted edges. Then I placed my print, face up, onto the surface, allowing the extra length on the edges to hang over. Use your hands to smooth out any air bubbles so that the print is flat against the surface. At this point, you'll want to go over any door seams for a continuous image, but don't worry, we will cut them open later! I found it much easier to cut the photo after it was glued in place rather than measuring and cutting it in advance.
Step 5: Trim and Finish
After about 15 minutes the glue was mostly dry and the photo was ready to trim. With an X-Acto knife and a fresh blade I carefully cut away any excess paper from the outside edges; the edges of the credenza acted as a guide for the blade, ensuring a perfect cut. To make the interior cuts I located the edges of the doors—they'll be visible through your photo paper—and plunged the blade through the paper, cutting around the doors. Once you're done cutting, make sure the doors (or drawers) open and close well; trim away any extra bits of paper that get in the way. To finish, I covered the print in a thin coat of water-based polyurethane to protect the surface. Now my unloved credenza looks like a wonderfully whimsical piece, perfect for anchoring my entryway.
Tip: Be sure to test the dryness of the paper before you start cutting. If the glue is too wet the paper might wrinkle on the edges as you cut. To avoid snags, be sure to change your blade often; blades get dull pretty fast! I used six or seven blades to trim my photo.
Even MORE Photo-Transfer Ideas
Filing Cabinet
Who says it has to be boring? Make this utilitarian piece an unlikely centerpiece of your home office.

Folding Screen
Create your own faux antique by applying an archival image to a simple wood folding screen.