We love everything pools represent: an easy-breezy indoor-outdoor lifestyle filled with sunny days and kick-back gatherings of friends and family. But even if you don't have a pool, this decor will perfectly translate to your own outdoor space, whether it's a covered porch or a fully alfresco patio.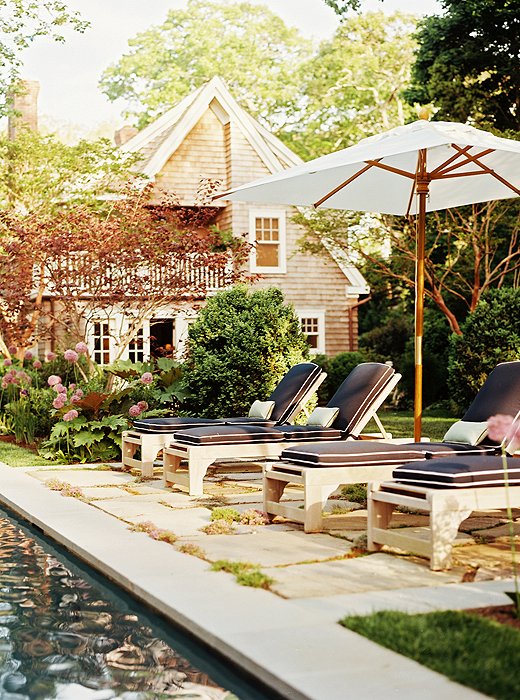 The Vibe: English Cotswolds meets the Hamptons with a dash of Cali cool thrown in for good measure.
The Furnishings: Four-of-a-kind chaises with bolster pillows for comfort shaded by an elegant white umbrella.
Style Tip to Steal: Opting for a set of chairs (as opposed to going the mix-and-match direction) brings a sense of calm and order to a romantically overgrown garden setting.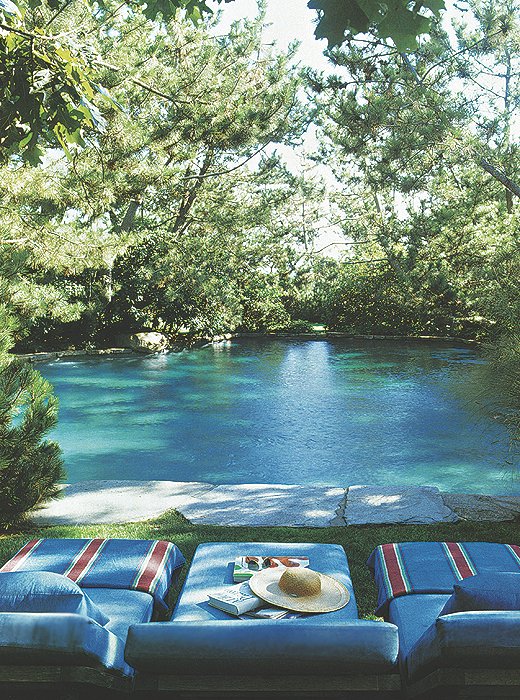 The Vibe: Boho hideaway that's so laid-back it's practically horizontal (which you will be).
The Furnishings: Mod loungers (you could get the same look with floor pillows or unfurled pads) and all the fixings: straw hat, sunnies, and that book you've been planning to dig into for ages.
Style Tip to Steal: Wrapping chair cushions in throws can be functional (say, you need to hide a stain) or fun (they provide an instant refresh to the look of your seats).
The Vibe: Southern belle intrigued by all things Eastern.
The Furnishings: Seating options to spare, from benches to chaises, plus a lovely array of blue-and-white chinoiserie planters and one massive ginger jar.
Style Tip to Steal: Traditionally indoor pieces can make a huge style play outdoors.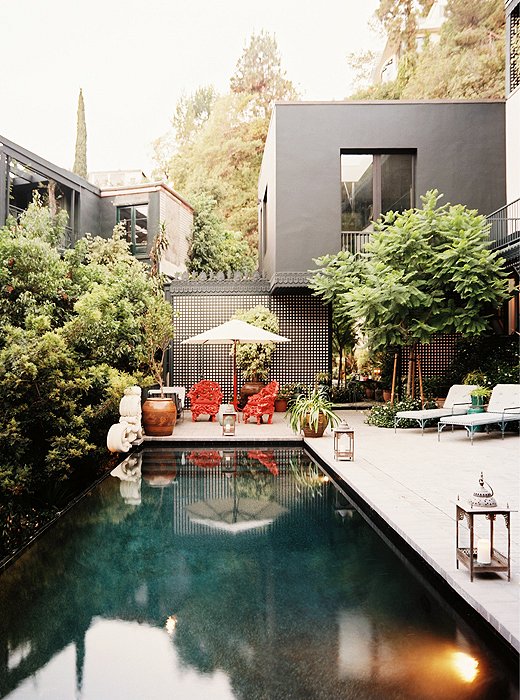 The Vibe: The kind of urban escape we'd jump on if we were lucky enough to happen upon it while trolling Airbnb.
The Furnishings: With a global, "It's a Small World" feel, the lanterns are reminiscent of Morocco, the chairs conjure up China, and the chaises bring a touch of Palm Beach to the fray.
Style Tip to Steal: Multiple seating areas create a feel of intimacy in wide-open spaces and give your guests semiprivate spots to gather and catch up.
The Vibe: Your favorite friend's house to go to growing up—the one whose mom had enviable style and an unlimited supply of Popsicles.
The Furnishings: Utterly nap-able chaises that can be wheeled in and out for your convenience, plus graphic towels rolled up at the ready.
Style Tip to Steal: Never underestimate the power of accent pieces; bold pillows and towels will pop from neutral backdrops.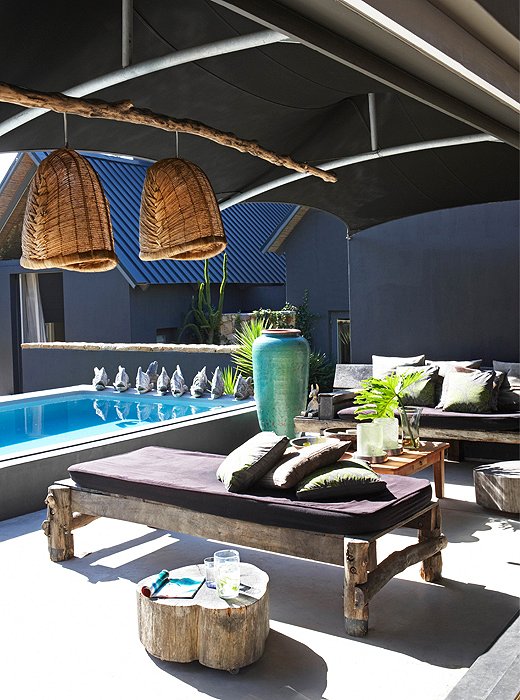 The Vibe: Gypset den where the mood is kicked back, the music global, and the drinks perfectly mixed.
The Furnishings: A mix of rough wood—those stumps! those daybeds!—natural fibers, and plenty of pillows.
Style Tip to Steal: Where you might imagine crazy patterns and colors, monotone pillows and cushions add sophistication to a boho mix.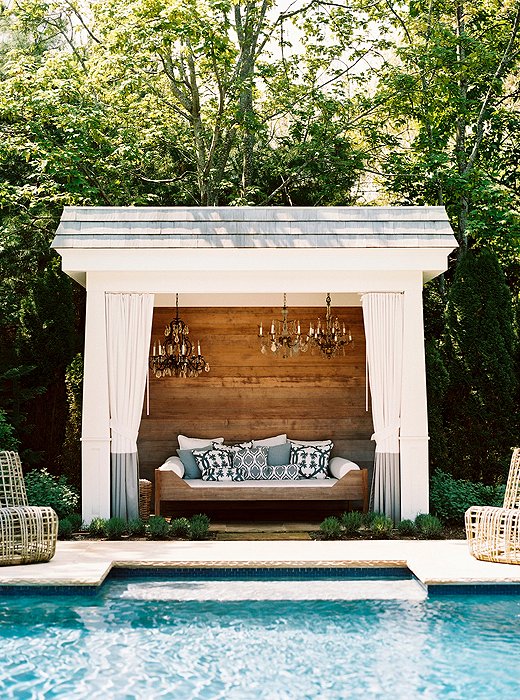 The Vibe: Barbie's dream pool house.
The Furnishings: Sculptural accent chairs riff off a wood daybed under a trio of glammy chandeliers.
Style Tip to Steal: A rustic wood wall balances out the glitz of those light fixtures, preventing them from feeling overly saccharine.