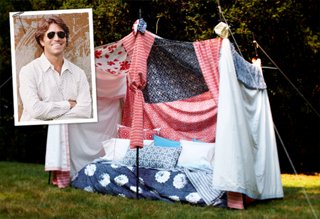 "My work is a collision of colors, textures, and the artistry of the people I meet and work with," says John Robshaw, designer of the eponymous textile line. With a love of textiles born out of wanderlust, Robshaw uses his keen eye to mix and match cultural influences, creating modern collections with global soul.
PORTRAIT: COURTESY OF LONNY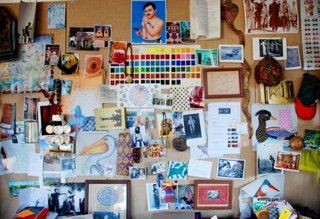 Colorful Collage
"I'm fortunate that I've structured a job where I get to be inspired by the world," says Robshaw.  When he returns from his jet-setting adventures, John assembles a symphony of colors, patterns, and images on a mood board that helps to inspire his latest designs.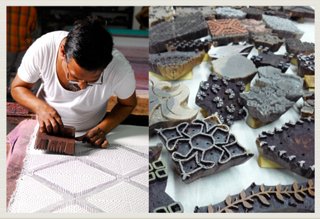 Textile Traditions
"Block printing is not at all like screen printing," says Robshaw. "You see the shaky hand of the printer who is making your textile; maybe he stops his momentum for a cup of chai and starts up again, a bit out of line. All of this beautiful variation is captured in the spirit of the textile."
PHOTO: COURTESY OF JOHN ROBSHAW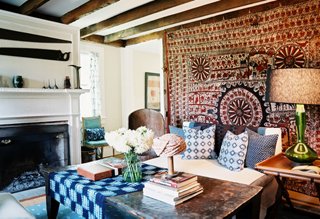 Experimenting with Textiles
"I use layers upon layers, prints on prints, colors on colors," says Robshaw, referring to his own home. "I have so many textiles in my life that it's easy to try new things all the time. I put patterns together from different styles and periods that you'd expect to clash—there's never a 'wrong' way of doing it."
INTERIOR BY JOHN ROBSHAW
PHOTOGRAPHY BY PATRICK CLINE
COURTESY OF LONNY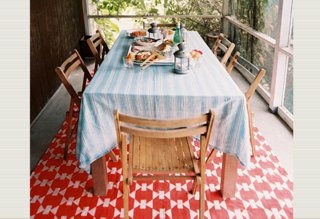 Mix and Match
Robshaw believes that some of his simpler patterns done in bold colors can work harmoniously together to create a happy, slightly modern setting. "I love the strong geometrics of a printed dhurrie rug layered with something more traditional," he says. "Combinations like blue and red are just classic."
INTERIOR BY JOHN ROBSHAW
PHOTOGRAPHY BY PATRICK CLINE
COURTESY OF LONNY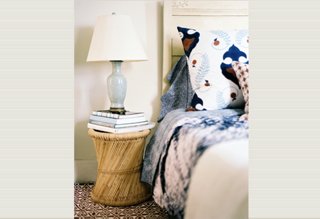 Scale and Pattern
When mixing patterns, it's important to use a combination of large- and small-scale prints. "Different sizes can be collaged together to build a visual story," says the designer. "Smaller prints can serve as a backdrop for larger, bolder patterns."
INTERIOR BY JOHN ROBSHAW
PHOTOGRAPHY BY PATRICK CLINE
COURTESY OF LONNY