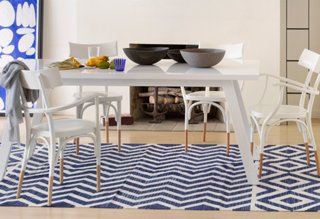 @LaShaun Cadney: Would you recommend a rug under a dining room table?
GG: Yes! Rugs help to define a space; a long table needs pattern and color below it to visually set it off from the floor. When choosing the size of a rug for your dining room, it should be larger than the space below the table, so that when the chairs are pulled back from the table, the front two legs still rest on the rug.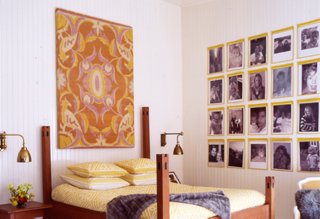 @Jessica Serna: What's the best way to hang and display a rug on a wall?
GG: I do this often, and it is such a great way to break up big pieces of negative space on a wall. There are many ways of doing this depending on what type of and how heavy a rug you're dealing with. With a lightweight or medium-weight rug, try stitching small cloth loops or gauge key rings across the back and then hang it on a wall-mounted rod. This is a sufficient way to keep the rug flat and sturdy on the wall.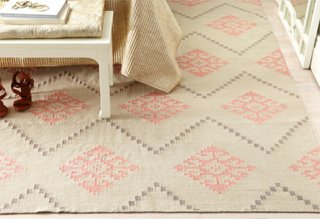 @Tina Michalski: What's the best way to clean a rug?
GG: I have a four-year-old, so this is a very relevant question; I send my rugs out once a year to be cleaned professionally. Between cleanings, vacuuming both sides of your rug regularly is ideal, along with rotating your rug 180 degrees about every six months to a year to account for even wear and tear.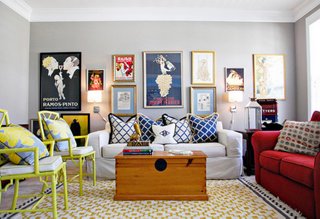 @Jennifer Tidwell: How do you hold down an area rug over carpet?
GG: A good rug doesn't need any holding down over a carpet; the carpet will act as the pad itself. A very lightweight rug will shift and curl up, but anything remotely substantial will be absolutely fine. However, if you do have a lightweight rug or runner, try placing pieces of double-sided cloth carpet tape about every six inches throughout the back of the rug and then secure it down to the carpet in the location that you want. It should prevent the rug from moving in one direction or bunching when stepped on.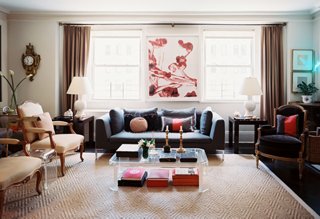 @Holly Allen: Wall-to-wall sisal with kids: good idea or bad?
GG:I love sisal, but wall-to-wall is tough, especially with kids. I would suggest an oversize sisal area rug or sisal floor squares; they're much more forgiving, and you can clean or replace an individual tile if need be.


(Photography courtesy of Annie Schlechter/GMAimages; Johnny Valiant/Martha Stewart Living © 2008; One Kings Lane; Honey + Fitz; Patrick Cline/Lonny Magazine)