Roy on her Quinoa Curry Salad:
"This salad is both nutritious and tasty—I love the combination of colors, flavors, and textures. It's my go-to entertaining recipe because it takes no time to pull together. I either make it ahead of time and refrigerate it or make it right before guests are coming and serve immediately. The dish is great as a lunch or a light dinner, and I always serve it in brightly colored bowls or in picnic containers to make it portable for my daughters. To plate it, I use a small portion of the salad (it's very nutritionally dense, so a little really fills you up!) and accompany it with cucumbers, sweet-pepper chunks, and a creamy chèvre topped with olive oil and lemon juice. Add a bit of freshly ground pepper and it's ready!"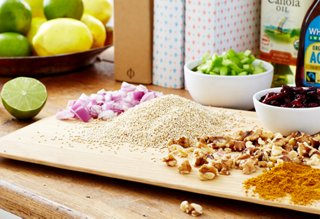 Serves 4
Ingredients:

1 cup golden quinoa
1/4 teaspoon sweet curry powder
1/4 cup organic dried cranberries sweetened with fruit juice
2 teaspoons canola oil
1 teaspoon blue agave nectar
juice of 1 lime
3 celery stalks, diced
3 tablespoons red onion, diced and rinsed in hot water
3 tablespoons walnuts, coarsely chopped
(Note: Sweet curry powder is available at ethnic markets and online at Penzeys. If you can't find it, Madras curry powder is a good substitute.)
Thoroughly rinse quinoa and drain in a mesh colander.
In a medium stockpot, simmer quinoa with 1 3/4 cups water, sweet curry powder, and dried cranberries until the quinoa unfurls, about 15 minutes or according to package directions.
Meanwhile, make the dressing: Whisk together oil, agave nectar, and lime juice, and set aside.
Transfer cooked quinoa to a large serving bowl, and toss with celery, red onion, walnuts, and dressing. Serve chilled or at room temperature.