My good friend Sarah lives in an amazing loft space in Brooklyn. The only downside: shabby-looking old factory floors with about a century's worth of grime imbedded in them. Sarah and her husband, James, are true lovers of design (check out their most recent project here), so naturally she came up with the idea of not just painting her floors but channeling Ettore Sottsass, the eccentric and visionary Italian designer behind the Iconic '80s design collective Memphis, for a painted floor runner.
Whether you're a Memphis fan or not, the basics of painting a floor are the same, so keep reading to see how we transformed this floor from grimy to gorgeous with a little sandpaper and paint.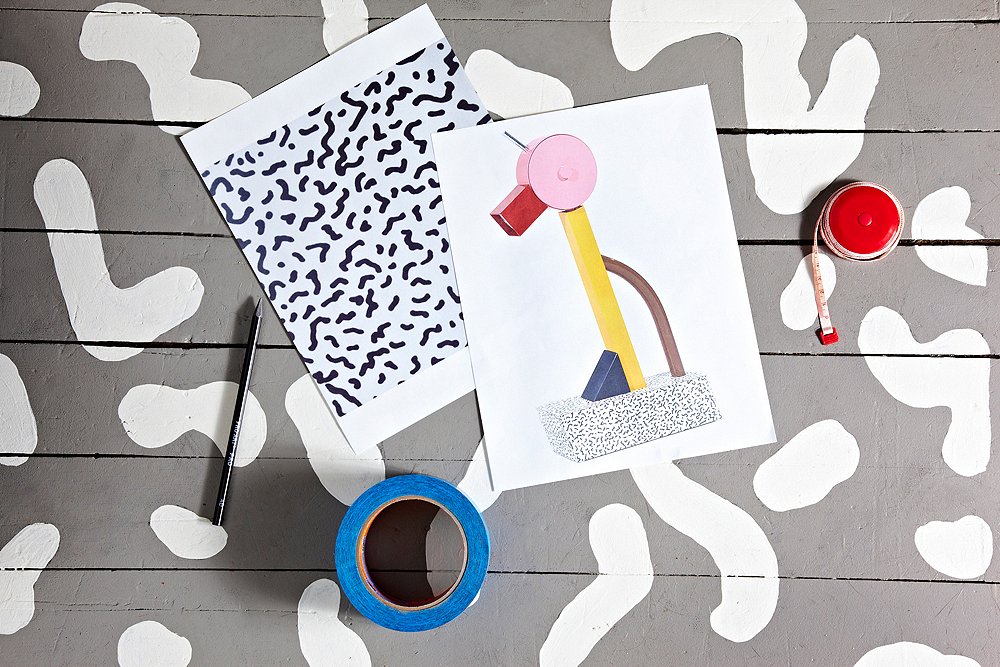 What You'll Need
Floor paint
Paint tray
150-grit sandpaper and pole sander
Dust mask
Paint roller and pole
2-inch paintbrush
Painter's tape
Pencil and eraser (optional)
Image editing software (optional)
Printer (optional)
Small artist paintbrush (optional)
Prep Your Floors
1. Begin by sanding your floor with 150-grit sandpaper. We used a pole sander, which is like a Swiffer but holds sandpaper and will save you from having to sand on your hands and knees. I also suggest wearing a dust mask.
2. Use a vacuum and then a mop to clean the floors and get rid of any dust. Once the floors are dry, you're ready to move on to painting.
Painting
Not all floor paints are created equal. Someone at your local paint store can best advise you on the right type of paint. As a general rule, oil paints are more durable but give off fumes and take a long time to dry. Water-based paints are easer to work with, dry faster, and are less toxic.
1. Begin by painting a border (about 6 inches thick) around the edges of the floor. I found that I could do this neatly without the use of painter's tape, but it's really a personal choice. If you're worried about getting paint on your walls or molding you should apply painter's tape before you begin.
2. Finish painting the interior sections with your paint roller attached to a pole. The pole, basically a long screw-on handle, really makes quick work of a lot of square footage and saves you from having to lean over. I highly recommend it!
Tip: Depending on your floors and the kind of paint you use, you will probably need to do a second (and maybe a third) coat. Always work in thin coats and allow them to dry completely to avoid clumps. The manufacturer's instructions will advise on drying times and whether you need a primer.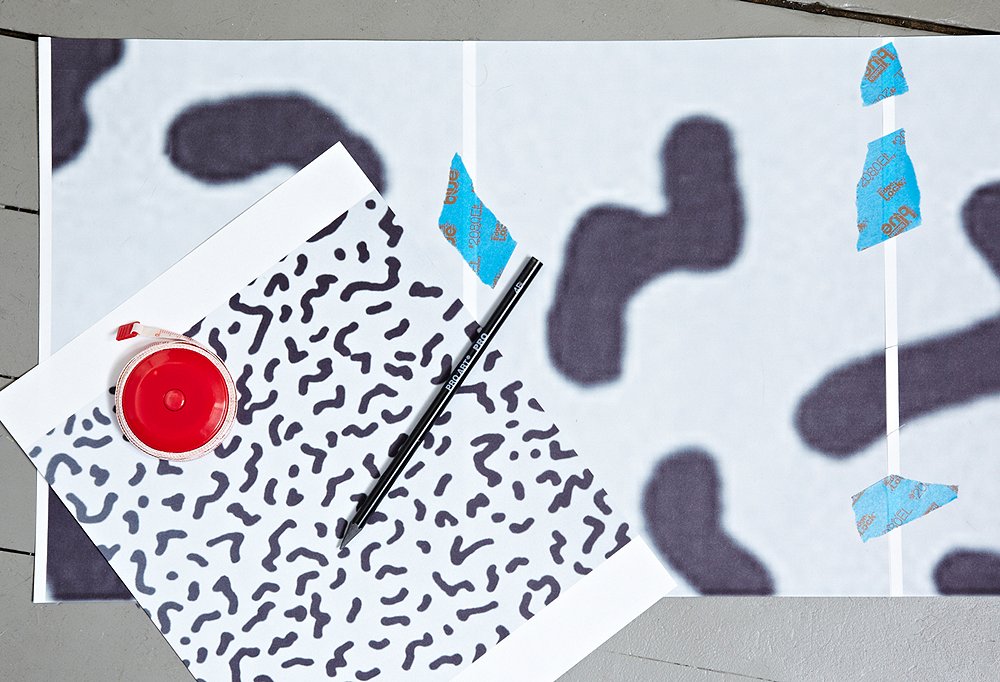 Adding Pattern
We found an image of the Memphis print Sarah wanted, known as Bacterio, online and then used Photoshop (but any photo program will do) to enlarge the pattern to our desired scale. Then we printed our oversize image in sections and taped the pieces together to make our life-size template.
We used two long lengths of painter's tape spaced 30 inches apart to delineate the edges of our runner.
I used a pencil to shade the back of the template, creating a sort of DIY carbon paper. This technique will allow you to trace the design on the front of your paper while transferring the design to the floor. You might need to reshade the back of your template if the transferred lines start getting too light.
Because this pattern is pretty organic, we simply traced our template multiple times, moving it between the taped edges until the runner was filled in to our satisfaction.
We finished the runner by painting in the shapes using a small artist brush, and then stood back to admire our Memphis masterpiece.