Designer and antiques dealer Richard Shapiro has spent the greater part of his life collecting, selling, and replicating treasures rich with Old World beauty. His latest book, Past Perfect, captures that passion for antiques and antiquity beautifully as it takes us into Richard's two enchanting homes—one designed to evoke a lavish Tuscan country villa, the other to conjure up a Moroccan cliffside escape. Both are filled with treasures and antique replicas that will instantly transport you.
In addition to lush imagery, the book is full of gems of wisdom from Richard that provide just the guidance we need when it comes to thinking about antiques and creating rooms that exude history and charm—which we'll be the first to admit can be intimidating. Here we break down our design takeaways, which have inspired us to cultivate our homes in a whole new light.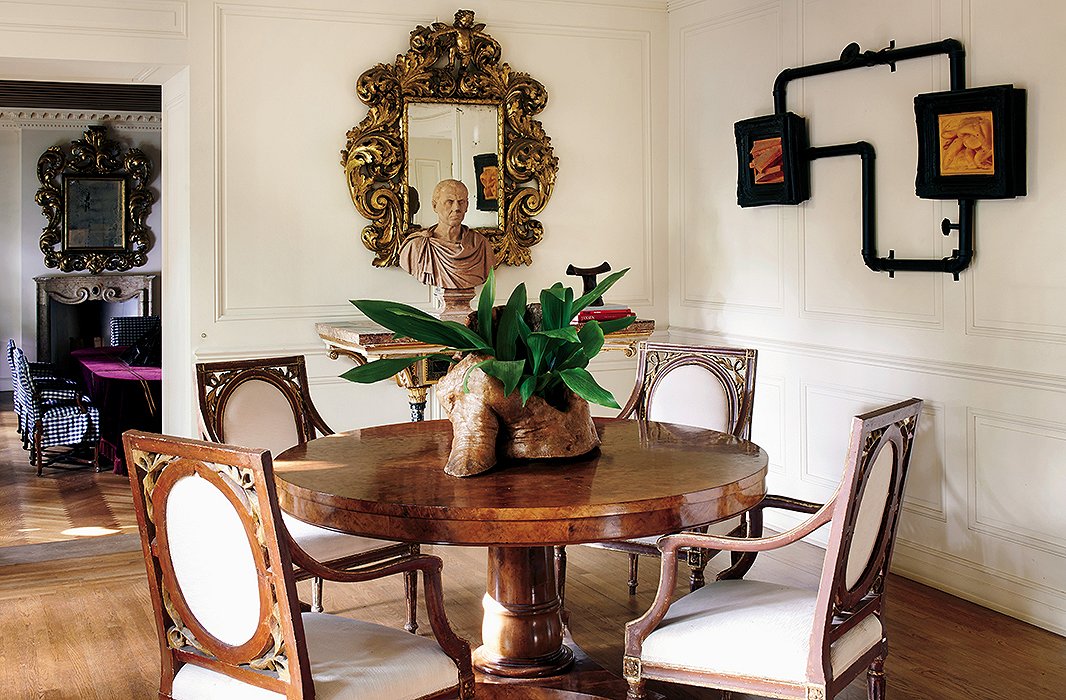 1) Cultivate Your Eye
Richard is a firm believer that a curious and humble mind is essential when it comes to training your eye to spot antiques and understanding the age-old techniques used to replicate their beauty. "I was a good student, not above sitting at the feet of those from whom I could learn. I developed an instinct for what constitutes intelligent collecting and true connoisseurship," he recalls. "For me, travel was always the best classroom. I made dozens of trips to Europe, visiting galleries, dealers, and collectors."
Each room in a house should say something, I believe, and particular rooms should say particular things.
2) Decorate Without Boundaries
"We think of the rooms in houses as being either public spaces—those designed with visitors in mind—or private spaces, reserved for the owners and their family alone," Richard points out. He favors a more fluid—and meaningful—approach. "I don't much care for such hard-and-fast distinctions, but I do feel that rooms should express the personalities, tastes, and collecting interests of their owners. They all should also be suitably comfortable and encourage frequent use."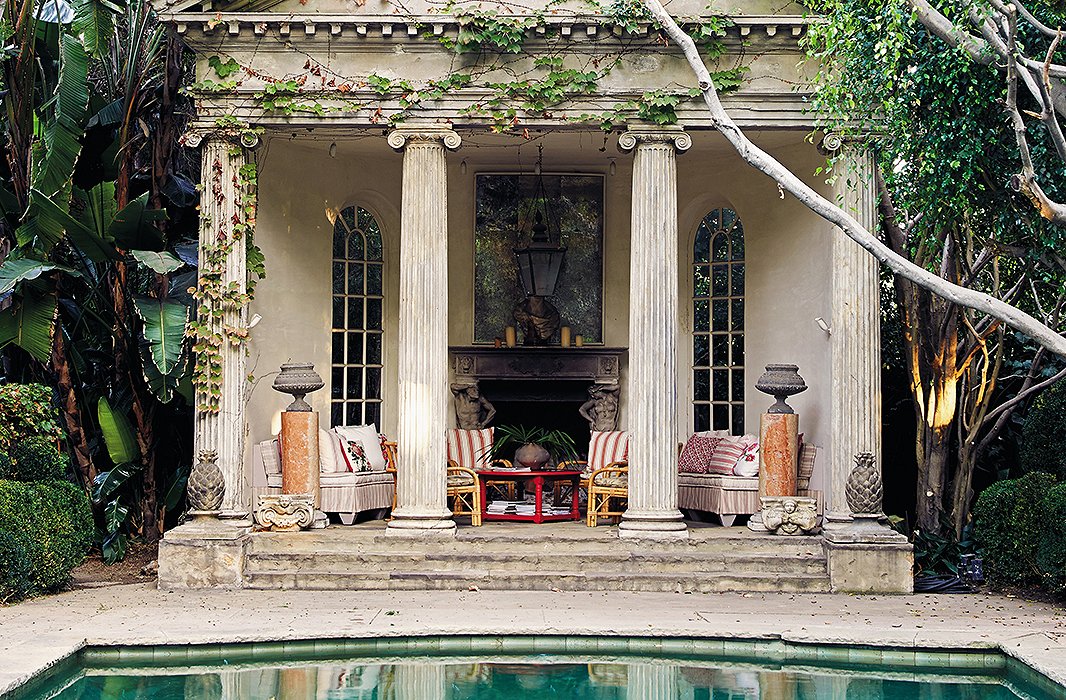 3) Go Big for Faux
Despite brimming with a wealth of antiques, Richard's homes also include faux pieces designed to mimic age. And he believes it is this combination of real and replica that transforms the mood of any space. Case in point: "Placing authentic antique stone elements—columns, capitals, and various fragments—alongside faux versions can result in a very convincing blend," he describes of his poolside portico. It's an example of the ultimate trompe l'oeil, a decorating trick Richard favors as a way to infuse spaces with history and character.
I wanted to create the illusion of another place, yet within that illusion there had to be an actuality of grace and intelligence.
4) Opt for Rustic Finishing Touches
To complement his wide-ranging array of antique finds, Richard embraces rusticated surfaces and finishing touches (it's an obsession of his) as a way to play up timeworn appeal—from stone tiles and worn wooden doors to African stools and salvaged Syrian tiles. But there are also elements that are handmade to appear weathered in order to round out rooms and spaces. "Over the years I've pursued various techniques and materials to simulate aging and wear, many of which are surprisingly simple," he points out. "A watery mixture of cement and white paint, applied with a brush, makes a very effective finish for virtually any object."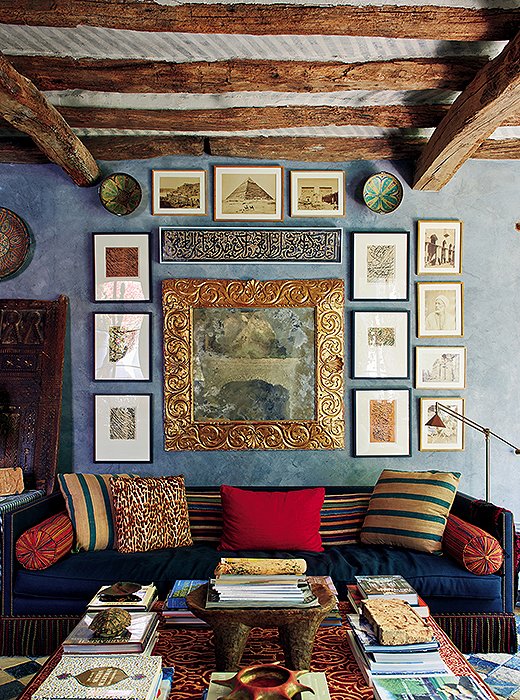 5) Mix Textiles with Abandon
"Textiles offer great opportunities for creative freedom," writes Richard, who has no qualms about mixing all types of fabrics in his homes. His sole guiding principle: "The mix can include anything that feels right"—be it a precious vintage fragment, an inexpensive modern print, or cotton pillows from thrift stores and discount stores. "When it comes to fabric, one can abandon caution with the knowledge that, within limits, it's hard to go too far astray."
6) Keep Adding to Your Collections
Richard holds firmly to the idea that displays of collections should never feel fully finished, fixed, or too precious to be altered; they should change according to your home, with new pieces added to each room. "In addition to the great pleasure I get from amassing these collections, they add immeasurably to the notion that their surroundings are continuing to evolve and grow, and are not merely snapshots frozen in time," he states.