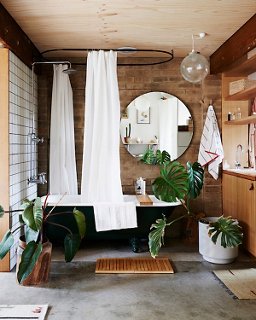 We spied this crush-worthy bathroom on Pinterest, and while its spa-like vibes have us daydreaming about losing hours to a hot bath and good novel, what we really love is that this is one look that's relatively easy to replicate.
Why It Works
Thanks to a masterful mix of materials—concrete floors and stark square tiles warmed up by rustic brick walls and wood ceiling and cabinetry—the rooms reads farmhouse-meets-loft, a seemingly impossible look it pulls off with aplomb. Big, jungly plants move the space in an outdoor-oasis direction, which only adds to its utterly escapist mood.
Our Favorite Part
We're suckers for a claw-foot bathtub, but one in black? Swoon. It transforms this traditional tub into a modern, almost architectural showpiece. If you're painting the outside of your tub, use a semigloss latex paint, which will expand or contract with your tub as it heats up and cools down.
5 Decorating Ideas to Steal
1) Greenery can add an amazing amount of color and life to neutral spaces. Chose moisture-loving plants for humidity-prone bathrooms.
2) Gray grout between white tiles gives your space an instant hit of graphic geometry (and is easier to keep looking clean than white grout).
3) We love items that are both wildly functional and beautiful to behold, and Turkish towels check both boxes. Hang them on the wall, or stack them on a chair or a stool.
4) Multiple rugs in a bathroom—or in any room for that matter—add color and texture.
5) If you're working with an exposed brick wall or considering painting a wall a darker shade, your room will look brighter if you hang a mirror on it and leave the wall across from it (the one it reflects) a lighter tone.