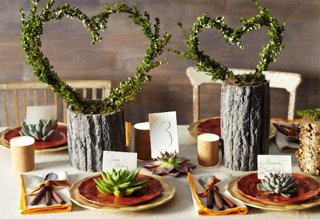 Leaves from cut succulent plants are ideal for holding place cards and table numbers. And flexible boxwood branches are easily formed into heart-shape centerpieces, anchored in faux bois ("fake wood") planters.
What You'll Need:
Thick gauge wire
Greenery such as boxwood or eucalyptus
Thin green floral wire
Rocks
Faux bois planter
Preserved moss
How-To:

Using your thick gauge wire, create a heart shape.
Using the thin green floral wire, attach sections of the greenery to the heart-shape form.
When the heart is fully covered, bury the bottom of your centerpiece in small rocks poured into the container.
Cover the rocks with moss.
Tip: You can also have a florist make this. It's a simple and long-lasting arrangement.
Succulent Card Holders:
You can get succulents from your florists and simply place them on the table or the plate. The leaves of the plant hold the cards perfectly.
Tip: The variety of colors and plant shapes adds color and texture to the table.
Calligraphy by Anna Beckman
"Succulents like these will last for up to three weeks in a bowl of water, so encourage guests to take them home to enjoy."
—Megan Pflug, Special Projects Editor