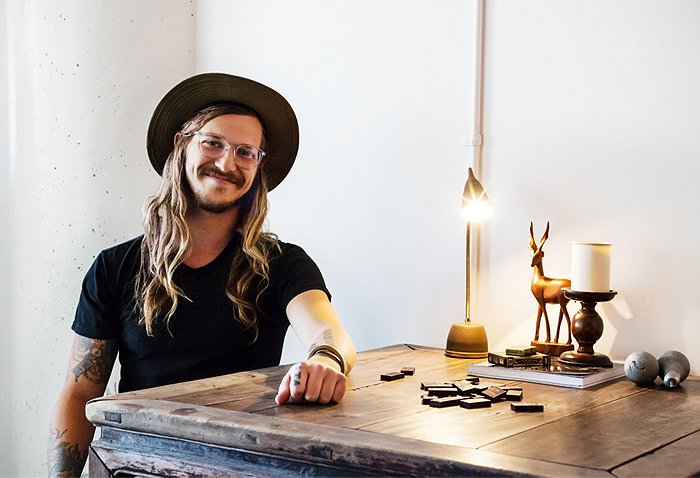 In a city where the sun shines practically all the time, it may seem hard to stand out by creating something as ubiquitous as sunglasses, but the Los Angeles-based founder of Saint Rita Parlor, Neil Bardon, has done just that. First there's his brand's name, an homage to his grandmother and muse, Rita with whom he shared a very special bond: "She was and still is my 'saint.'" Then there's Bardon's handcrafted, limited-edition approach to eyewear, with packaging all made locally and by hand. Add to that the integrity behind his approach to shape, color, and style, and you have summer's must-have pair of sunnies. We stopped by Bardon's live/work space for a peek inside his inspiring world.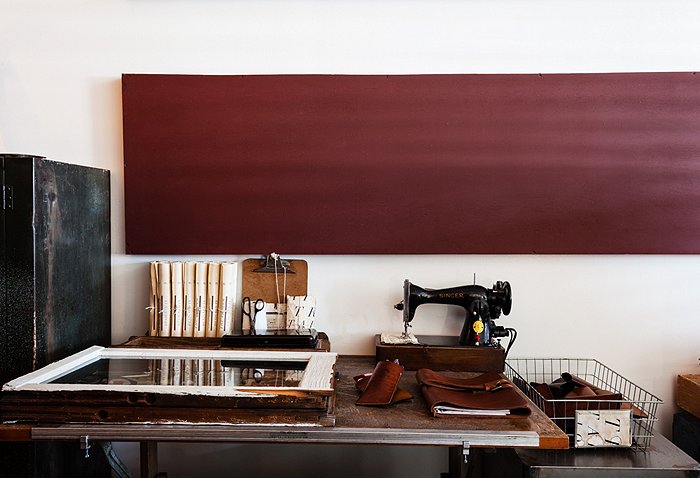 What drew you to the idea of starting your own company?
I wanted to create an intimate bond between designer and customer through an honest approach that everyone could relate to. Crafting by hand, for the most part locally, and at the highest quality possible was key. Our materials are sourced from the best of what's offered from several countries including the USA, Italy, and in Asia, and the packaging is all made in downtown L.A., mainly by me.
Saint Rita Parlor is named after your grandmother. How is she represented in your work?
My grandmother Rita and I had a very special bond, and every aspect of the brand conceptually has Rita tied to it. Trading coins was something I did with my grandmother, and she taught me about their heritage and worth. There's an antique brass coin embedded behind the right temple of each frame featured in my collection.
Each eyewear cloth is a custom paisley design that's multifunctional as a handkerchief or a pocket square. I collected and traded all sorts of cloths, including bandannas, with Rita. The leather cases look as if they've been passed down through the ages from your grandmother or -father, and this heirloom-quality touch is what the brand aesthetic is about.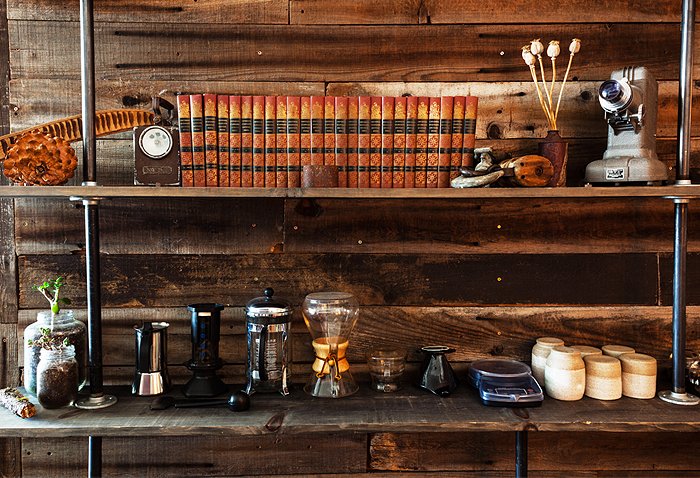 Describe your personal style, in five words or less.
Proper, eclectic, honest, conceptual, and heirloom. It's Ivy League meets the Wild West with an emphasis on European tailoring, design, and attention to detail.
How does your fashion sense mesh with your interior design sense?
I've always been OCD about organization and cleanliness, not in a weird way but in the sense that I care. I live my brand, since my home is also my headquarters and showroom. I'd describe my interior design sense as vintage, Mid-Century Modern, and architecturally driven. My design style is not straightforward but rather a bit chaotic.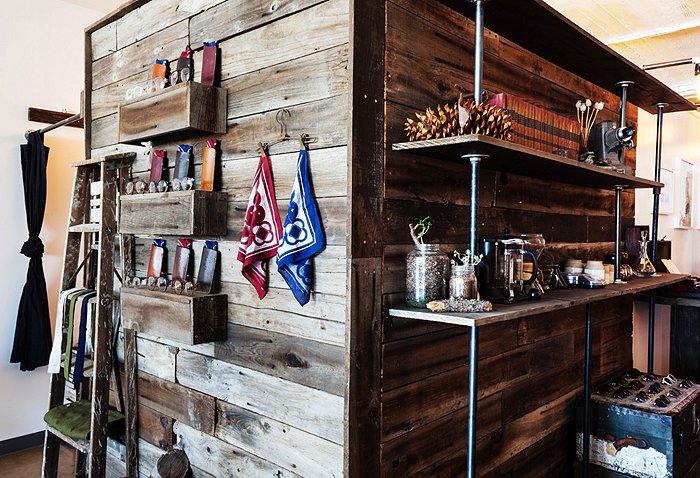 Saint Rita Parlor has totally taken off since the launch last fall. What do you attribute your success to?
Believing in myself and approaching design in the most honest way possible. Also embracing risk: You have to go for what you aspire to; otherwise you'll never know. Anyone can do anything. It's about execution and passion, and most important, knowing why you're doing what you're doing.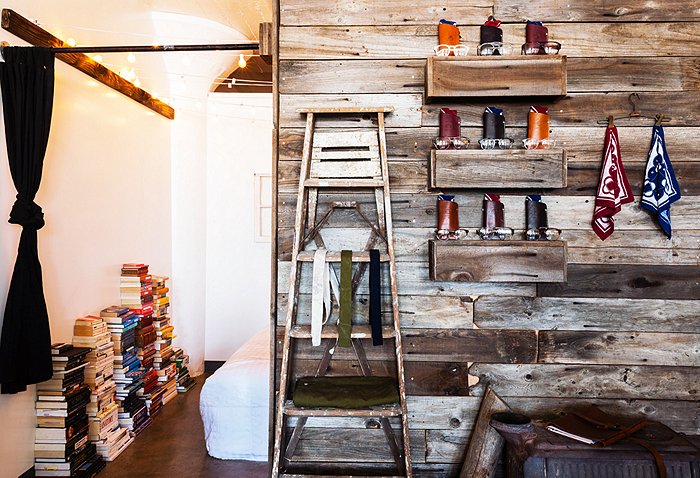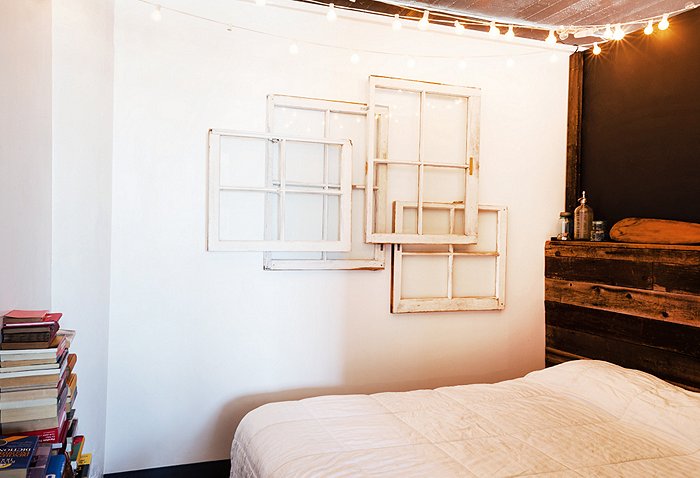 Your brand's aesthetic is really reflected in your packaging. Can you tell us a bit about that process?
I prepare each online order with a handmade receipt that I run through a 1920s typewriter with the customer's name and information, and on the back I leave a personal note. I use posters designed and printed myself as the parcel packaging that holds the eyewear, case, cloth, and receipt. Each poster is stained in coffee—Rita and I always enjoyed morning chats over coffee; also I had my first cup with her—and baked to lock in the color and scent. Both receipt and poster are stamped with the order number as well as the frame number for authenticity and signed by me. The final package arrives as if it were an old parcel.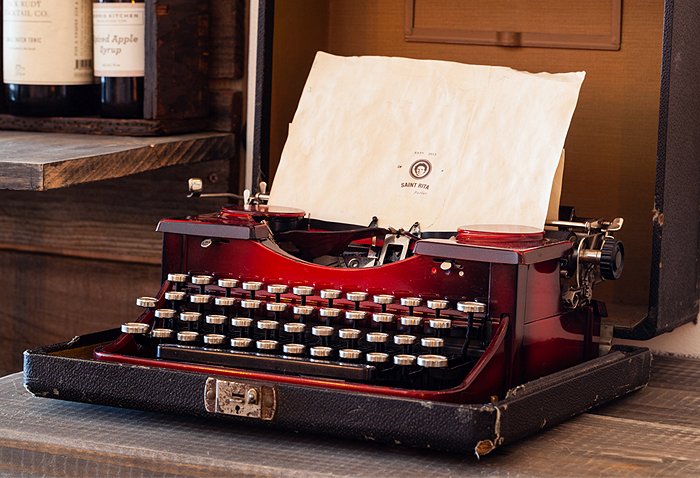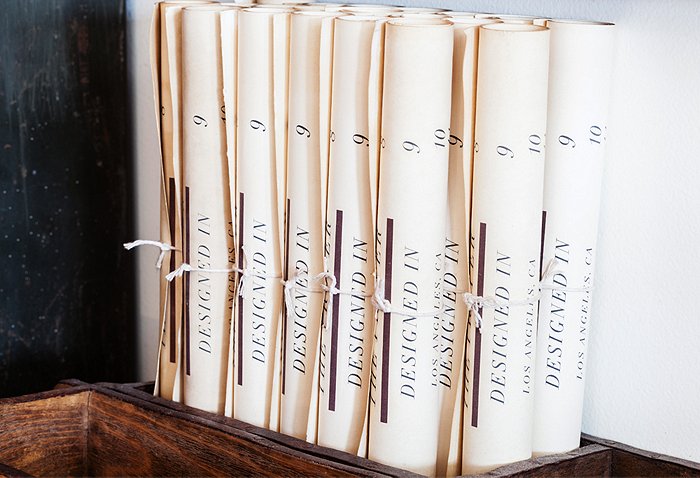 "Anyone can do anything. It's about execution and passion, and most important, knowing why you're doing what you're doing."
—Neil Bardon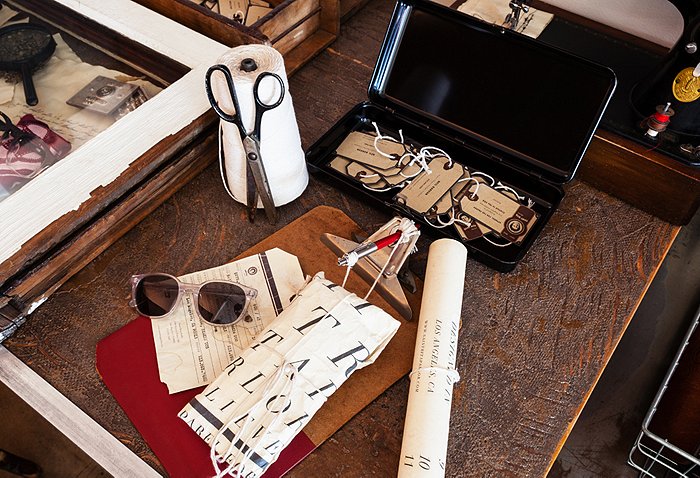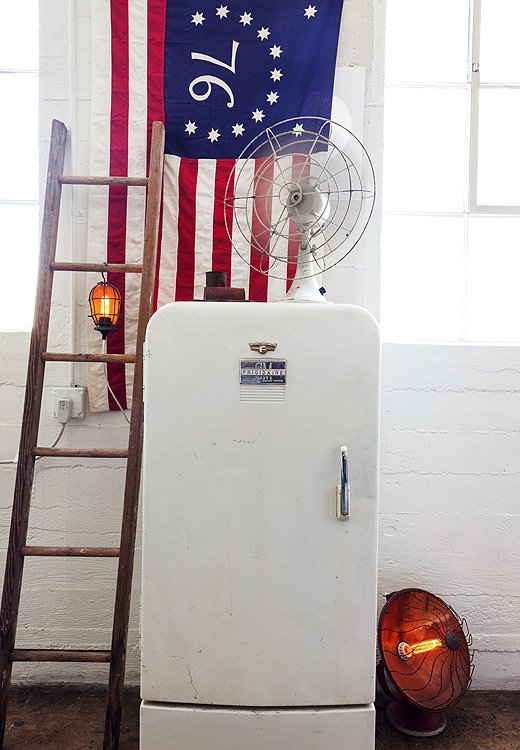 What's your best vintage score?
My 1920s GM fridge, which is used as my supply cabinet, and a 1904 World's Fair whiskey decanter with handwritten gold typography from St. Louis (where both Rita and I are from) that I found at Hammer and Spear.
What's your most prized possession?
Hands down my Richard Haines sketch. Look him up.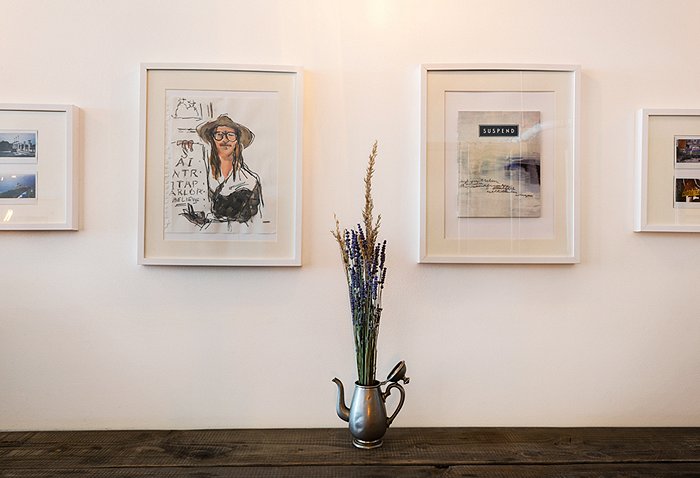 What item are you currently coveting?
The second illustration that Richard did of me back in April in NYC wearing the first look of my debut mens/womenswear collection that launches F/W '14.
What are you currently listening to?
I'm really into Lapalux at the moment as well as any other ambient, percussion-driven, glitchy, easy-listening music.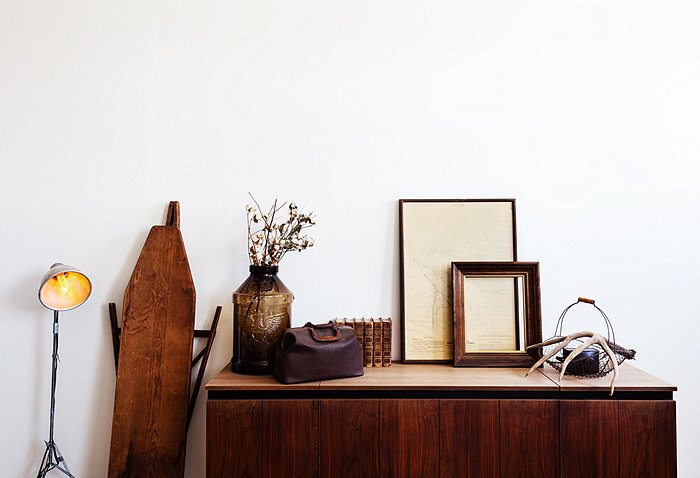 Favorite place in the world?
My favorite U.S. city is Chicago, and internationally I'd say London or Firenze, Italy.
Favorite decade?
The past 10 years, from living in Chicago and L.A. and starting Saint Rita Parlor, but mostly because that's about how long I've been with Ashley Ryan, my fiancée, whom I marry this fall! Otherwise I would have loved to be in my early 20s in the 1950s or 1970s.
 Photos by Nicole LaMotte
Shop Saint Rita Parlor Sunnies & Style!