When Samantha Bisger and her fiancé moved into their 750-square-foot, one-bedroom Greenwich Village apartment in June 2020, every piece of furniture had to be intentional and functional. "We moved in with barely anything, since it was our first apartment together," says Samantha, lead designer at Kemble Interiors in New York. "It was important to me to figure out how we were going to live in the space before we made any huge decisions."
It took the couple about a year to decorate the apartment, which helped them budget-wise. It also allowed Samantha to discover new sources of inspiration. "By the nature of my work, I'm continuously shopping and seeing new things that inspire me," she says, "so I'm always redecorating by swapping out my bedding, adding in new pieces of art, pillows, etc."
How does a designer approach decor when space and budget are limited? Samantha shares a few tips.
Consider scale—but not in the way you might expect. Often people assume they should put small furniture pieces in small rooms, but that can end up making a space feel too busy and overcrowded. "Our overscale sofa and desk actually make our small living room feel even larger," Samantha says.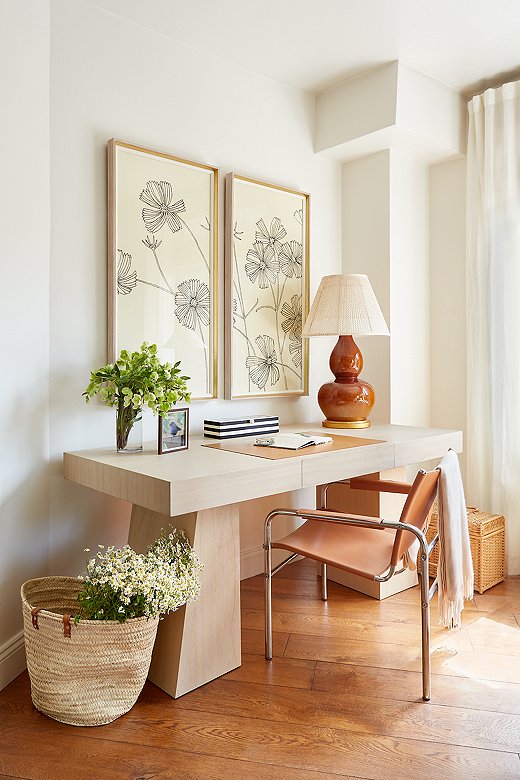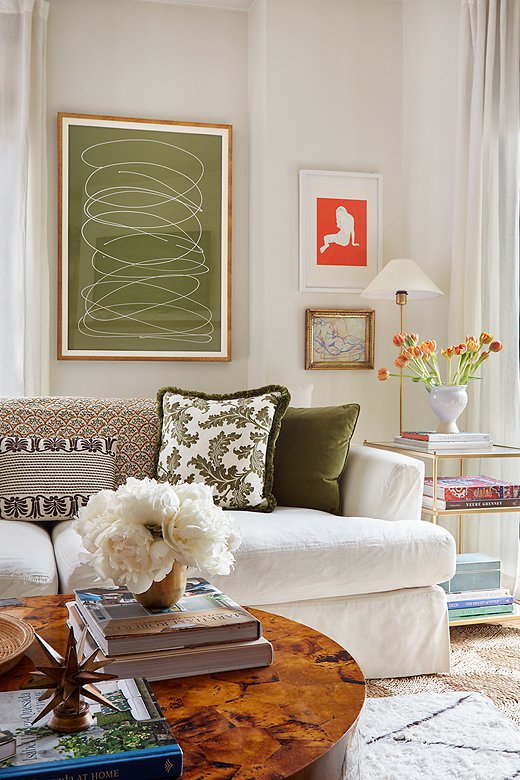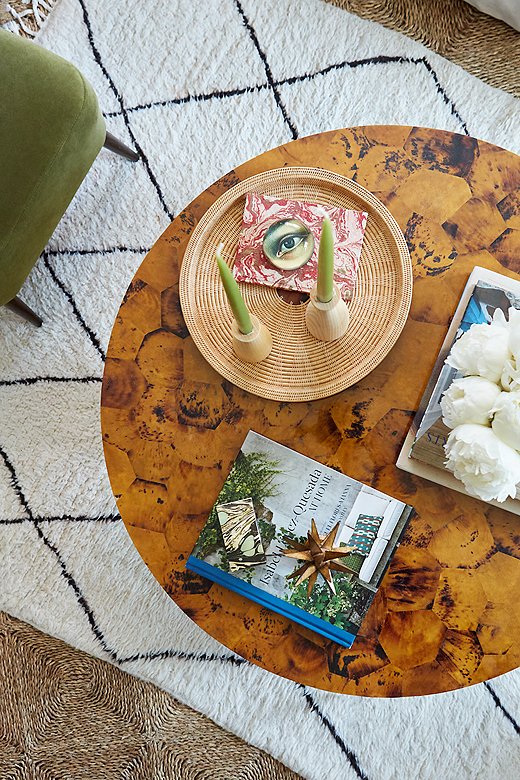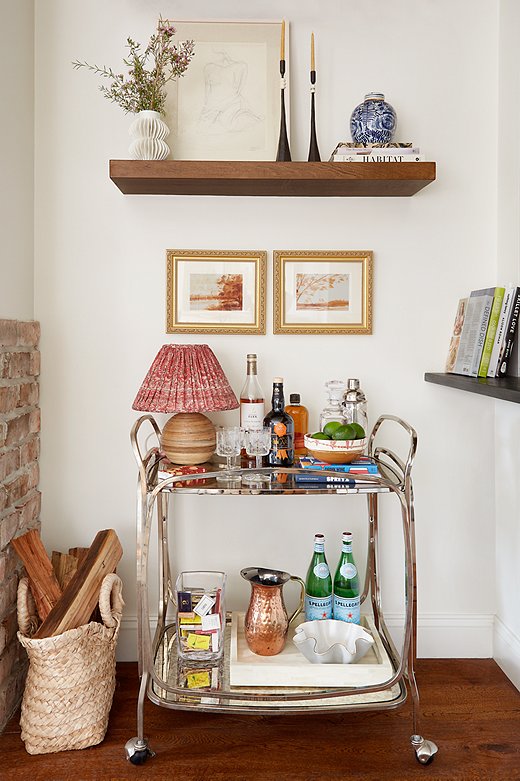 Light it up. A key tip that Samantha learned from Celerie Kemble, principal in Kemble Interiors, is the importance of placing several light sources at varying heights around a room. "We have lamps all over our apartment that help to set the mood depending on how we're entertaining," Samantha notes. She also swapped out the living room's ceiling fixture for one more to her liking, "which is a simple way to upgrade any rental."
Mix and layer. When aiming for a high-end look on a budget, it's all about the mix. For instance, Samantha elevated the look of the inexpensive woven rush matting in the living room by layering a smaller, cozy Moroccan rug on top. The pillows and throw on the sofa also add luxe layers of pattern and texture.
Hang your window dressings high. To make the ceilings look taller and the large windows look even bigger, Samantha had custom woven blinds made that they mounted above the window frame. "This is something we do in all of our clients' homes," she says. She paired the windows with simple white linen curtains that are also mounted just below the ceiling.
Display artwork that you love. Art doesn't need to be expensive or intimidating. Above the vintage bar cart, Samantha hung two sepia-tone watercolors that her stepmother painted, while the shelf above them displays a framed nude pencil drawing that an artist friend had sketched on a piece of notebook paper.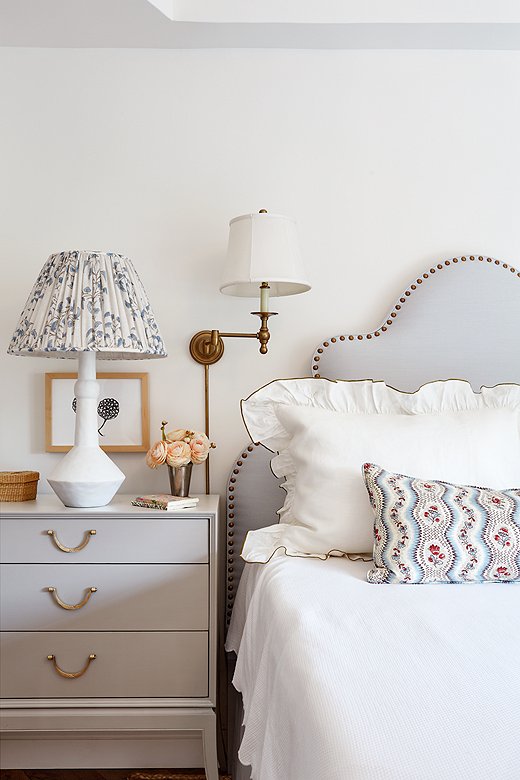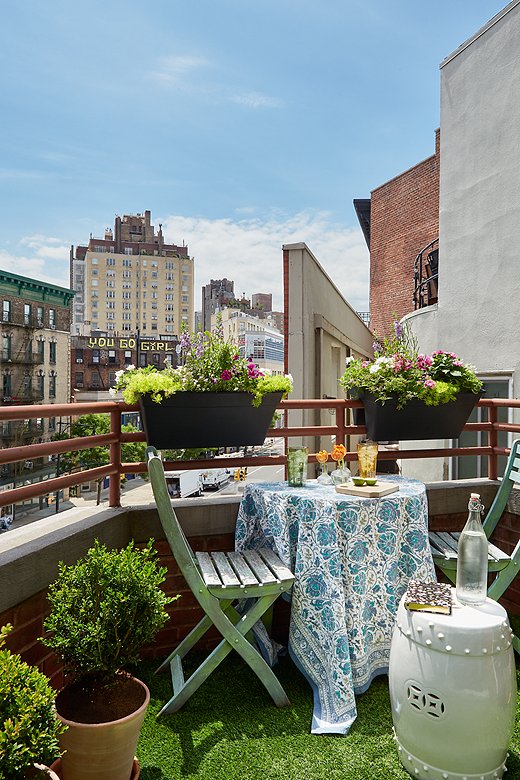 Don't rush the process. Designing her own apartment—especially during the pandemic—was a lesson in designing with patience for Samantha. "I think we waited over four months for our desk, and the walls weren't filled with art until recent months." Instead of scrambling and rushing to buy in-stock furniture or the first piece of art you find online, take a deep breath, she advises. "It's okay to have a hole and wait for things you truly love."