The founder of Shaffer LA, known for its vibrant-chic handbags, Erin Shaffer has come full circle. Growing up in a small Ohio town, she pored over Vogue magazines and set her sights on New York City. Now, after a career in Manhattan, her creations can be seen in fashion magazines.
By the time Erin graduated from F.I.T. with a degree in fashion advertising and marketing, she had already done stints in Catherine Malandrino's design studio and Burberry's PR department. "I learned quickly that fashion is not glamorous. It's hard work," says Erin, whose can-do spirit led her to a career in hotel and fashion PR. When she couldn't find the handbag that she needed, she took a deep-dive crash course, learning the ins and outs of making leather handbags from an Italian artisan who worked out of his garage. "He was an old Italian man that had worked back in the day in Italy, had factories, and ended up coming to America and doing these special kind of couture bags for people."
Erin then launched a collection of coveted bags that commanded attention in a big way. Collaborating with a team of local sewers, cutters, and painters, she now produces her handmade bags in a factory in the heart of Los Angeles. We recently stopped by to talk shop with Erin and get a behind-the-scenes look at the artistry that goes into each of her bags.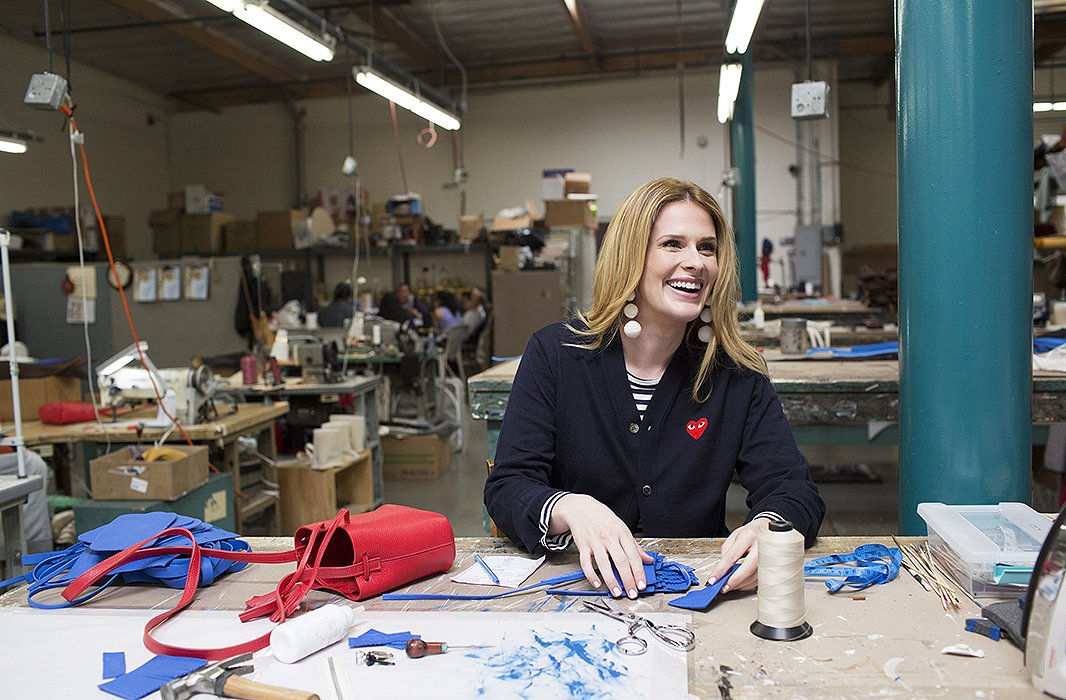 Tell us, what inspires the designs for your bags?
"I generally look across the board from high-end luxury to mass-production retail and look at how everyone's evolved it and then put the Shaffer spin on it, whether that's adding a tassel or changing a color."
What made you decide to manufacture your bags in Los Angeles?
"Seeing the conditions of where some of the most well known products that I wore and that I knew were made, the conditions of people and the environment that they worked in really, really hit me. I made a personal commitment that whatever I made and however I did it, I would do it with the best energy, the best ethics, and do it where I would be proud if somebody came in and saw where I worked and who worked with me. That kind of brought me to an adventure to find manufacturing back in L.A. There is so much untapped here. I mean, the only zipper factory left in the United States that hasn't been outsourced is in Los Angeles."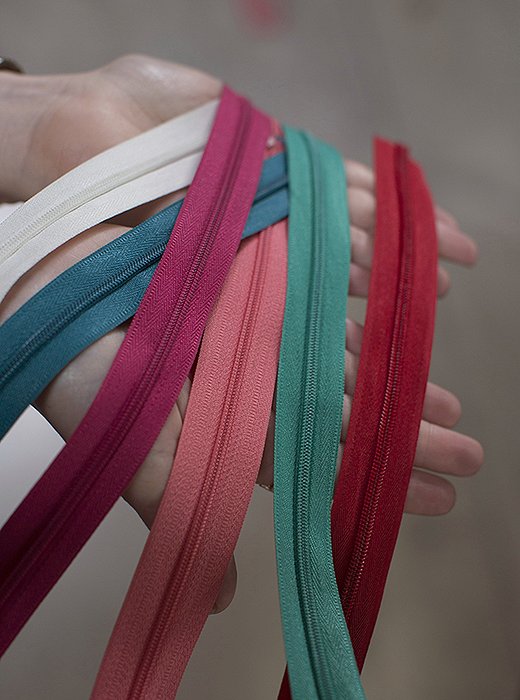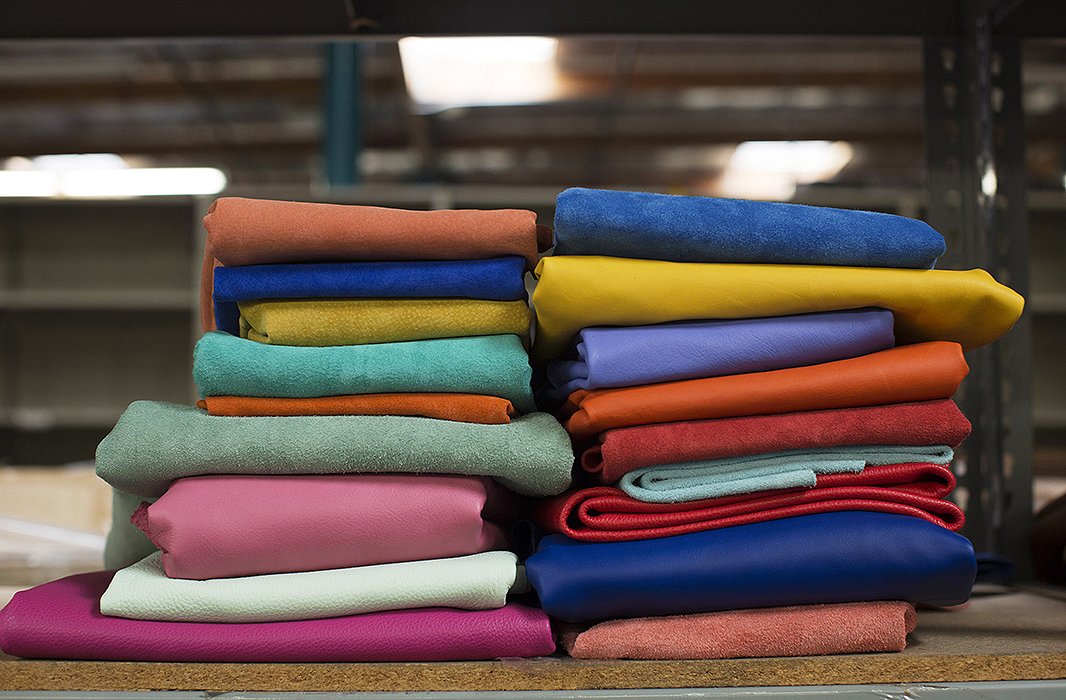 How did your first collection come about?
"It took me a bit of time, but I discovered a woman who had been working in the handbag business for many, many years. She employed women and primarily allowed them to work around not only their daycare and their children's schedules, but really provided them a ground on which they could learn business skills and manufacturing skills. This, to me, I knew right away was where I wanted to go. We set up our factory as kind of a learning space but also a space of growth. That's where we started the first collection. It's almost been a year and a half now."
How do you get the leather in all your bright colors?
"One of our key painting women, she had to teach herself the color wheel. Every time I come in with a new leather I sourced, she laughs. She knows she's going to have to go and mix paint to find a new color combination. She has, I would say, 50, 60 colors that she manipulates and plays with and creates to hit the exact shade of that leather."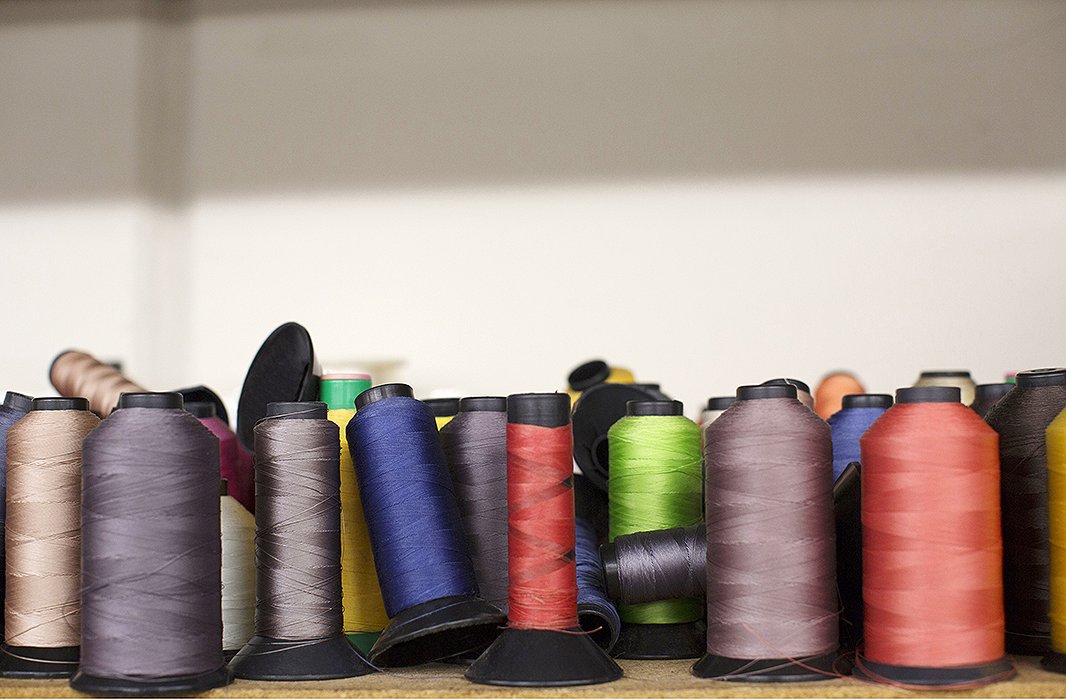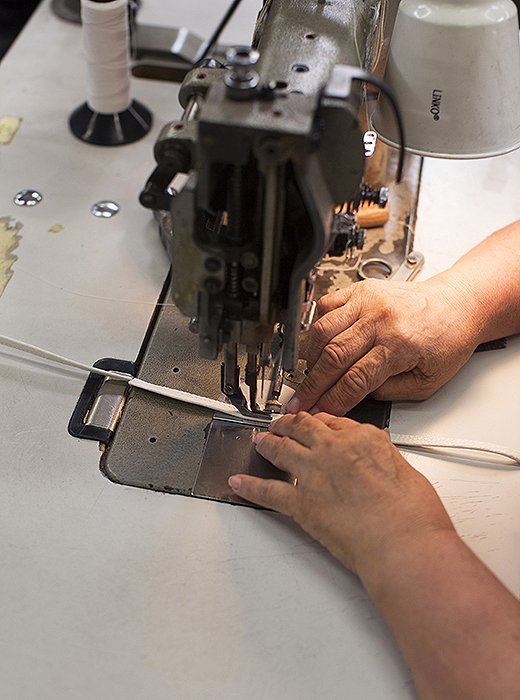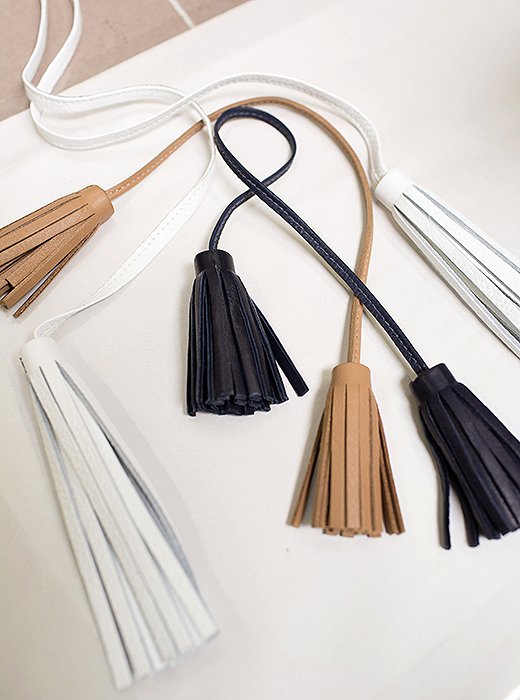 Is every bag entirely handmade?
"Absolutely. There are days that I wish I could just video how much handwork goes into one bag. Every tassel is made by hand. The top of the tassel is painted by hand. On the tops of, for example, the Greta bag, there's a thin, thin top where the suede and the leather meet. There's a thin top paint on that. Someone sits there with something smaller than a pencil and paints that top. There is so much handwork that goes into these bags that they aren't perfect. It's actually impossible to be perfect. The small imperfections show that it's handmade."
How long does it take to make one bag?
"It all depends on how much work is going on. It usually takes about a week to develop a pattern and a sample. We'll order the leathers from Italy if they're not in stock, which takes a week or two, and then we'll go into production. That can take about two and a half, three weeks. So we like to say about six weeks just in case."
What defines a good bag for you?
"For me, it's something that's completely seasonless, trendless, and I guess the other word would be classic. It's value for the price. And it's durability and longevity. I want to be able to use it, set it on the ground or on a table and not worry that if some moisture goes near it, it's going to be ruined."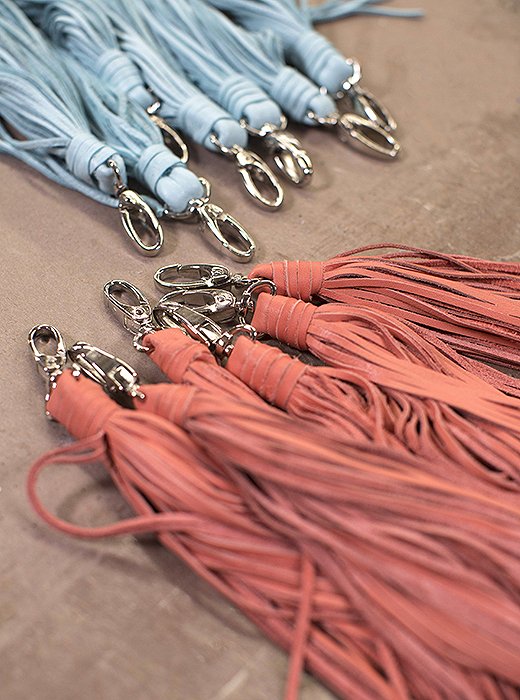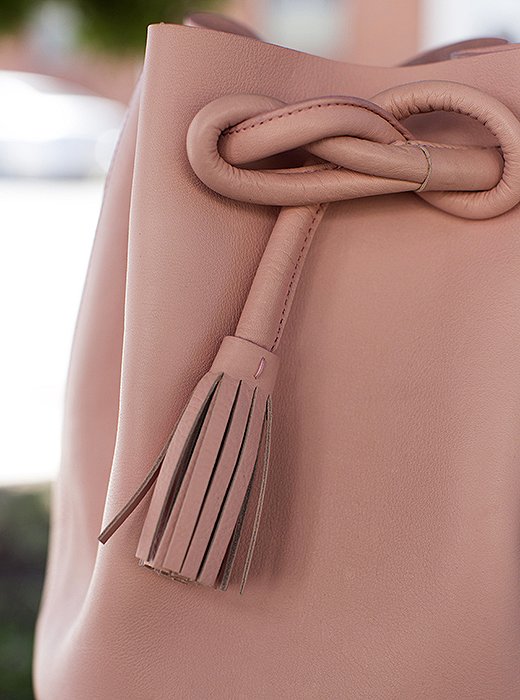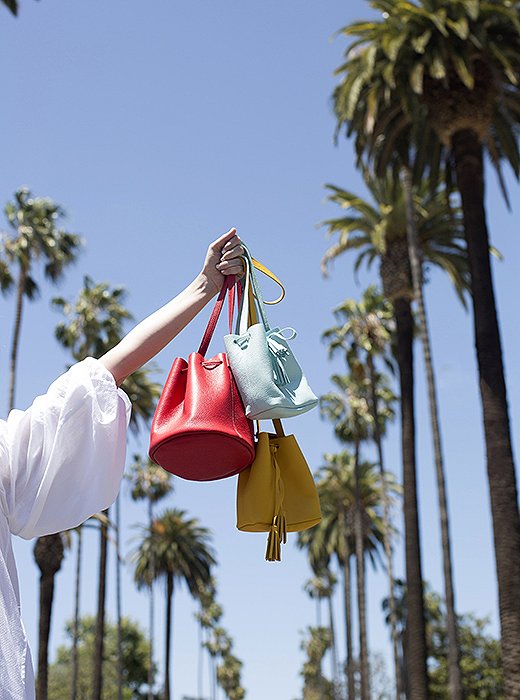 What are the greatest lessons you've learned in your career and as an entrepreneur?
"The first is just be nice. Treat other people the way you'd want to be treated, and be nice because they'll come back into your world. The second one is hard work… There is nothing that will replace hard work. You can work smart, but at the end of the day, hard work will always prevail. And last, especially when being an entrepreneur—I learned this from my father—is know everyone's job. You can't tell them how to do their job or how to do it better and motivate them if you actually don't know how their job works."
Any advice to people hoping to start their own venture?
"The logo of my brand is a diver. It's a reminder the best things in life don't come from sitting around. You just have to dive into it. You can write everything down on paper that will happen, won't happen, will cost a dollar, won't. You can do the world's greatest business plan, but until you're doing it, you can't possibly prepare yourself for being in the business. Just start."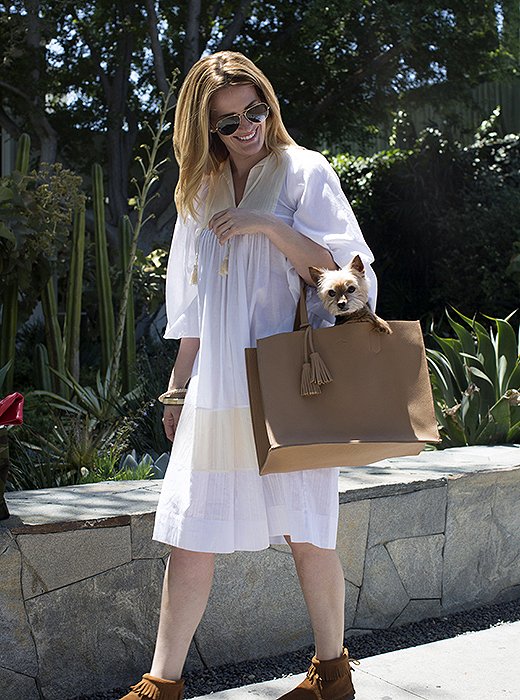 Erin Answers Our Style Q&A
If you absolutely had to choose a favorite bag…
"Oh gosh… If I had to pick one, I would say the Miryam tote. It is so simple, and I reinforced the handles so it is truly indestructible. I'm able to throw in an absurd amount of weight."
What's always in your bag?
"The one thing I love and I'm obsessed with right now is called Sole Serum. If you've been wearing heels out or espadrilles, you roll it on your feet when they're superswollen and it numbs your feet. This stuff is a godsend. I'm always keeping a sunblock, and I always have a Chanel lip gloss that I can take and wear out. And I always have a bottle of water."
Any big summer plans?
"I am looking forward to a very exciting trip back to the Hamptons, where I leave my heart. I'm finally getting back after many, many years. I'm going to do a little pop-up event with a store that's in Montauk by a pool. I'm actually working on coming up with something cool and clever to create for a limited-edition Fourth of July weekend-only bag."
How do you make time for yourself?
"Indulging in magazines is one of the most indulgent things I could possibly do. Going and sitting either at a pool or getting a manicure and just reading a magazine is one of the ways I kind of turn off and turn down."
What are your favorite L.A. go-to spots?
"Alfred's is this kind of joint that is really amazing for people-watching. I love their dirty chai—it's chai tea with a shot of espresso. It's on Melrose Place. It's a little pocket of L.A. that makes me feel a little bit of New York. Maybe that's why I love it so much."
How about for a bite or a drink?
"Zinqué is a newer place in LA. It's a restaurant and coffee shop, and it draws a really cool crowd because it's right across from the Pacific Design Center, which houses a lot of PR firms and design, interior design offices. It's not far from my house, and they serve my favorite rosé." [laughs]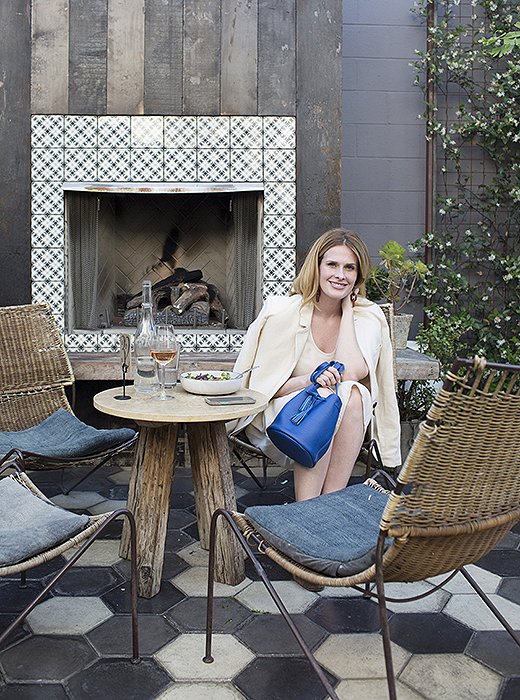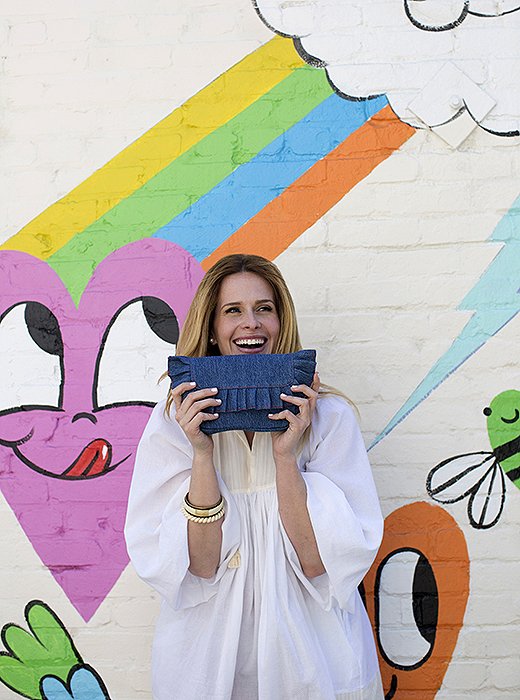 Where do you look for inspiration?
"Instagram, for me, is huge. I love to look at street style and small brands and sort of what some of the other, bigger brands are doing via Instagram and websites. A dear friend of mine is Louise Roe. I've known her for so many years, and I'm so proud and inspired by what she's created and her brand that she's created. One thing I admire is her ability to mix high-low style. I love to see what Aerin Lauder's doing or Kate Spade or someone who's taken a brand based on one item and grown it to be a lifestyle."
Whose style are you obsessed with right now?
"I have to say one of my dear friends, Natalie Bloomingdale. She is definitely one of my muses because she has a very specific point of view in the way she dresses. She remains true to her very conservative and classic style, but she finds these incredible designers that are unknown and kind of off the beaten path to really create her look."
How would you describe your personal style in three words?
"Very classic, preppy, and it's quite schizophrenic because it just depends on the day."