Unlike a solid or a fail-safe neutral, prints and patterns can be intimidating, especially if your space has more than a few modern touches. Inspired by our collaboration with Sister Parish Design, a reimagining of some of our favorite fabrics from the legendary decorator's archive, we created rooms that prove just how easy it is to incorporate touches of print and pattern into modern-day spaces. The verve these textiles, which were first created some 50 years ago, add to any room is a true testament to the timelessness of great design.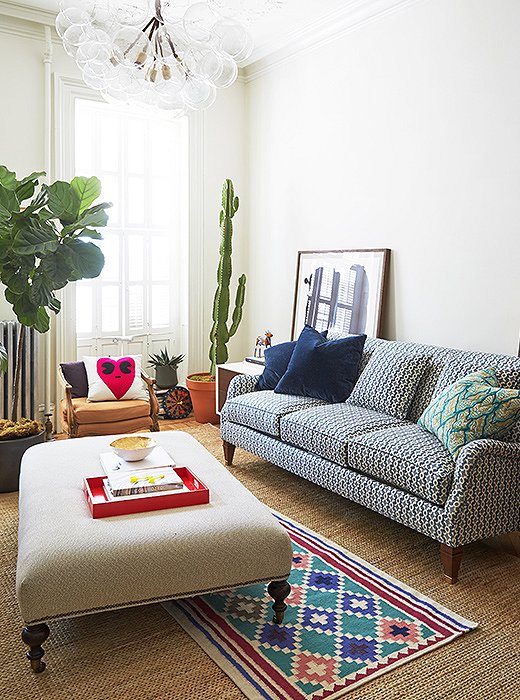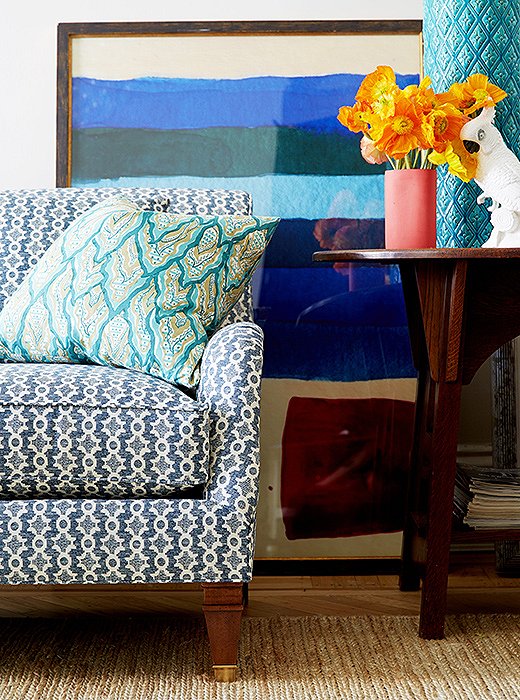 Enlivening the Living Room
As the mother of American Country style, a reimagining of English country for an American way of life, Sister Parish would have no doubt approved of  the traditional English-roll arm of this sofa, which visually grounds the room. The fabric used to cover it gives off a playful and inviting air. Combined with a modern bubble light fixture, sculptural plants, and some Rothko-esque artwork casually leaning against the wall, the pattern reads more graphic than trad. The addition of a mismatched but equally lively throw pillow nods to Sister Parish's love of seemingly haphazard pattern combinations.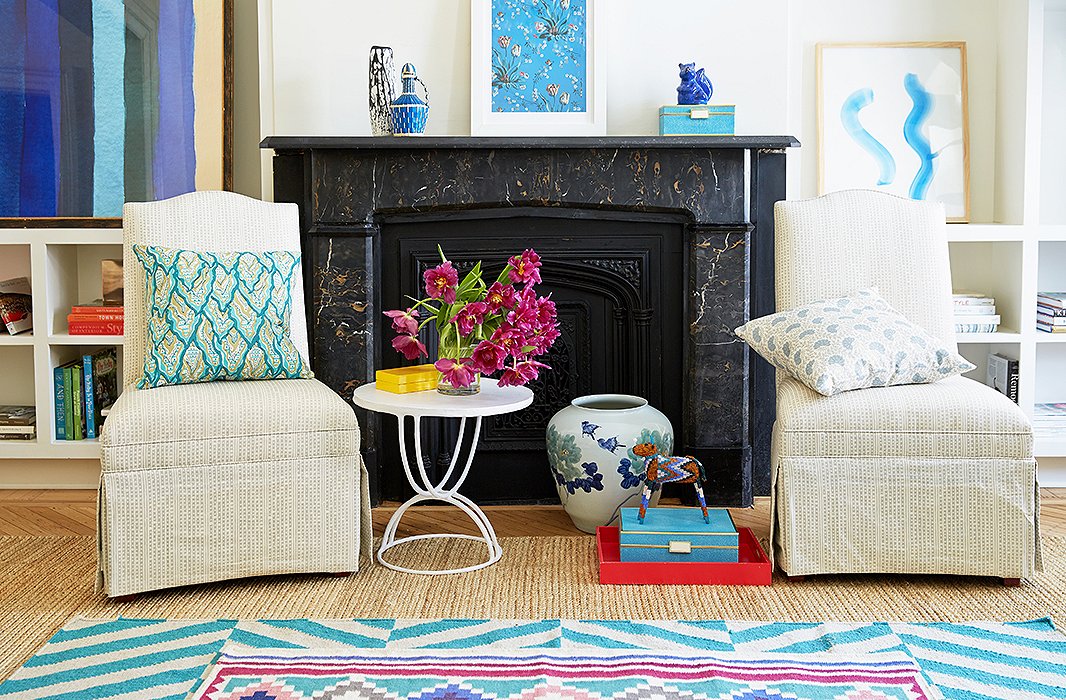 Balancing a Heavy Mantel
Pattern doesn't have to be all boom-pow. These shapely skirted slipper chairs are covered in the subtlest print imaginable, which adds just the right hint of airy texture to the space in front of a major mantel. The real pattern play is reserved for the pillows, art, and dhurrie rug. With sets of chairs, using different accent pillows is an easy way to mix up the matchy-matchy vibe and keep the eye moving around the space.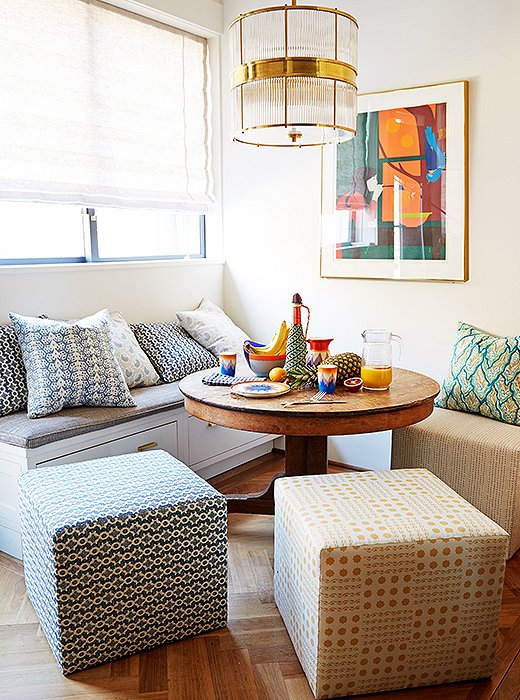 Maximizing a Kitchen Nook
Patterns of a similar density, tone, and scale can be easily combined without the look veering into misguided mash-up territory. Here, a kitchen nook is home to a half-dozen patterns, but the overall look is calm and cohesive. The clean lines of the cubes, the contemporary pendant, and the graphic print all act as a counterbalance to the natural sweetness of some of the prints, while an antique table anchors the space with a bit of gravitas.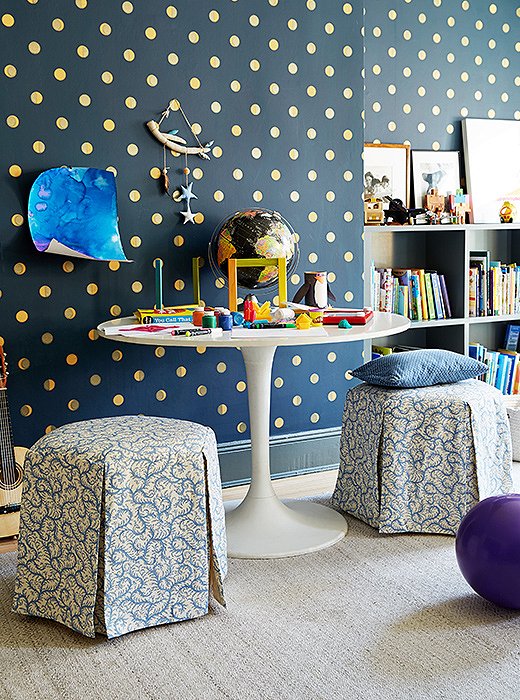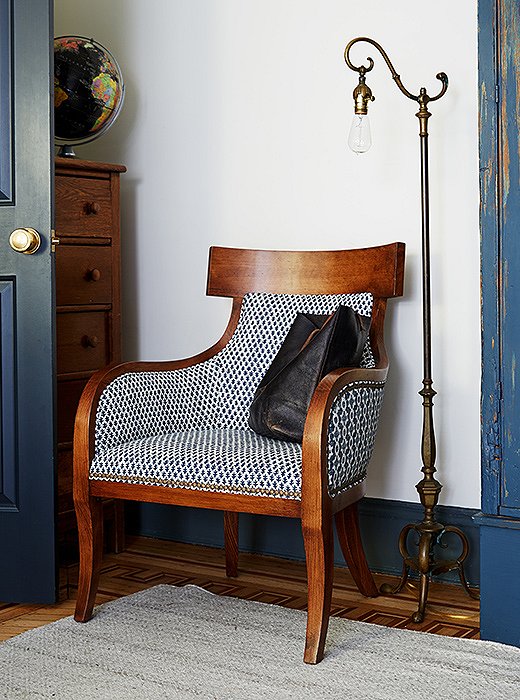 Upgrading a Playroom
Incorporating a traditional-leaning pattern and a classic shape into a space where they're least expected, in this case a sweetly mod playroom, can be just what a room needs to keep it from feeling one-note. The swirling, irregular vine print on these skirted ottomans brings a jolt of energy to the more simplistic shapes of the table and the wallpaper. In a corner of the room, the seriousness of an antique chair is taken down a few notches with the use of a casual fabric, a decorating trick that was one of Sister Parish's signatures.
Some think a decorator should change a house. I try to give permanence to a house, to bring out the experiences, the memories, the feelings that make it a home.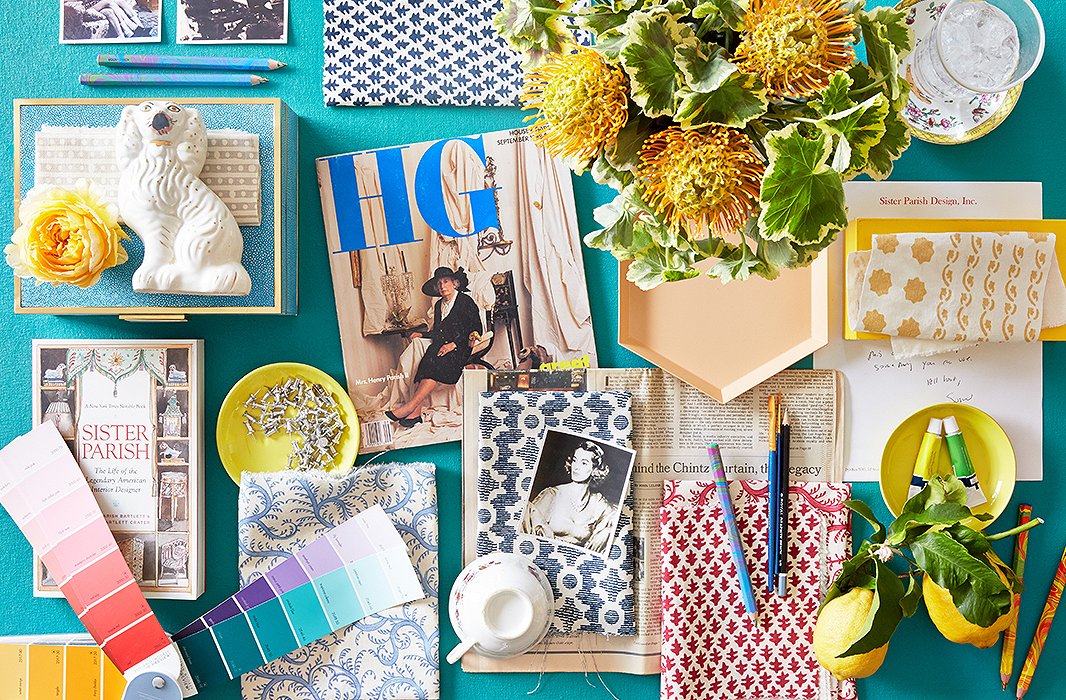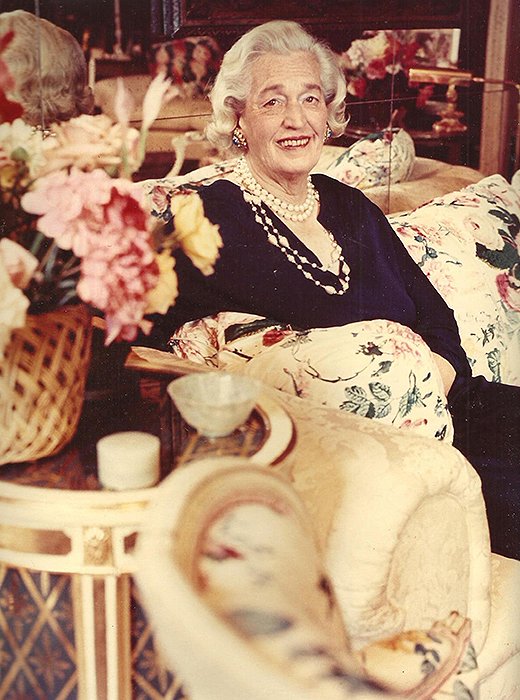 More Decorating Lessons from Sister Parish
Start Collections
Sister Parish started her first collection, Staffordshire figures, as a little girl, and groupings of interesting objects gave her interiors layer and interest. Everything she loved was amassed in multiples, including porcelain fruit, American flags, wicker baskets, and much more.
Keep It Loose
When it came time to install a project, Mrs. Parish was known to throw the carefully detailed floor plan out the window and just trust her instincts as to where each piece belonged, moving things around until she was happy. This is a good reminder to keep things fluid until you find your perfect setup.
Be Timeless, Not Trendy
"From the beginning, I never followed trends," said Mrs. Parish. "If I was aware of them, I didn't care, for I believed as I do now, the rooms should be timeless and very personal… I have never developed a look or followed a trend, because I knew that every person's life differs from every other, and everyone's needs are therefore different."
Perfection Is Overrated
The rooms that Mrs. Parish designed were often quite grand, but their lack of preciousness is what kept them feeling inviting. "She taught me the it doesn't have to be perfect. That it doesn't have to match," says Libby Cameron, a protégé of Sister Parish's. "To follow your instincts."