When I was growing up, my aunt had a skirt around her pedestal sink, and she kept a little basket under it for towels and toiletries. It's one of those things that always stuck with me because it was such an elegant storage solution, not to mention a fun way to add pattern and color to the bathroom. I thought it was time to revisit the project, but this time with a modern eye.
Here's What You'll Need
Adhesive Velcro tape (enough to go around your sink)
Scissors
Fabric (3-4 yards depending on sink size)
Needle and thread or a sewing machine
Measuring tape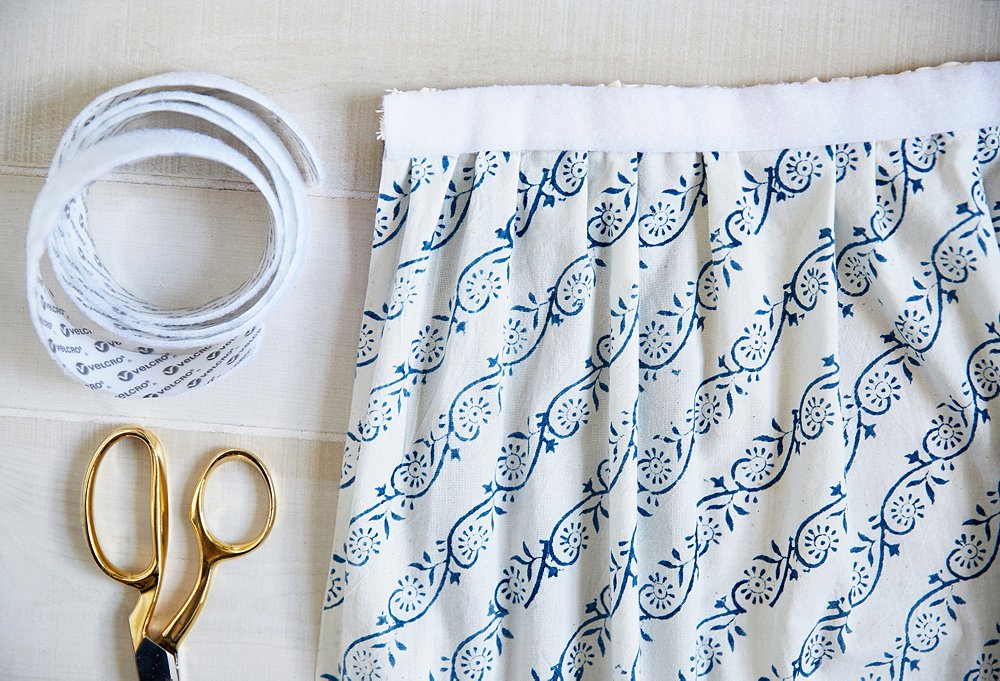 Step 1: Measure
To get started, take the measurement from the floor to the bottom edge of the sink basin to get the finished length of your skirt, adding one inch to that measurement to accommodate for the Velcro that will hold the skirt in place. To determine the width, take the measurement around the sink on three sides, skipping the back side that faces the wall. If you want to gather the fabric for a more feminine look (this is what I chose to do), double the width to give yourself enough fabric for gathering.
To give the skirt a modern feel I added a contrasting piece of fabric to the bottom edge. In total I used four yards of fabric—two of the light color and two of the darker fabric.
Tip: For a look that reads less feminine, skip the gathering and just let the fabric hang flat. 
Step 2: Cut and Sew
Cut the fabric to the desired dimensions, and finish the raw edges by folding them over and sewing in place. Next, gather the top edge and run a stitch back and forth through the fabric (this is known as a running stitch), and continue to gather and measure as you go until it fits around the three sides of your sink.
Tip: Most dry cleaners will do this type of light sewing for a small fee. Just be sure to bring all the measurements for the width and length of your skirt along with your fabric.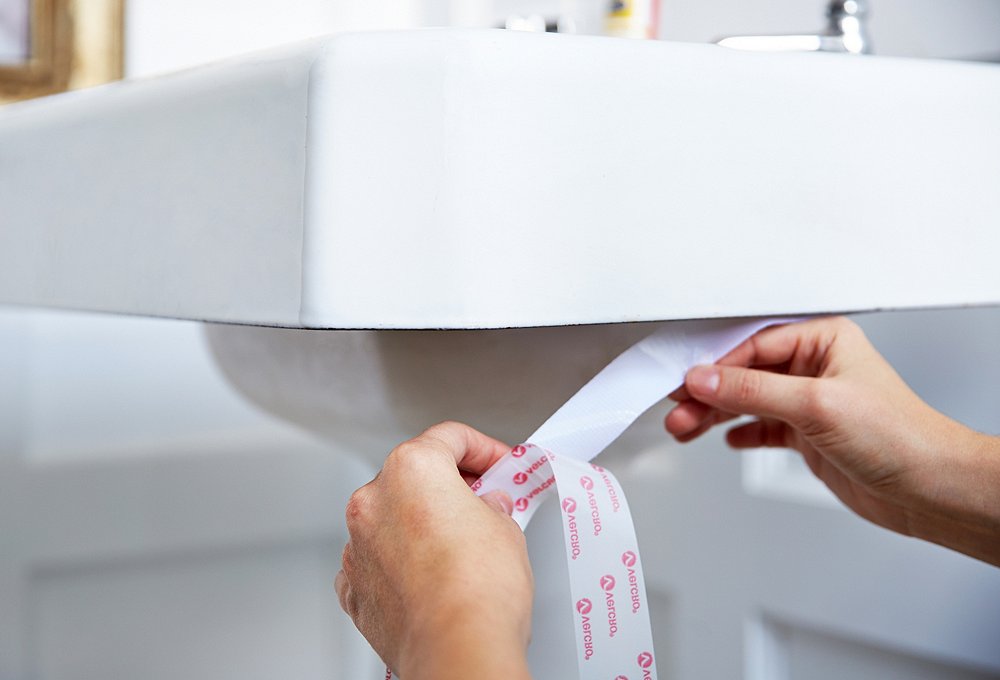 Step 3: Stick It
Apply one length of Velcro around the top edge of the skirt. Then apply another length of Velcro to the underside of the sink basin. Position the skirt in the desired place, and you're done! The best part about using Velcro to attach the skirt is that you can easily remove the skirt for washing or switch it out if you want to change up the look.
Resources: Adhesive Velcro Tape, Jo-Ann Fabric and Craft Stores