Work Some Wallpaper
It might seem counterintuitive, but the smaller the space, the bigger the design risk you can take. Think bold paint, a riotous rug, or, of course, wild wallpaper. There's no better place to try out that larger-than-life floral pattern or that boom-pow animal print you've had your eye on because wrapping a WC in wallpaper lends it a sumptuous jewel-box feel. If you're a renter, consider removable wallpaper sold in beautiful designs by companies including Graham & Brown and Spoonflower.
Seize the Side Wall
Rather than attempting to disguise the narrowness of this nook, we love how designer Natalie Clayman embraced its uniquely tight quarters, cleverly mounting light fixtures on the side walls. This fresh bit of orientation spotlights the chic sconces (there's power in pairs), and leaves breathing room around the mirror giving an impression of more space than actually exists. (Natalie also subscribes to our tip #1: working some wallpaper.)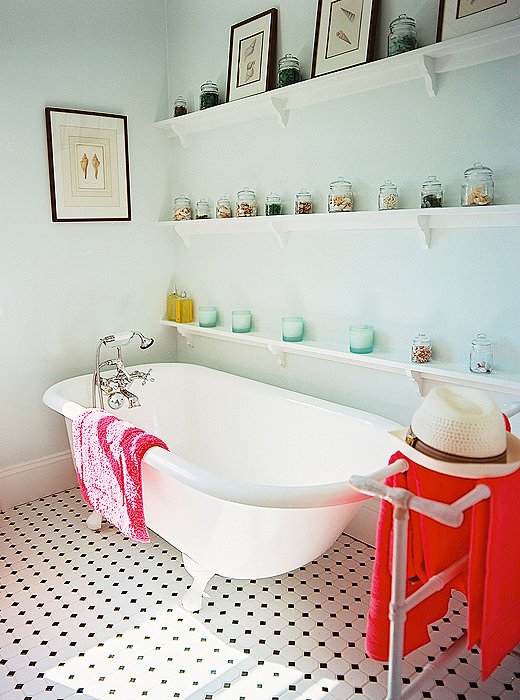 Up Your Shelf Game
In tiny bathrooms, storage space is everything—where else are you going to stash that eyebrow-raising collection of facial serums and hair ties? If you're lacking medicine-cabinet and under-the-sink storage consider a simple shelf. Evenly spaced shelves running the length of the room give the streamlined appearance of existing architecture, not random add-ons. Mounted near a tub, they can hold all your bathing supplies, otherwise they're the perfect place for a neat assortment of your prettiest products, cute boxes hiding cotton balls and Q-tips, and any other decorative accents—plants, candles, art—you're dying to display.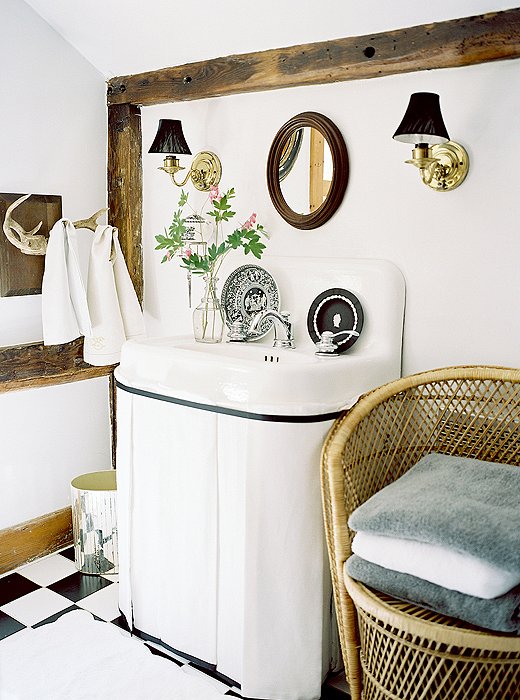 Put a Skirt On It
Ah, the skirted sink—an oldie but goodie. It's a smart solution for anyone with a pedestal or wall-mount sink who desperately needs more storage. The trick? Keep the look from feeling frumpy by working with a crisp white fabric that will blend into the silhouette of your sink, or by pulling in a design-forward pattern you've been loving. You can pass off the project to a seamstress, or DIY it with our sink skirt how-to.
Squeeze in a Tiny Tub
If you're like us, there's nothing better than occasionally ignoring that ever-mounting to-do list and escaping to the tub with a good book and glass of vino. And while you might not be able to fit a full-size version in a bathroom that's short on square footage, there are plenty of petite soak-worthy beauties on the market that can stand alone, or stand in as your shower basin. More unexpected than white, a black tub can ground a space, adding elegance to the overall look.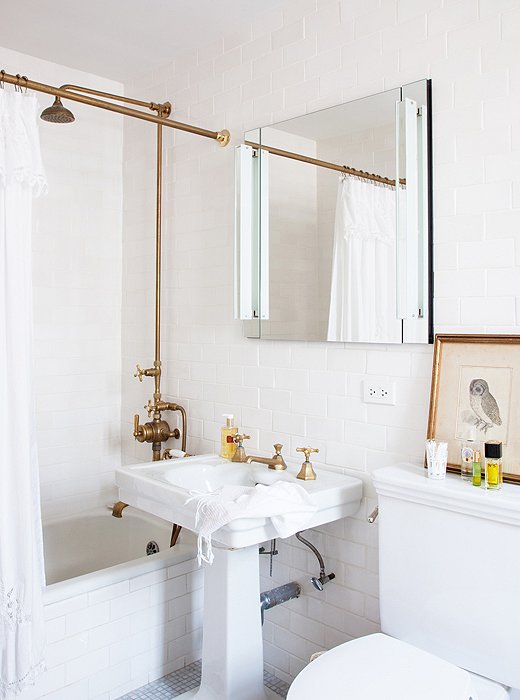 Opt for All White
The chicness of a white on white on white bathroom is undeniable. In designer Michelle Smith's space, her goal was to keep her bathroom uncluttered and sleek, something she accomplished by choosing white floor-to-ceiling subway tiles and a white pedestal sink. The room's only real color comes in the form of custom unlacquered brass fixtures. And if you tire of such a monochromatic scheme, this hue provide the perfect base for a rotating mix of colorful accent pieces because everything goes with white.