Megan Pflug, style guru behind our "Weekend Decorator" column, is an editor and interior designer based in New York. She's back with her latest crazy-cool DIY project, a charming small kitchen makeover that's absolutely genius—no paint, zero reno, and totally renter-friendly. 
Living and working in New York, I've seen and reworked a handful of small kitchens, providing everything from simple storage upgrades to a completely new Scandinavian-inspired look. So when a photo producer friend reached out to me for design help with her tiny kitchen, I was more than happy to sign on.
The space has a lot of cabinets, so the problem wasn't the lack of storage typical of small kitchens. The real issue here was the lack of color and light—the wall color was drab, the basic cabinets overwhelmed the tiny space, and one of the worst offenders was the harsh overhead light fixture. None of this did the small space any favors, and it left the countertops dark and hard to use; my friend confessed to me that the kitchen was so uninviting that she hardly cooked!
It all seemed like simple enough, but there was one crucial caveat: My friend lives in a co-op, meaning no painting and no major renovation updates were allowed. Read on to see how I pulled off this kitchen makeover with a few simple, stylish, and totally renter-friendly solves.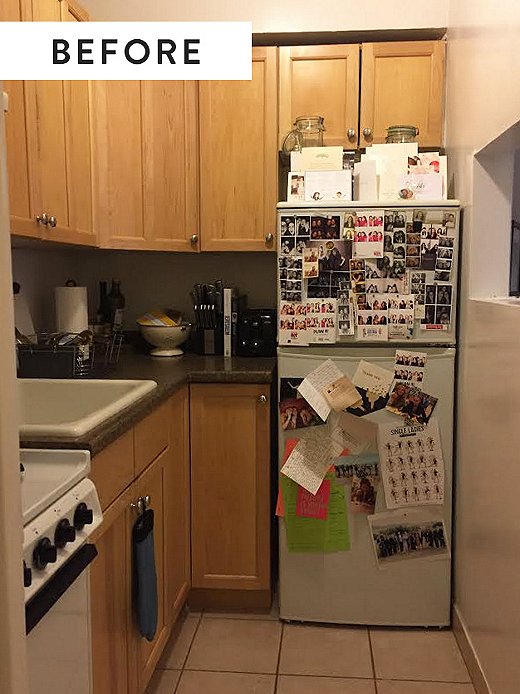 Kitchen Solve #1:
A Colorful Cabinet Upgrade (Without Paint)
The kitchen is basically all cabinets, and they dominate the space top to bottom. It was clear that the first task would be to bring a little color and style to the bland cabinets—although easier said than done when painting them is completely off-limits. As an alternative, I covered all the cabinets with a removable vinyl that's a supersimple DIY to execute. I chose a calming green that did wonders to camouflage the contractor-grade cabinets; I then covered the fridge as well for a cohesive look that's colorful but soft and easy on the eyes.
Click here for the full step-by-step for covering your cabinet doors (and those insets) with vinyl →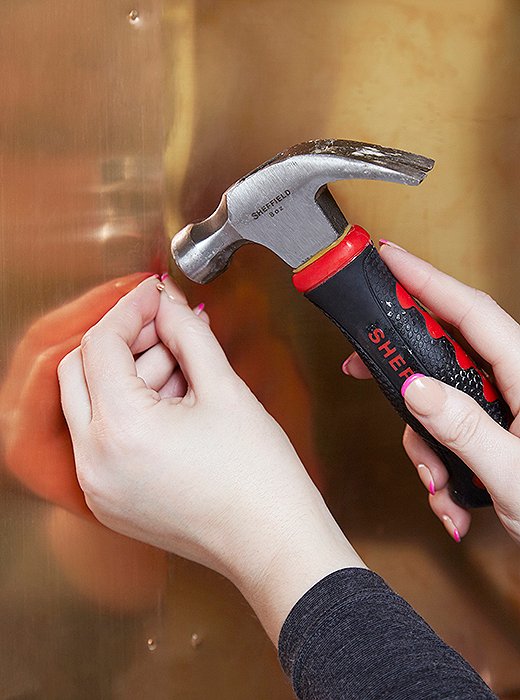 Kitchen Solve #2:
A Glossy Removable Backsplash
With the cabinets covered I turned my attention to the dull backsplash. To bring in a little light and gleam, I opted for custom-cut copper sheets. First, I measured the wall surfaces I wanted to cover and then ordered pieces that were precut to size. I used one piece per wall and one larger square that I positioned over the stove; to attach the backsplash I used a few copper nails that will be easy to remove and simple to patch. Aside from making a big style statement, the metallic backsplash helps reflect light and brightens up the countertops.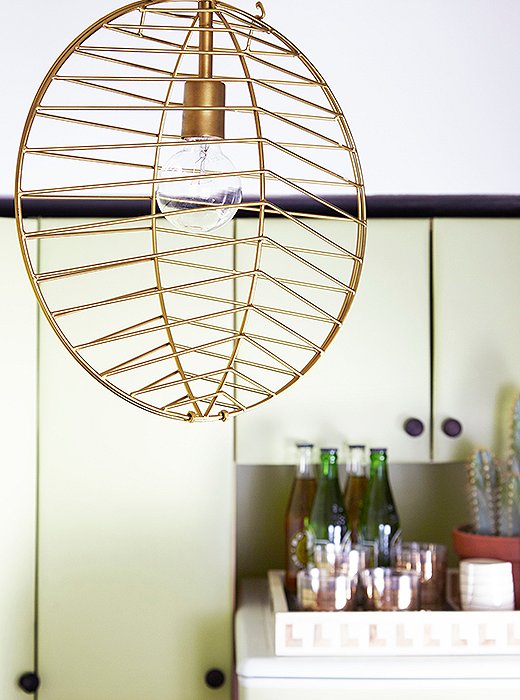 Kitchen Solve #3:
A Showstopping Lighting Switch-Up
Everything looks better in good light. Previously, a dated frosted-dome fixture did nothing to light the space. So instead, we brought in this new eye-catching fixture that hangs lower and casts more light from above—thanks in large part to its open design, which exposes the bulb. I also installed three battery-powered under-cabinet lights to turn the countertops into more-functional work surfaces. There are a bunch of cordless LED options available now, so no need to stress about hiding cords!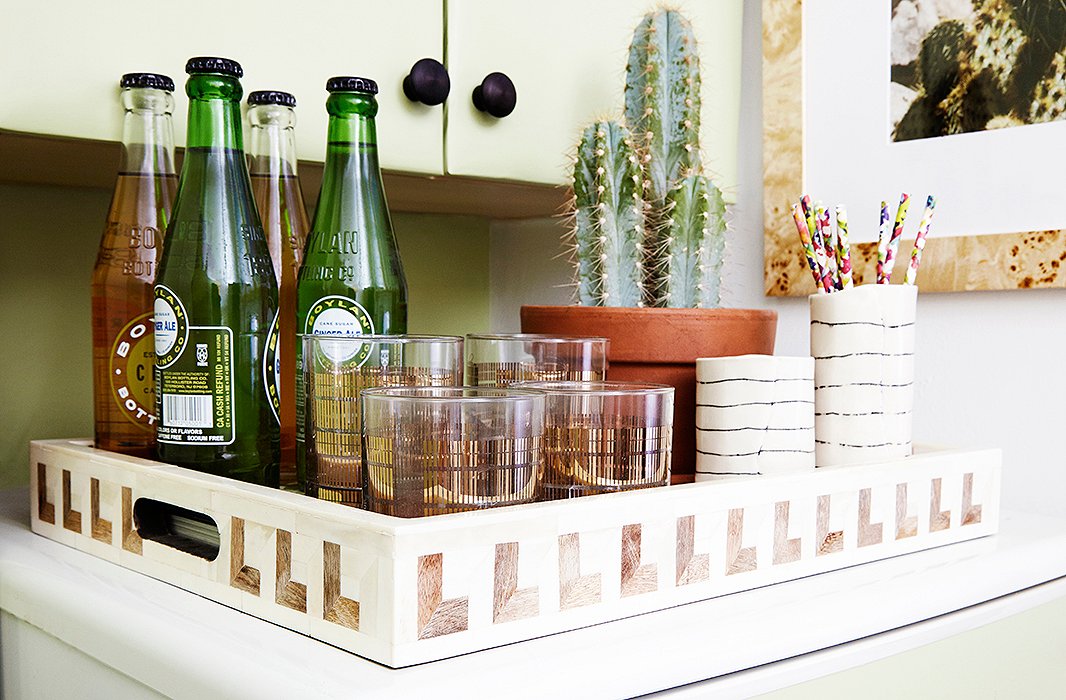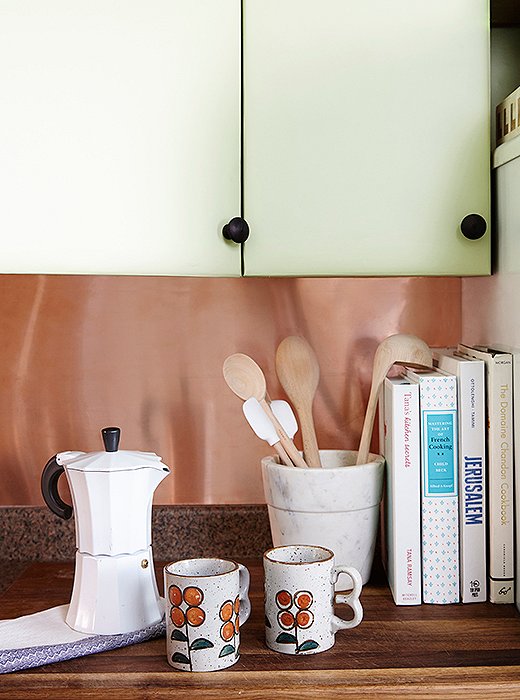 Kitchen Solve #4:
A Pretty Place for Everything
No matter the size of your kitchen, I stand by the idea that a few chic, organized displays are always a welcoming sight. I brought in a few vintage canisters and accents for stylish touches and simple organization—a marble pot for wooden utensils that doubles as a bookend; a large walnut cutting board to warm up (and cover) the less-than-attractive Formica used for the countertops; and a bone tray to corral pretty barware above the refrigerator.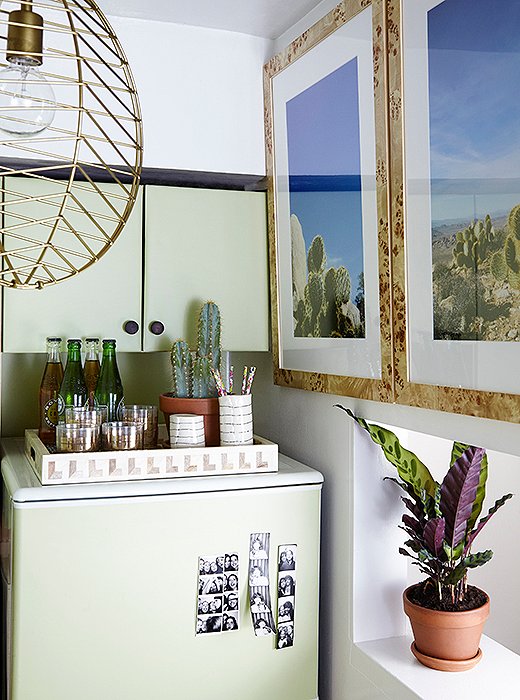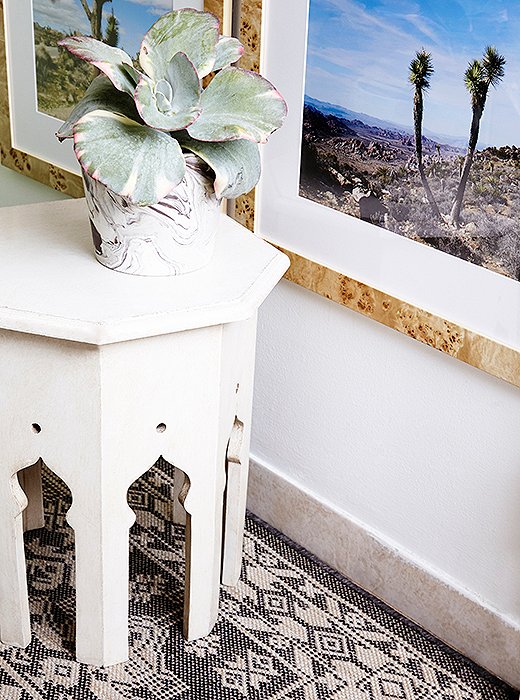 Kitchen Solve #5:
A Little Inspiration for a Practical Space
Even in the tiniest of kitchens, there's always room (and reason) for a little personality. On the walls, we added three beautiful prints, photographs that my friend had taken on a recent trip to California's Joshua Tree, which we had framed by Framebridge. It was the desert hues from these prints that inspired much of the palette for the kitchen.
Kitchen Solve #6:
A Gorgeous Landing
The floors left much to be desired, so to cover up the less-than-ideal tiles, I added an indoor-outdoor rug that's durable, easy to clean, but also delightfully stylish. To complement the rug's boldly traditional design, I pulled in a small stool/table  that now serves as a landing pad for keys, a plant stand, and an unexpected finishing touch.
See below for more of my Weekend Decorator projects on One Kings Lane!