Small-Space Trick: Open Shelving
Open shelving works wonders in teensy rooms. Though cabinets do a bang up job of hiding away mess, they eat up space, while shelves allow your eyes to reach all the way to the walls (glass-fronted cabinets provide a similar visual effect). To get the best of both worlds, include a mix of both: Dedicate one wall to open shelving for housing your prettiest china and stemware, and leave another wall to cabinets for stashing your spices, dry goods, and those college beer koozies you just can't bear to part with.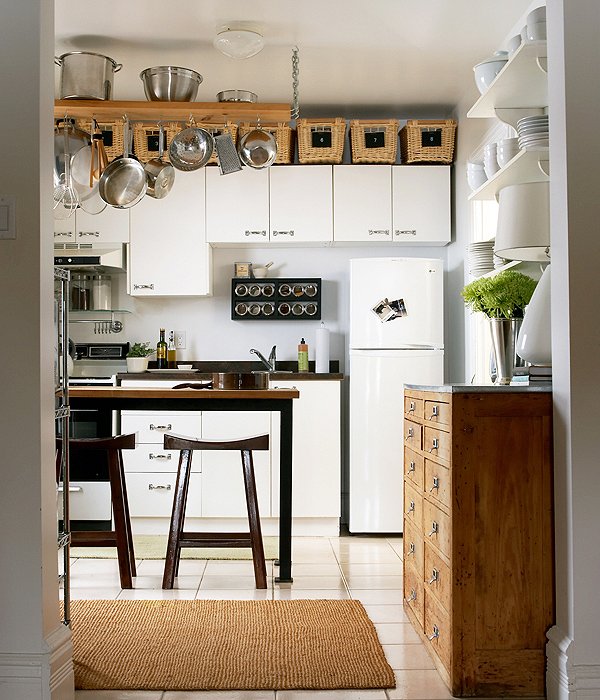 Small-Space Trick: Hang It High
The square footage of your space matters not if you have ample, well-placed storage. Shelves or cabinets should stretch all the way to the ceiling, and a hanging rack, centered above an island or breakfast table, will help define the area (and give you a spot to stick your pots and pans). As for the style of your storage, don't think that standard-issue built-ins are your only option. Why not bring in a design-forward sideboard or apothecary chest?
Small-Space Trick: Wallpaper!
One word: wallpaper. Paper one wall, change nothing else, and your little room will still look infinitely more pulled together. And if you think that wallpaper is a relic better left to your great aunt's home, we challenge you to peruse some of the chic designs that companies like Graham & Brown and Cole & Son have been turning out.
Small-Space Trick: Simple Color Scheme
A serene, monochromatic color scheme can trick the eye a bit and make a room seem larger than it is (see just how well this worked for one of our editors). Plus, it looks slick as all get out. Choose furnishings in the same palette, and feature a range of textures for added interest.
Small-Space Trick: Add Fun Flair
Once you've checked off the basics—a sink, stove (even a petite four-burner), fridge, and dishwasher (if you can swing it)—have fun with the decorating. Cheery touches whether in paint color or backsplash design add a dash of welcome flair. In a small studio with on open floor plan, you can also create the illusion of a bigger kitchen by extending some of its design elements to the area around it.
Small-Space Trick: DIY Island
Islands are no doubt convenient, but they're too bulky and solid to work in small kitchens. However, you can score similar functionality with a little table: Chop veggies on it, sit down to dinner at it (space-saving stools tuck cleanly underneath), and haul it out temporarily if you need extra room. Plus its legs allow light to pass through, and an abundance of light is crucial in small spaces.
Small-Space Trick: Decorate Every Inch
There's still plenty of room to play up your personality in a diminutive space. Custom window treatments, lively flooring, a few of your favorite paintings or photographs on the walls—such details turn the focus toward your kitchen's panache and away from its small stature.