Have you heard the news? Our Southampton shop is open and ready to welcome its second stylish summer! Last week we gave you a tour of the coastal-inspired space, which is filled to the brim with inviting furnishings, one-of-a-kind accents, and brand-new finds. It's also filled with creative decor ideas you can easily translate to your own space. Read on as we break down a few of our favorites—then stop by 11 Jobs Lane in Southampton to see it all in person!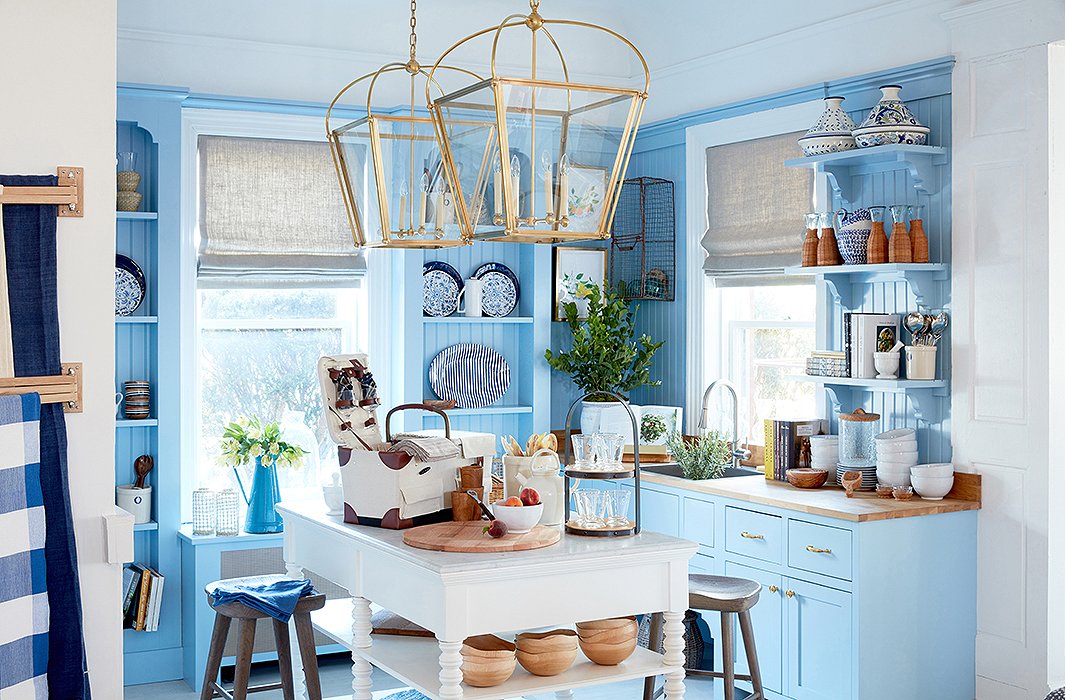 Try a Monochromatic Makeover
Redoing a kitchen is no small project—and replacing cabinets, countertops, and backsplashes isn't always an option. For a revamp that's both high-impact and low-cost, look no further than a few cans of paint. In the kitchen of our Southampton shop, the walls, trim, cabinets, and shelves are coated in the same cheery shade of blue, an approach that unifies disparate surfaces and elevates humble beadboard and Shaker cabinets to high-design status. Blue-and-white tableware and plenty of greenery add contrast to the space, as does the bright white island.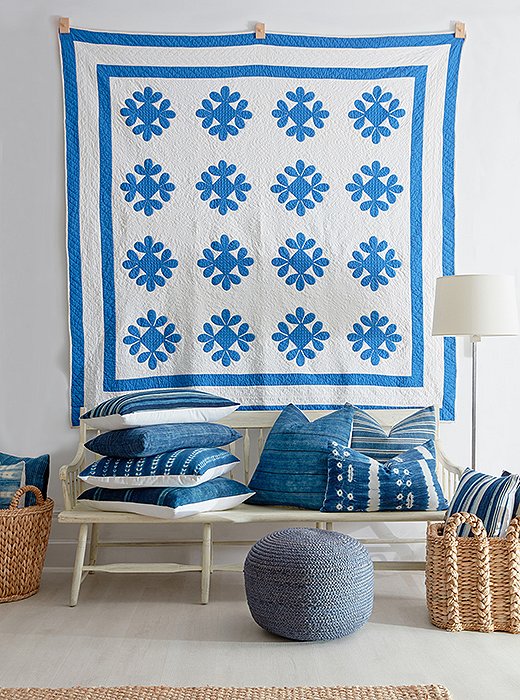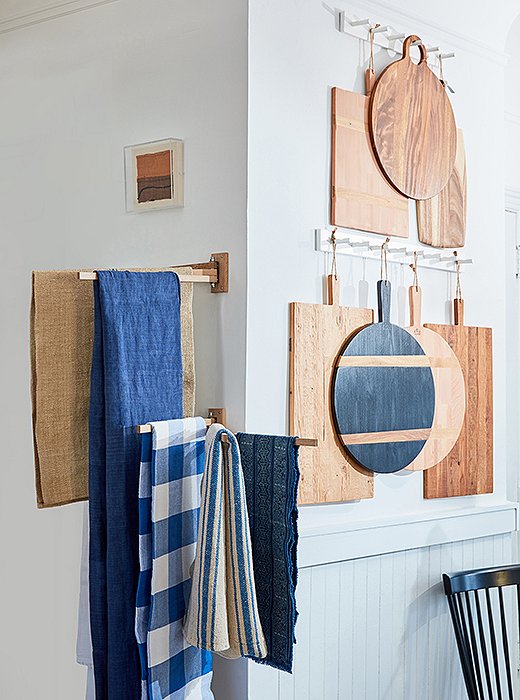 Think Outside the Frame
Large-scale artwork can be difficult to find (not to mention pricey to frame). That's why we love this clever trick for dressing up a large expanse of wall: Find a colorful textile you love, then hang it up with a set of simple wooden clamps. Our team chose a graphic blue-and-white quilt with a strong border, which gives the piece as much presence as any framed piece of art. Paired with a pile of indigo-dyed pillows and woven baskets, it creates a richly textured and inviting vignette.
Show Off a Collection
It's a tried-and-true decorating rule: Everything looks better in multiples. So make the most of one of your collections by grouping the items together and displaying them as artwork. With rich wood grain and earthy, tonal hues, a set of cutting boards hung from Shaker peg rails adds rustic beauty to a kitchen wall (and solves a tricky storage problem to boot). Other worthy candidates: copper cookware, vintage table linens, woven baskets… The possibilities are endless.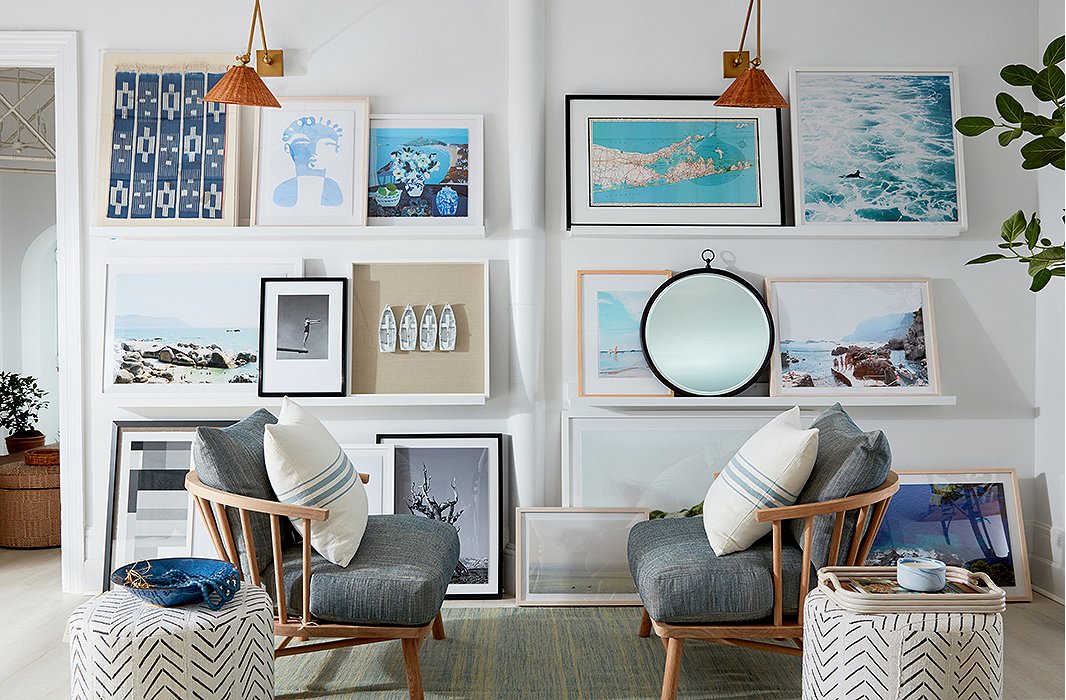 Lean In
Change is good. That's the philosophy behind this ultraflexible approach to the gallery wall, which lets you change things up whenever you please—or keep things exactly as they are. On a wall of the Southampton shop, our team mounted four floating artwork ledges, painted white so that they practically disappear. They're currently filled with a medley of graphic prints, photographs, maps, paintings—even a mirror made it into the mix. And when it's time for a quick change, there's no need to break out the hammer.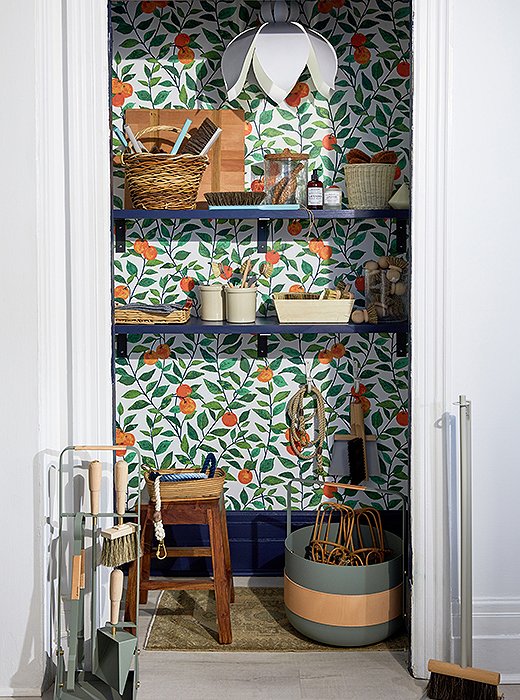 Spruce Up an Overlooked Spot
The lining of a drawer, the back of a cabinet, the walls of a closet: These out-of-the-way spaces hold tons of potential for decorating. And dressing them up a bit is guaranteed to make you smile. Our team wallpapered the inside of a closet at the Southampton shop, painting the baseboards and shelves in a contrasting blue and even placing a small accent rug on the floor to add more pattern and texture. Baskets and bins keep cleaning supplies neatly corralled, and wall hooks under the lower shelf ensure every item has its place.