Designer and one of our Insta obsessions (@julia_chance) Julia Leach recently relocated to Los Angeles from New York. While she still lives a semibicoastal life, she is spending more and more time in the City of Angels while running her simple-chic clothing and accessories line, Chance.
We asked if we could tag along one day to see where she likes to eat, browse, shop, and chill in her current neighborhood, Venice Beach.
5:30 a.m.: Easy Rider
One plus of her new California life? The sunshine gives you no excuse to hit the snooze button. "I'm out the door by 5 or 5:30 a.m. and ride my bike up to Malibu and back to Venice along the ocean. It's quiet and inspiring, as I have the bike path mainly to myself until I'm on my way home again, when there are a few other bikers and runners out to greet the day."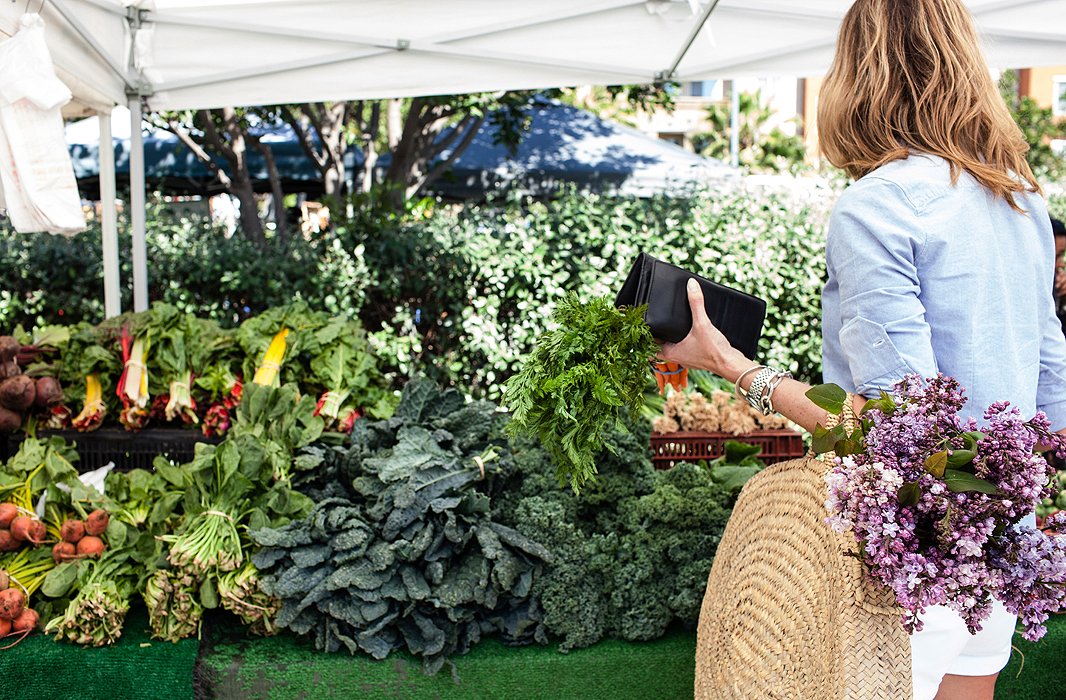 8 a.m.: Watch the Market
As her Insta feed will attest, Julia loves a good mix of farm-fresh vegetables and fruit. So she heads to the Venice Farmers Market early to stock up. "I like to go early and do a quick initial lap to pick up the rare items that are available in small quantities, like pink lemons, morel mushrooms, Sugar Magnolia purple snap peas, and baby yellow squash," says Julia. "Then I go back and take my time to pick up the basics, which always include fresh eggs, limes (I love Mexican food), and raspberries (the perfect snack or dessert)."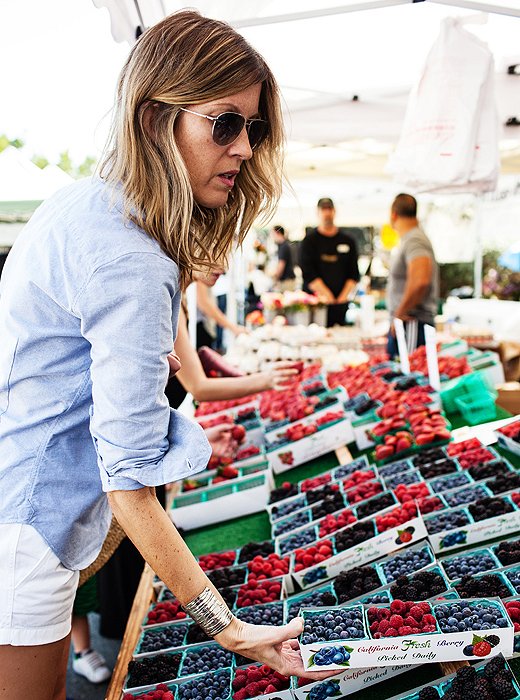 My basics always include fresh eggs, limes (I love Mexican food), and raspberries (the perfect snack or dessert).
11 a.m.: Open Book
Twenty minutes east in Culver City, Julia gets some tome time at Arcana: Books on the Arts, a mecca for lovers of design books. "The owners, Whitney and Lee Kaplan, have a deep passion for books on the visual and fine arts and keep an amazing inventory of rare and new titles, ranging from art to architecture, design to fashion, photography to cinema—all of my favorite subjects," says Julia. "It's like a serene candy store."
Once the books are home, Julia takes a relaxed approach to organizing her titles. "We love and treasure our books, so I like to take them off a shelf and leave them open to a favorite image and encourage anyone to flip through them."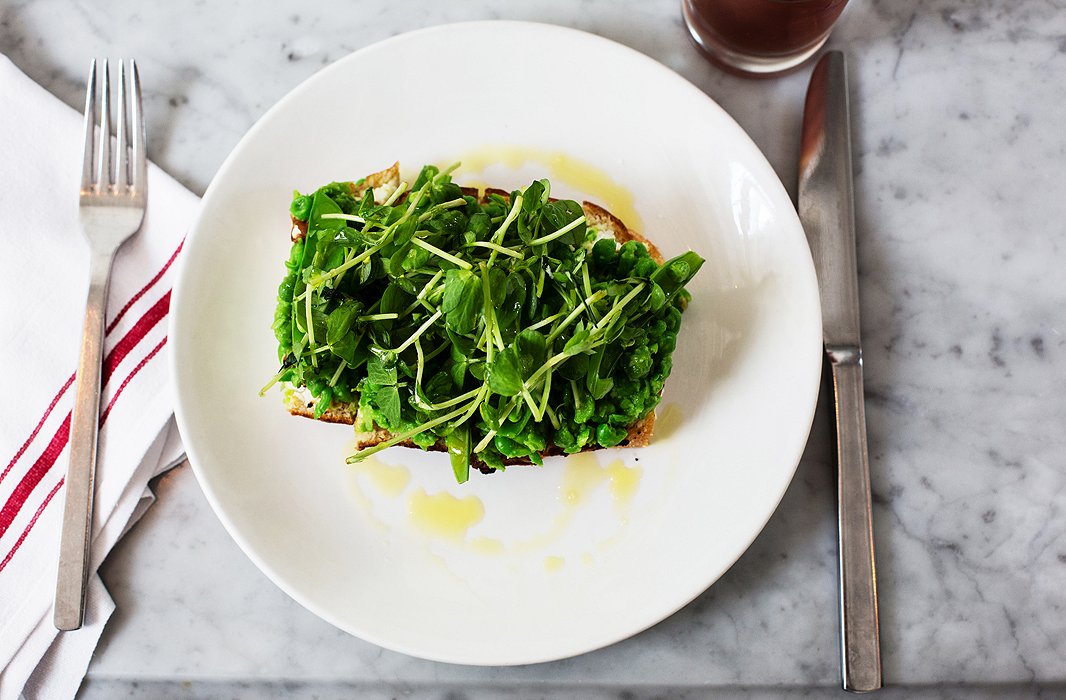 1 p.m.: Some Salt Air
Abbot Kinney Boulevard, Venice Beach's main street, is a hotbed of great dining these days. Julia shared a few of her standbys. "Salt Air achieves the perfect trifecta of fresh modernity in its design, just enough patina to give it a sense of relaxed ease, and food that is simply delicious. I love their pea toast, shrimp salad, and salmon tartare. I also like Zinque for lunch."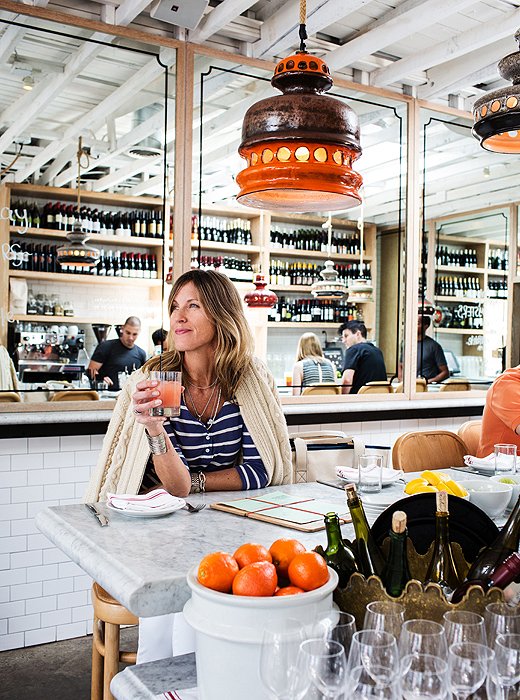 Here, I walk less but ride my bike and horses more. I'm up early rather than being a night owl.
3 p.m.: Home Sweet Home
Because she's always on the lookout for inspiration, from Japanese textiles to great new pottery, we knew that Julia would have the skinny on where to shop in the neighborhood. "I've been going to Tortoise General Store since they opened on Abbot Kinney, back when the street was peppered with artisanal shops. It remains my favorite store in the neighborhood, as they offer the most thoughtful selection of items for the home, mainly from Japan. I also like General Store on Lincoln." Julia's currently on the hunt for outdoor furniture, "something I didn't need in New York City! I want a mix of vintage and new, so it's quite a quest. I plan to see what One Kings Lane has to offer."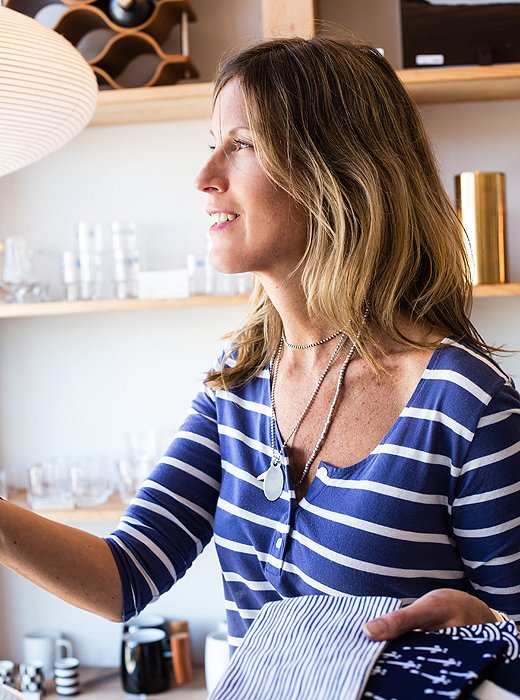 My eye always lands on things that are either organic and simple—like Japanese pottery—or graphic and clean.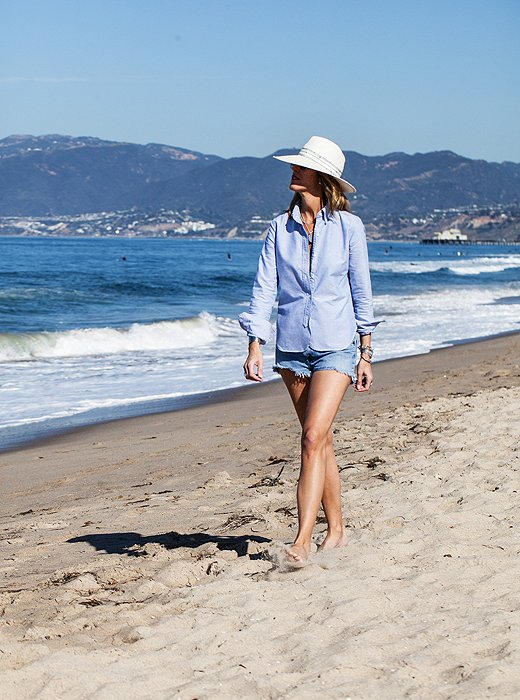 Nature is a constant source of inspiration and nourishment, which is perhaps why I felt it was time to finally shift from a bicoastal life to one primarily rooted in the lifestyle that California has to offer.
6 p.m.: A Shore Thing
Since she lives so close to the beach, we figured Julia might be spotted on the sand in one of her cheeky beach towels. "It's funny: I love walking on the beach but not so much sitting on the beach in the sun, so my favorite times are very early in the morning or at sunset. Nature gives a show as the sun goes down over the edge of Malibu, so that's always prime time for a long walk."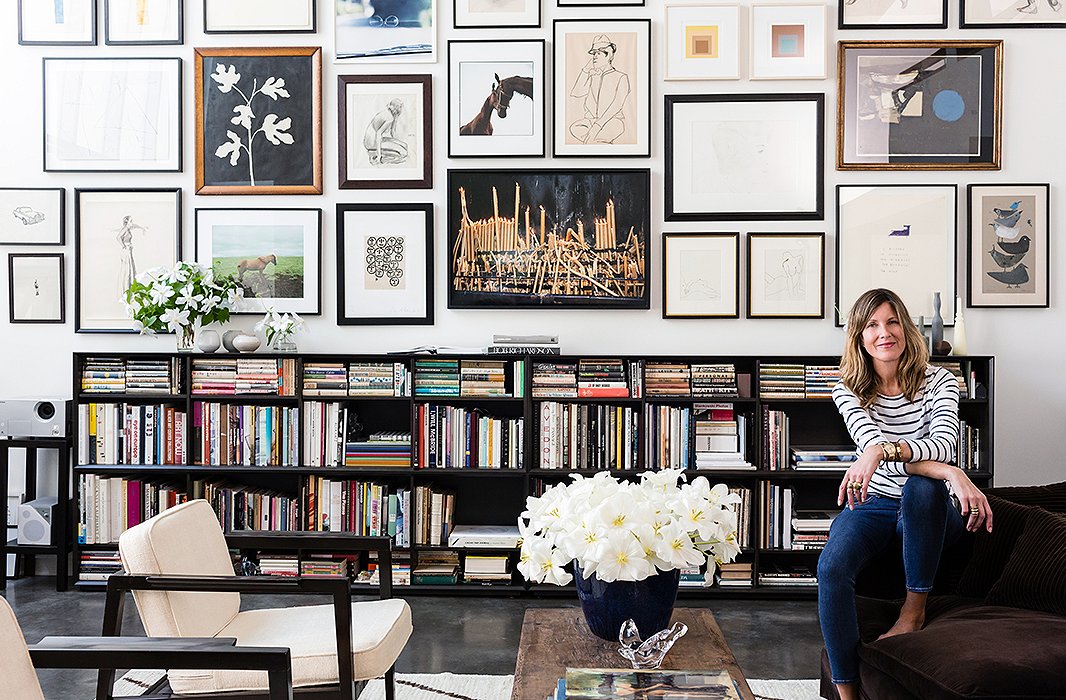 5 More Things We Just Had to Ask…
1. Your preferred mode of transport in your neighborhood?
"Definitely my bike."
2. We're in Venice for the day. What do we do?
"Go to the sweet neighborhood farmers' market on Friday morning. Shop for timeless, chic accessories at Kendall Conrad's store. Pick up a bottle of rosé at Lincoln Fine Wines with some cheese and charcuterie from Gjusta. Then grab a picnic blanket (Chance offers a nice striped one) and go out to the beach at sunset. It's a great way to start or end the weekend."
3. How do you find those amazing vintage cars on your Insta feed?
"California is definitely more of a hotbed for well-maintained vintage cars than New York. Since I drive between Venice and Eastside—Los Feliz—every week, I always try to take surface streets and keep an eye out for great parked cars. It's like a treasure hunt. Car spotting makes traversing L.A. more fun."
Follow her @julia_chance
4. One surprising thing about your Cali life?
"How early I get up! I used to stay up until 1 or 2 a.m. in NYC, but my day is now reversed, and I'm an early riser."
5. How has being here influenced your Chance designs?
"The city's architecture, ceramics, graphic design—fused with its natural beauty, from the ocean to the desert to the mountains."