Spring has nearly sprung, and with that our focus (and mood) is turning to freshening up and enlivening the vibe at home, opening up rooms, and dreaming up ways to brighten and spruce up. And just in time, our überskilled in-house designers have transformed The Studio at One Kings Lane—our New York City showroom and design service—into a light and airy space packed with fresh ideas for updating every area in your home, from new ways to think about mixing in modern and vintage designs to big ideas for bringing in color. Here, our savvy stylist Alyssa Lewis shares her pro tips and breaks down how to bring these ideas to your own home—and pull your spaces out of hibernation.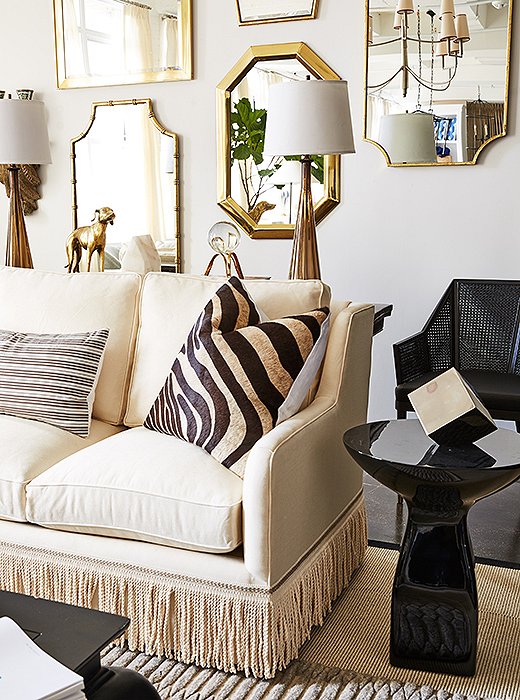 Tip #1: Rethink the Modern Arrangement
In our books, modernizing a space involves lots of sculptural accents, bold colors, and clever furniture arrangements. "Try a different sofa arrangement for a shift in perspective. We placed two fringed sofas to face each other but offset the formal setup with modern touches and a strong palette," says Alyssa, pointing out the black-and-white color scheme, the chinoiserie coffee table, the hide pillows, and the shapely accent chairs and tables. "This way everything is anchored in the palette. The modern look is really about finding that common thread when mixing lots of different styles—traditional, global, clean-lined." Another modern approach? "The art gallery wall is done all the time, so to show a different take we hung a range of oversize vintage and new mirrors in gold frames, which give the display a cohesive and updated look."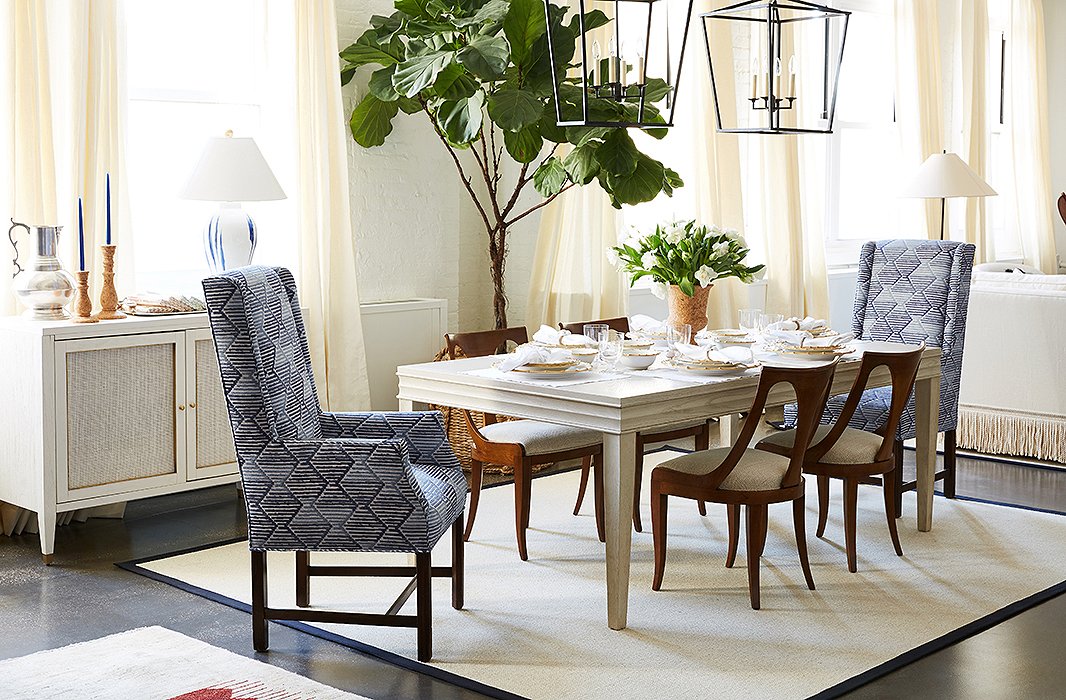 Tip #2: See Textures in a New Light
Dining areas tend to veer decidedly formal or casual, so for spring the aim was to find the right balance of light and elevated. A nuanced mix of textures was key. "Whitewashed finishes can bring a lot of lightness to a space, especially on big furniture pieces. With a whitewashed dining table and a white caned sideboard, the dining space instantly had a very light feel," Alyssa says. "We then gave the space more volume with textiles—a multiblue print that we used to reupholster the vintage wingback chairs and a cream-and-pale-blue tweed for the spoon-back chairs. The upholstery gave a deeper textured feel to the room but had a spring feel in the colors we chose."
Tip #3: Keep to Practical and Pristine
For a heavily trafficked area such as the kitchen, blend practicality with pristine sight lines. "We focused on keeping the colors and materials cohesive with whites, blues, natural woods, and ceramics," Alyssa says. It creates a sense of openness that's paramount in busy spaces where "big pendant lights and a coat of crisp white paint can do wonders," Alyssa adds.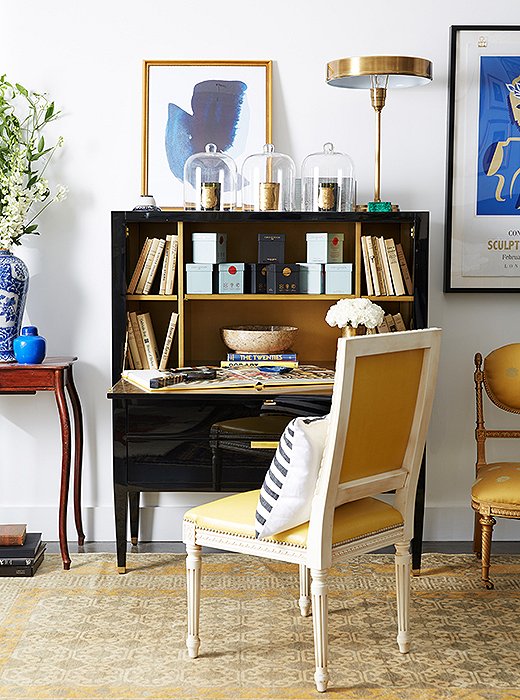 Tip #4: Work In Sunny Statements
For a small corner office, "we felt that yellow was a primary spring color that provided a bold pop to a room that usually isn't known for its flair," says Alyssa of the yellow silk rug, the golden art and accents, and the sunny leather-upholstered side chair. But the showpiece is one that's practical and versatile. "The black secretary desk was the key piece in this space. It has a stunning lacquered exterior and a warm gold interior that provides lots of storage space," she notes. "It's functional but also eye-catching, so it makes a great addition or anchor in a work space."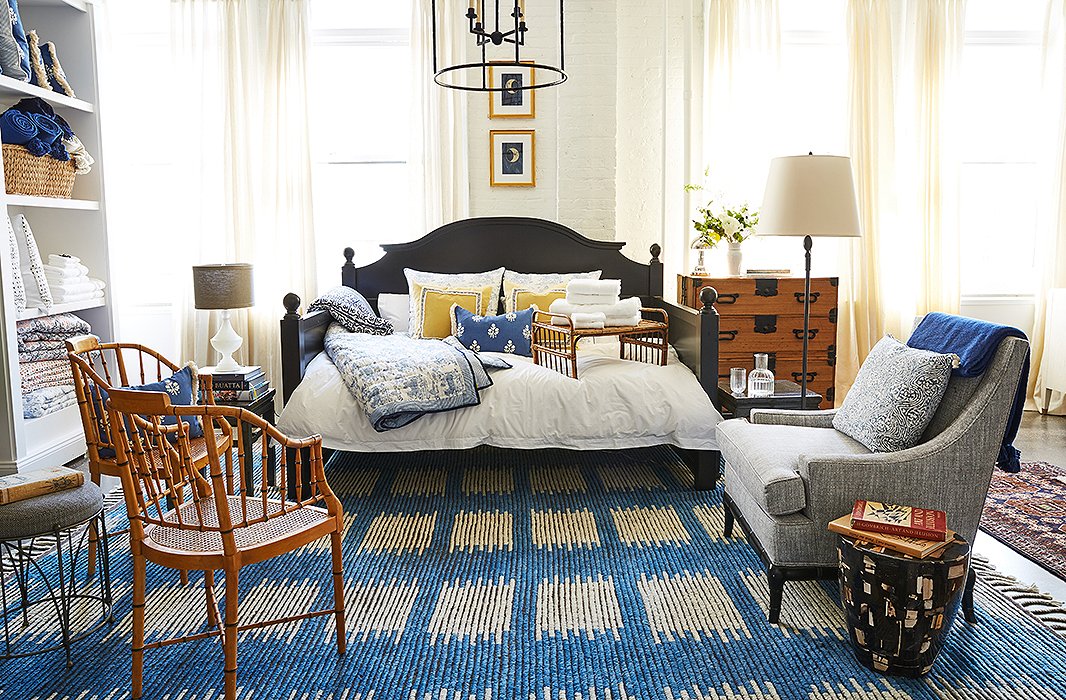 Tip #5: Make Fresh with Patterns and Details
Multipurpose spaces such as guest rooms provide the best canvas for experimenting with colors, patterns, and designs that might fall just outside of your aesthetic comfort zone. In these spaces, Alyssa suggests starting with details that captivate you. "Sometimes it's about finding the small elements in linens and other pieces that speak to you as your guide. We really strived for a lot of interesting textures, colors, and patterns here; we brought in a vibrant blue-striped rug, lots of patterned quilts and pillows, a pair of cane-and-bamboo chairs, and a petrified-wood side table that all shared a global look."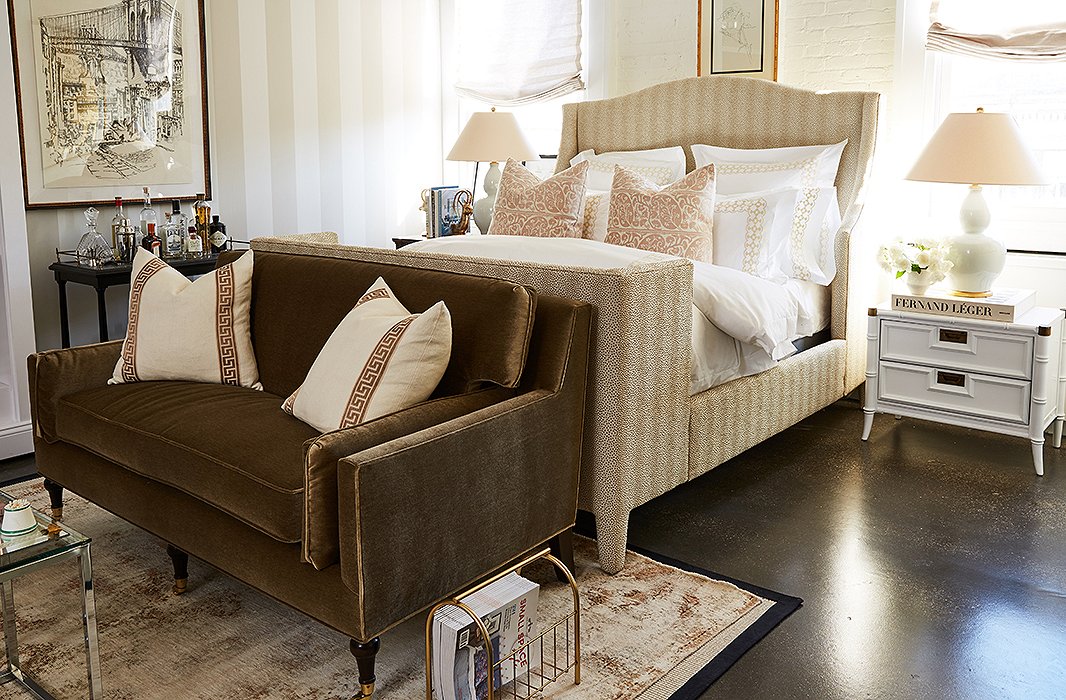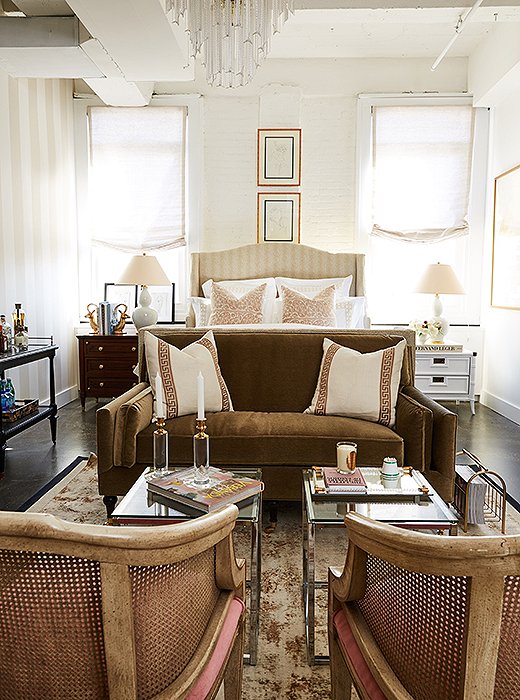 Tip #6: Aim for Collected Vintage Appeal
Spring is about shedding layers and cycling out the old, but this season we're venturing to "embolden vintage pieces," says Alyssa of the feminine small bedroom she outfitted in The Studio at One Kings Lane. "Vintage pieces by default bring a lot of heft and a seriousness to a space, but as smaller pieces they can complement newer designs for a rich, collected look. The fully upholstered dot-pattern bed and the settee topped with vintage pillows is a great example of that. We also chose to layer in specks of shine with gold and silver art and accessories to play up the look even more."