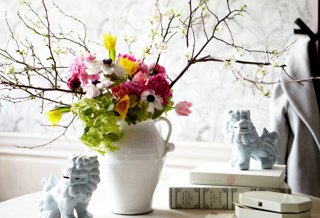 The entry is one place where flowers will never go unnoticed. With that in mind, we tasked in-house floral designer Meghan Guthrie with creating a spring flower arrangement that will wow visitors on an entryway table and nod to the new season. "Nothing says spring like blossoming trees and flowering branches," says Meghan. "And they're perfect for the entry since they inherently make a grand statement with their large offshoots."
What you'll need:

Flowering quince branches and spring flowers with big, bright petals (we chose anemones, peonies, scented geranium, fringed tulips)
Large vessel, vase, or container of your choice (we used a ceramic urn)
Thorn strippers
Flower shears
Flower frog that matches the size of your vessel
Getting started:
1. Pick out a large vessel. "For a grand arrangement like this one, you want to start with the vessel." says Meghan. "Make sure whatever container you choose is big and sturdy enough so that it doesn't topple over from the branches."
2. Strip excess leaves at the bottom of all the stems. "Bacteria can form around leaves that touch the water, so always clip them off," says Meghan.
3. Put a flower frog into your vessel and fill the container with water. Be sure the frog sinks to the bottom; it will keep all the stems in place.
Making the bouquet:
1. Start with the branches and arrange them loosely on opposite ends of the vessel. "The great thing about branches is that they are all so different, they'll give the arrangement a gorgeous asymmetrical look," Meghan says.
2. Then add your large-petal flowers. "I trimmed the peonies and anemones so that some will stand taller than others," explains Meghan. "Then I placed them in clusters to the left, center, and back of the urn, turning these spots into focal points of color."
3. Finish off by adding your accent flowers. "I let the scented geraniums dangle a bit in the front and filled out holes in the bouquet with the fringed tulips," explains Meghan. "I'm really loving scented geraniums right now—they have a way of bringing in the garden with their heavenly scent and bright green hue."