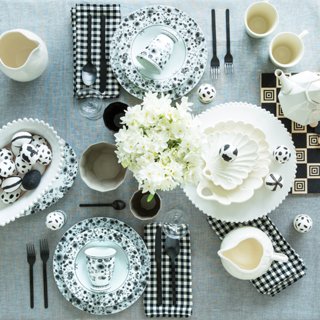 GET THE LOOK: Boldly Black and White
In a playful mix of patterns and motifs, this two-tone color combo is modern, elegant, and totally grown-up.
BACKDROP  Keep the tablecloth lightly textured in a classic gray so that both black and white pop like nobody's business.
PATTERNS  A mix of small-scale florals and checks is bold but not overbearing. Gingham is a blast from the past that feels sophisticated in a darker shade.
SHAPES  Organic silhouettes like leaves riff off mod geodesic goodness.
FLORALS  Stick to diminutive white blooms like paperwhites, hydrangeas, or even baby's breath, though lovely darker blooms like black calla lilies change the mood of the table.
DECORATIVE TOUCH  Dotted and striped eggs (loosely inspired by traditional Hungarian Easter eggs), remade in black and white.
STYLE SURPRISE  Two words: black silverware.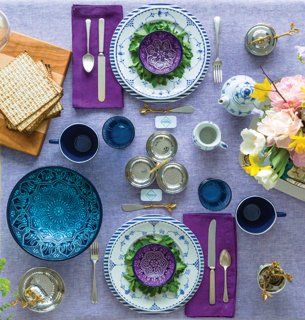 GET THE LOOK: Eye-Catchingly Colorful
A blend of exotic and historical motifs, energized with rich blues and purples that would make our old pal Roy G. Biv proud.
BACKDROP  Middle-of-the-spectrum lilac tablecloth that's plenty vibrant but not so dark that it steals attention away from the royal-purple napkins.
PATTERNS  A blend of Eastern and Western motifs lends a global air.
SHAPES  Simple circles that keep the focus on the unexpected color scheme and intricate patterns.
FLORALS  A mix of whatever looks lusciously just-picked at the market that day in an all-pastel palette.
DECORATIVE TOUCH  Individual salt tins that can double as take-home gifts.
STYLE SURPRISE  Take your pick: the fancy silver accented with subtle touches of gold, or the parsley framing the dipping bowls that brings in some greenery.
All You Need for a Spring Celebration