If you're skipping the prix fixe menus and crowded bars, instead opting for a night at home, read on to see which of these classic movies is the perfect fit to give you that loving feeling.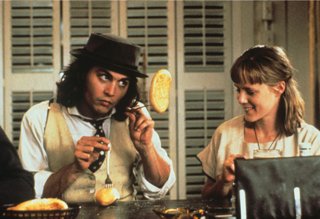 Benny & Joon
The playful love between eccentric personalities Joon (Mary Stewart Masterson) and Sam (Johnny Depp) is so sincere, it makes us melt a little—and it doesn't hurt that Depp is over-the-top charming with his Buster Keaton-inspired routines.
THE KOBAL COLLECTION / MGM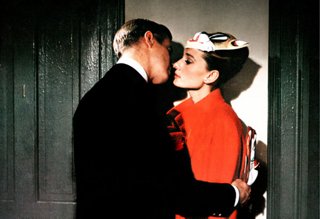 Breakfast at Tiffany's
It doesn't get any more classic that Audrey Hepburn's portrayal of socialite Holly Golightly in this 1961 flick. That little black dress, those eyebrows, the quellazaire she smokes out of, and that ending scene when Paul exclaims, "You're afraid to stick out your chin and say, 'Okay, life's a fact, people do fall in love, people do belong to each other, because that's the only chance anybody's got for real happiness.'" Swoon!
PARAMOUNT / THE KOBAL COLLECTION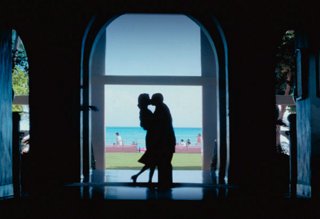 Punch-Drunk Love
We were swept away watching Adam Sandler depart from his usual funnyman tendencies and dive into this serious and fairly dark role. The incredible soundtrack by Jon Brion is a major highlight as well.
GHOULARDI/NEW LINE/REVOLUTION / THE KOBAL COLLECTION / BIRMELIN, BRUCE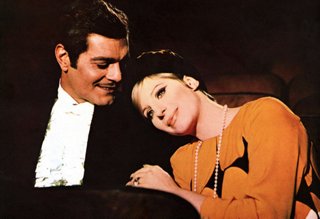 Funny Girl
Falling hard for the bad boy is something we can totally relate to, so watching the incredibly funny and passionate banter between Babs and Omar Sharif makes this one of our all-time faves.
Columbia / The Kobal Collection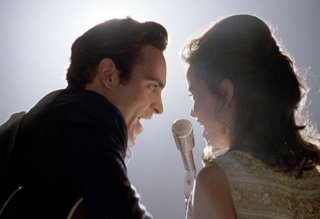 Walk the Line
While we were seriously impressed by Reese Witherspoon's portrayal of June Carter, let's be real: Joaquin Phoenix's smoldering looks and deep raspy voice as Johnny Cash cemented Walk the Line onto our list.
FOX 2000/ 20TH CENTURY FOX / THE KOBAL COLLECTION / TENNER, SUZANNE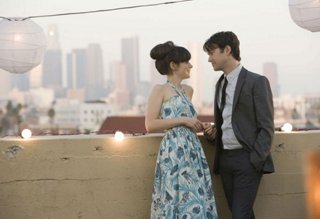 500 Days of Summer
You know the story: Boy meets girl, they fall in love, girl breaks boy's heart. Although this is a rom-com without a happy ending, getting to that ending is so good it makes you want to fall in love anyway, no matter the outcome. Besides, watching Zooey Deschanel bat those big baby-blue eyes would make anyone fall in love!
The Kobal Collection / Watermark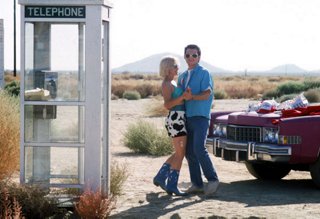 True Romance
A con man, a call girl, 30 mobsters, a Bonnie-and-Clyde type of love, and a script by Quentin Tarantino: What else could you want?
THE KOBAL COLLECTION / MORGAN CREEK/DAVIS FILMS / PHILLIPS, RON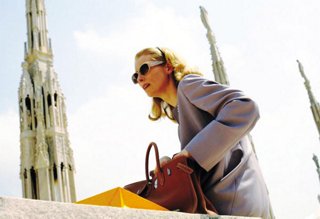 I Am Love
Whether it's to drool over the gorgine interiors; the impeccable dress of Tilda Swinton's character, Emma Recchi; or her passionate Italian love affair, this movie is at the top of our must-watch list for any occasion.
The Kobal Collection / First Sun/Mikado Film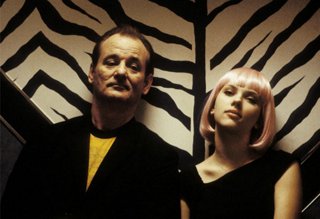 Lost in Translation
The unexpected chemistry between Scarlett Johansson and Bill Murray is one of the many perks of Sofia Coppola's beautiful film, set in Tokyo. The serene moments watching a traditional Japanese wedding ceremony, talking in the hotel piano bar, and of course engaging in late-night karaoke all made us fall in love with this flick.
FOCUS FEATURES / THE KOBAL COLLECTION / SATO, YOSHIO
Singles
Because who doesn't want to hear a long-haired Matt Dillon say, "You rock my world"? We love Singles for all its '90s hair, ripped jeans, and exploration of love, sex, and everything between.
WARNER BROS / THE KOBAL COLLECTION