This year we're looking for any way to make the holidays feel special. Our gatherings may be smaller but that doesn't mean they have to lack the prerequisite cheer. What better way to up the spirit than with spirits? We put together a guide complete with all the tips and tricks you'll need to create your own bar, including our tips on crafting a signature cocktail.  Forget going out; you'll never want to leave your dreamy little watering hole again.
The Bar
The size of your space dictates the type of bar you can have. If you are living in an apartment, a bar cart might be best. It brings an air of Old World glamour to any room while being extremely functional. If you have a little more space to move around, try a bar cabinet. We've rounded up a few of our favorites below.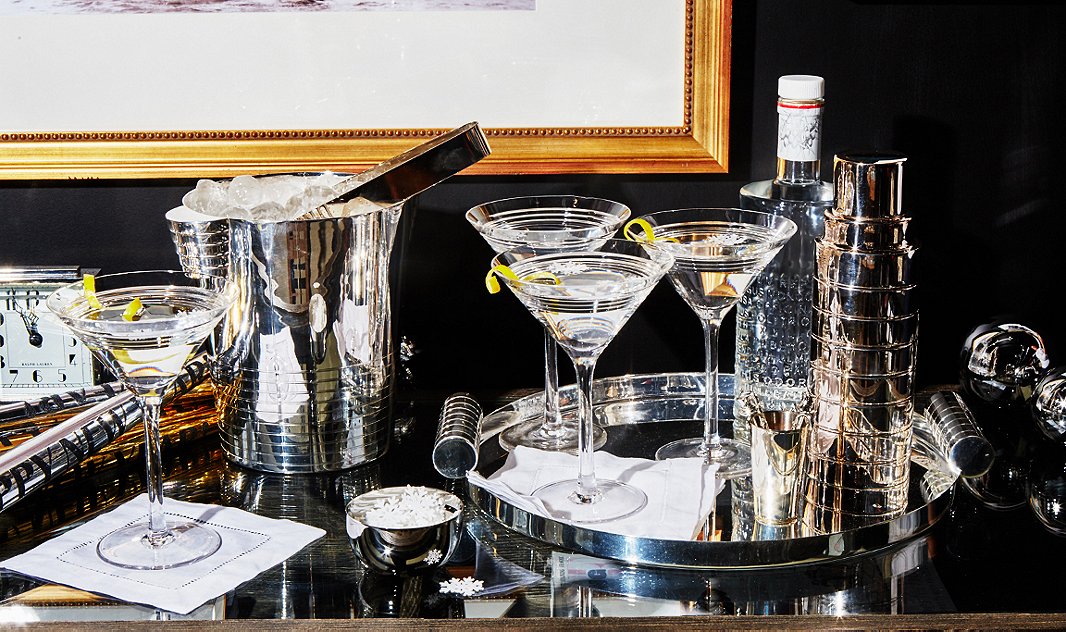 The Tools
No bar is complete without a proper set of tools, and we aren't talking about a bottle of tequila. No, these are the items used by trusted bartenders to make everything from elaborate craft cocktails to a simple gin and tonic. With these tools by your side, you'll always be ready for an impromptu gathering.
The shaker: If you have only one tool, this should be it. The shaker can make everything from a martini to an Americano.
The jigger: This handy tool helps quickly measure the right amount of liquid needed for your drink. Jiggers come in a variety of sizes and can even be double-ended, with two cups, for maximum use. 
The strainer: If a shaker doesn't appeal, you can get a similar effect with a strainer. When affixed to the top of a glass, this flat piece of metal takes your drink-pouring abilities to the next level. 
The cocktail spoon: Longer and slimmer than your regular spoon, the cocktail spoon is the secret weapon in a bartender's tool kit. 
The Drinks
Once you have your bar and tools, it's time to get down to business. We checked our archives for a few favorite cocktail recipes.