More than a cocktail, the julep is a tradition. During Kentucky Derby weekend, about 120,000 juleps are consumed at Churchill Downs racetrack, the drink having become the official beverage of the famous horse race in 1938.
Just as important as the drink itself is the signature silver cup it's served in. A ceremonious part of the experience, the julep cup completes the cocktail. And while it may seem a bit much to keep a specific vessel for just one drink, the silver cups have so many other uses.
For this seasonal twist on a classic mint julep, we've infused Kentucky bourbon with fresh strawberries to give it a rosy hue and an ever-so-slight fruity finish. Start your prep asap (the Derby's on May 3) to give your bourbon time to properly infuse.
Strawberry Mint Julep
Serves 1
Ingredients:
1 bunch fresh mint
1/2 tablespoon of honey
1/2 tablespoon of hot water
2 1/2 ounces of strawberry bourbon (see recipe below)
crushed ice
fresh strawberries for garnish
1. Wash mint and remove leaves from stems, reserving a handful of sprigs for garnish. Add 10 mint leaves, honey, and hot water to a julep cup. Muddle well with a cocktail muddler or the end of a wooden spoon.
2. Add strawberry bourbon to the mint mixture. Fill the cup with crushed ice and stir until the outside of the cup becomes frosty. Garnish with a fresh mint sprig and a slit strawberry.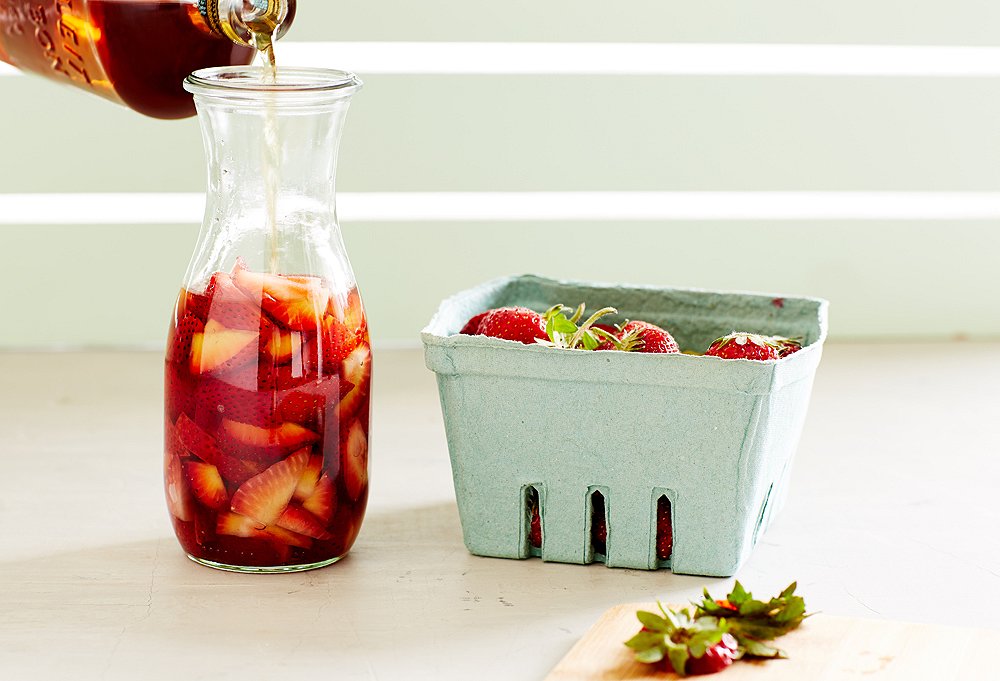 Strawberry Bourbon
Note: The longer you allow the strawberries to steep, the more beautifully pink your bourbon will become.
Ingredients:
1 pound of organic strawberries
1 bottle best-quality bourbon, such as Bulleit
1. Wash, cut, and hull the strawberries. Add berries to an 18- or 24-ounce canning jar or carafe, filling until it's 3/4 full.
2. Pour bourbon over berries to fill jar; cover and store in a cool, dark place for 3-10 days.
3. Strain bourbon through a fine-mesh strainer, reserving strawberries for another use. The infused bourbon will last about one month.
Tip: Use the preserved strawberries as a boozy topping for ice cream sundaes or Greek yogurt.
Score our favorite classic mint julep recipe!