Whether it's a sleek wooden spoon (carved entirely by hand, of course) or a leather-trimmed tote, Amelie Mancini is always creating something new. Her screen-printed pillows and patterned leather pouches (and her artful Instagram account) are immensely popular around our offices, so we jumped at the chance to spend an afternoon with her.
We visited her light-filled Bedford-Stuyvesant studio (she shares her space with fellow maker and woodworker Ariele Alasko and Alasko's pup, Maisie) to talk Brooklyn, botanicals, and her growing business.
What's your background?
"I have a masters in design and fine arts from the Sorbonne in Paris. I started off as a painter, then picked up printmaking, woodworking, and sewing over the years."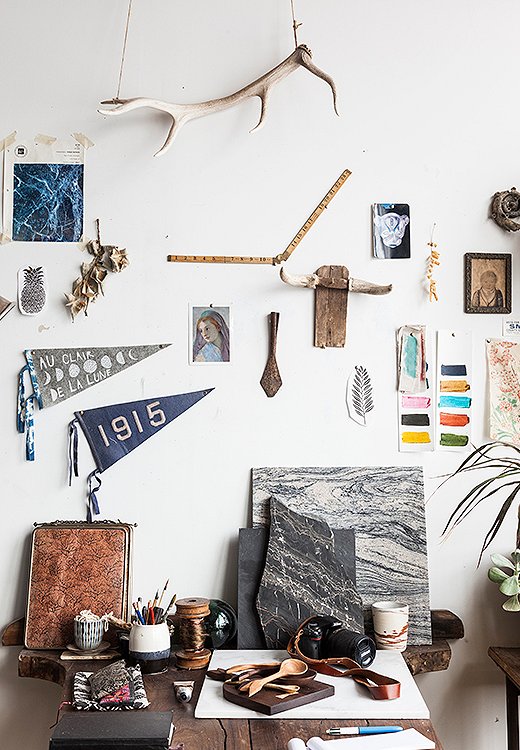 Can you walk us through a typical day in your studio?
"I usually get in around 10:00 a.m. I have two assistants, so we start by going over what needs to be done that day. Every day is a little different, and we do everything here, from cutting fabric and printing to packing and shipping. I go over retail and wholesale orders, I answer some emails. Most of the holiday season is spent making and shipping a high volume of orders, then in January things quiet down and it's time to get organized and plan for the rest of the year. I plan out new designs, new patterns, new products. The day usually flies by. I leave around 7:00 p.m. and go home, where I'll do some more emailing or invoicing."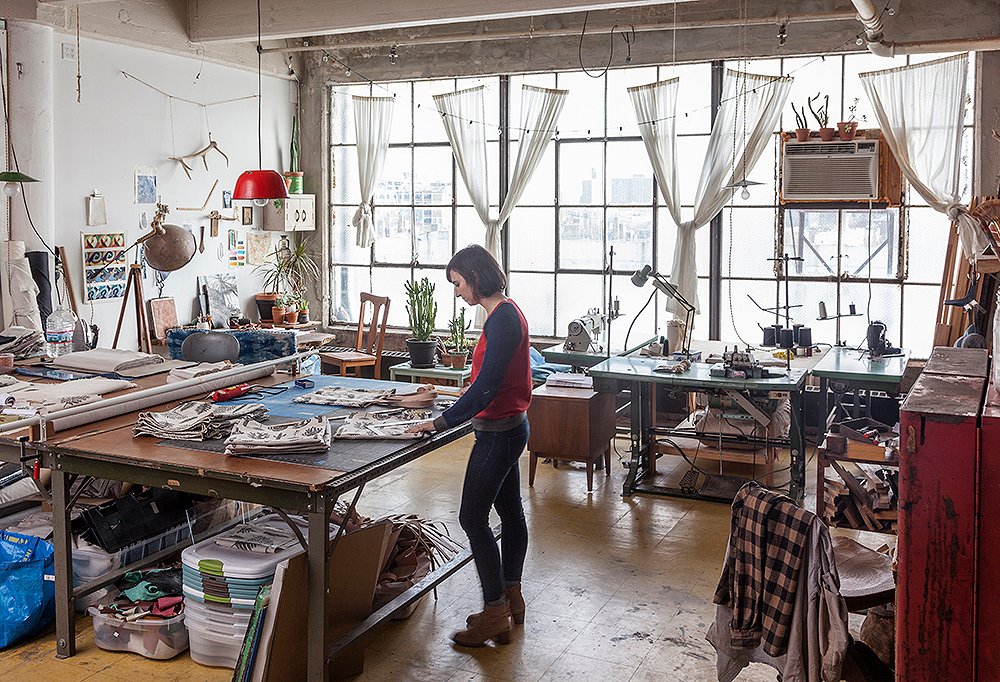 How do you conceptualize new screen-print patterns?
"I always start with pen and paper, then I'll move to linoleum and gouaches. I transfer the drawing onto a block and carve it out, and then I'll print a few proofs until I'm happy with the result. I create a repeat pattern with a few different elements, then I'll scan them and print them on a transparency in order to create a screen for screen-printing. Block printing takes way too long to print each pattern one by one, so to speed things up a bit I'm using screen-printing: It's still handmade, but it's very textile-friendly."
What music inspires you as you work?
"I can't listen to music when I'm trying to figure something out, but if I'm just using my hands and not my head, I listen to podcasts. I love This American Life, Stuff You Should Know, andSerial."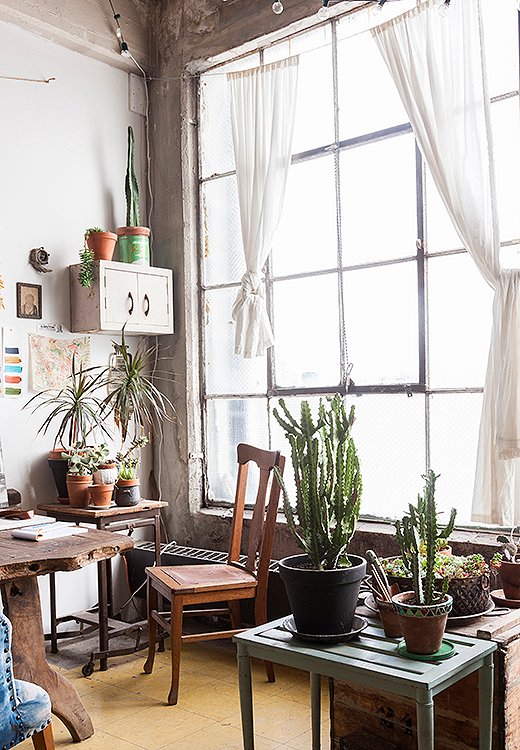 Where do you find your inspiration?
"I love colorful painters like Matisse and Hockney, and I love looking at ancient Greek vases, Mesopotamian sculptures, and Uzbek embroideries. I digest it all and repurpose it in new, different ways in my own work."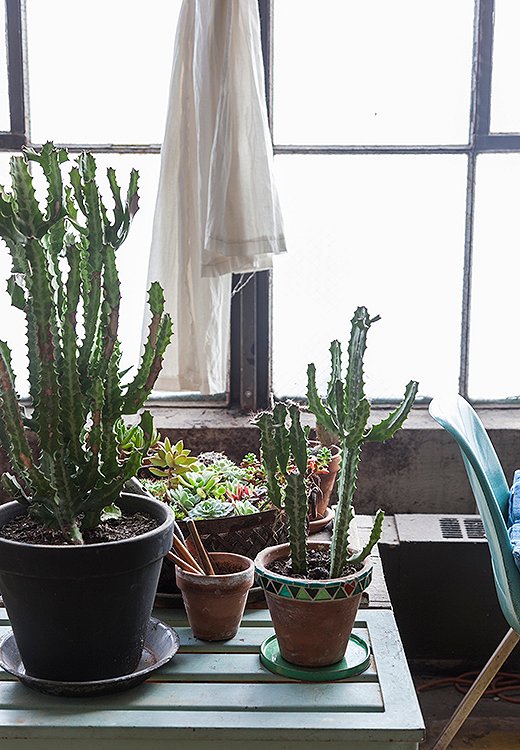 What are some local spots in Brooklyn that inspire you?
"Admittedly, I don't get out much—I spend most of my time either at home or at the studio! There isn't much time for frolicking these days, but I do love Greenpoint and its many cafés, restaurants, and parks. I recommend BookCourt for books, and the Met for art even though it's not in Brooklyn. Ah, and the Brooklyn Botanical Gardens in the spring, of course."
What's the craziest thing you've done for your business?

"I used to burn the screens for my screen-printing in my bathroom! I was like, 'I can do it, so why shouldn't I?' I have since given that up."
Are you a morning person or better late at night?
"I like mornings because everything seems new and possible. Then as the day goes by, I realize that I won't be able to get everything done! I would really like to have four more hours of every day. Or maybe not need to sleep as long."
What do you love about working in Brooklyn?
"I do really value the community of makers that we have here, the access to a lot of suppliers and manufacturers, and the cultural scene, with so many great museums and galleries."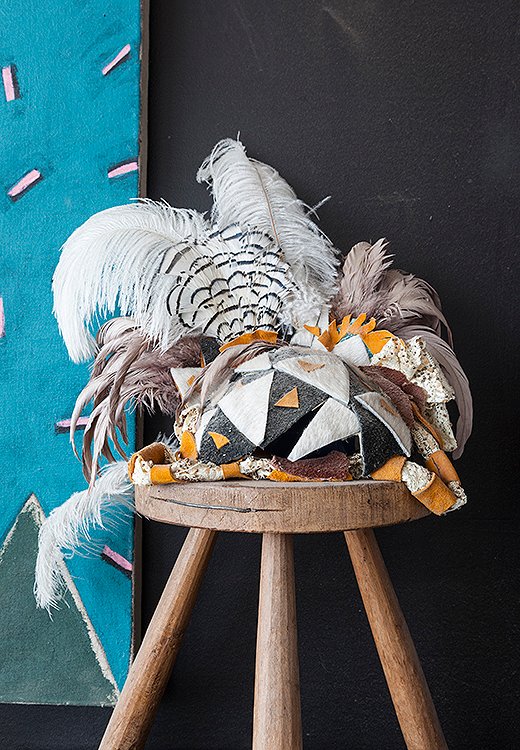 Why did you come to New York?
"I followed a boyfriend! We were long-distance between New York and France: He would spend a month with me, I would spend a month with him. Eventually I made the jump! Even after we broke up, I had to stay. I loved it too much to leave."
Do you have a favorite piece in your studio?
"I have several big abstract paintings I made years ago that I'm still very happy with, so that's a good sign!"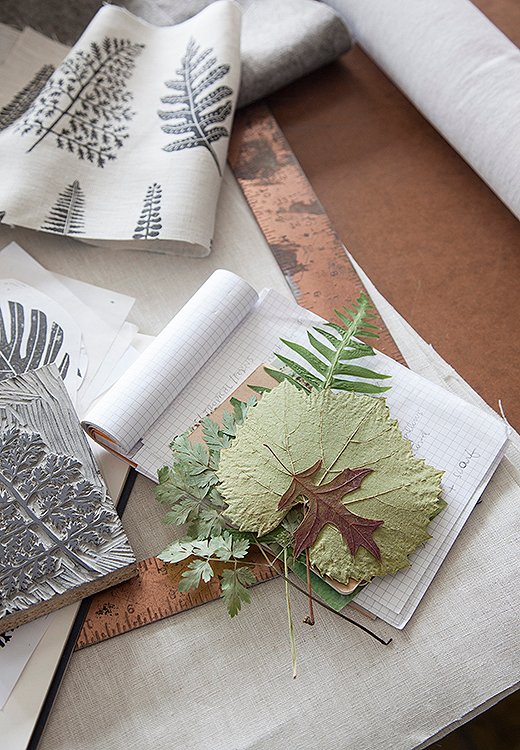 Pick one: Instagram, Twitter, Pinterest.
"I love Instagram. I love taking pictures and sharing them with other people. I feel like a member of a community of fellow artists and art-lovers, and I love to be able to catch glances of other people's lives and creative processes. And it's really nice to be able to scroll back when I'm feeling nostalgic and look at what I was up to a few months or even a few years ago."
What's your advice for other creatives wanting to break out on their own?
"It's hard! But worth it. Work really, really, really, really hard. If you have talent, success will come eventually. Be patient, keep at it, and don't give up. And of course, create original work. You have to have good ideas and be really passionate about what you do."
Can people visit your studio?
"When we're not too busy, I'm happy to have people over, especially when they bring me cookies!"