Recently we were lucky enough to hang out with one utterly inspiring Bay Area entrepreneur: Christine Schmidt, the founder of Yellow Owl Workshop, a playful collection of greeting cards, stamps, and pendants, and the author of not one, but two, amazing crafting books. We spent the morning in her rad little Noe Valley cottage, where she lives with husband Evan and two-year-old daughter Emmy and does all her creating. Then we headed over to her studio in the Mission neighborhood, where she and her team handle assembly and shipping.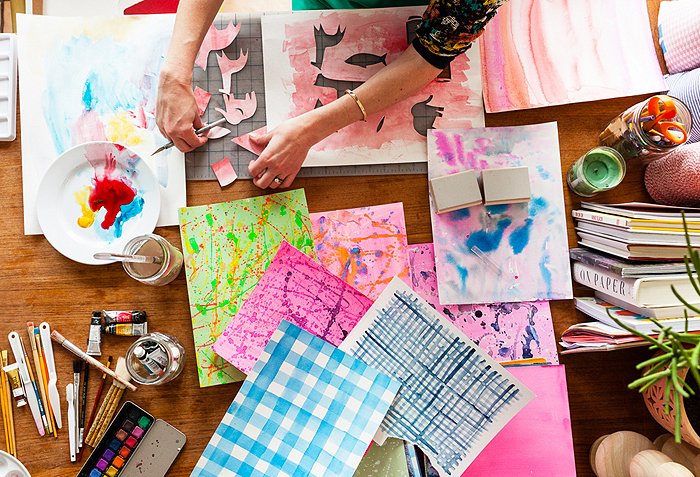 What's your background?
I went to art school in D.C.—my husband, Evan, and I actually met in D.C.—and there I tried to learn as many disciplines as I could. I worked in painting, clay, typography, photography, and screen-printing. After graduating I held so many random jobs like cake decorator and mural painter, but I always maintained my own studio.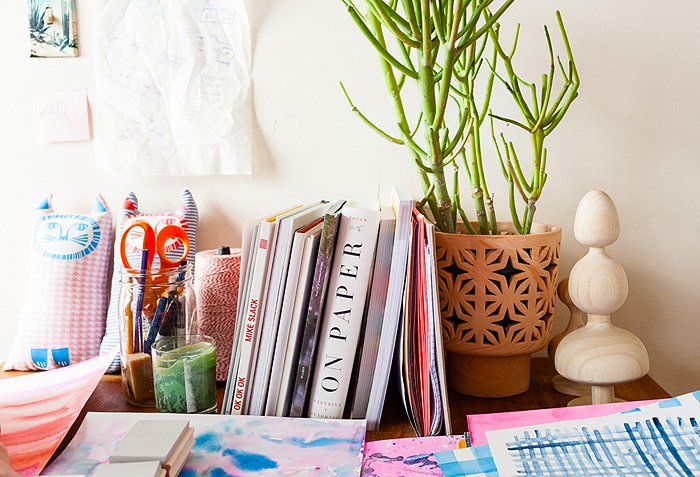 How did Yellow Owl get its start?
A little over five years ago, after I moved out to San Francisco, I took a position as a personal assistant thinking it would be a job that would let me have my own studio practice. But it was not a good fit—I actually got fired! While it was terrible, it forced my hand, as I now had the time to devote to my own work and getting my company off the ground.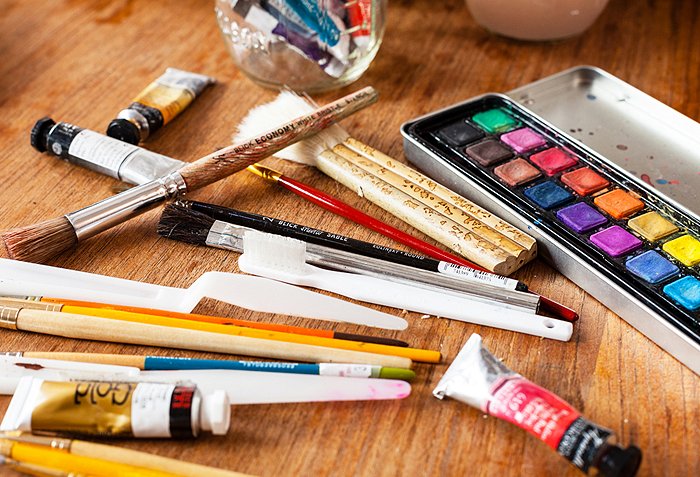 What was the first product you sold?
After I was fired, I put together a line of linocut greeting cards that I printed on this hand-crank press. I took them around to different shops and boutiques, and they got picked up. That's essentially when the company was born!
Do you still sell anything from that first line?
Nope. I like to change things up and kick stuff off the list to keep from getting bored.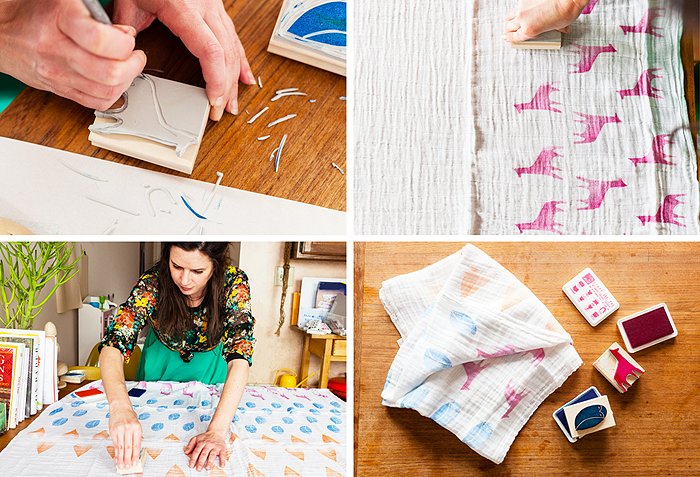 Why were you originally drawn to paper?
It was inexpensive, and I could control all the production for maximum versatility. The stakes aren't that high when you're just printing at home.
When did you add stamps to the mix?
I'd been looking at Eastern landscapes and how they repeat elements, and I wanted a product that people could use to create different scenes or patterns by repeating motifs in a similar way. I thought about stickers, then landed on stamps. A lot of my work is problem-solving—I'll start with an idea, and work out the best way to translate it into a product.
Because you're self-employed, do you ever find it difficult to stay motivated and focused on work?
Honestly, after particularly busy seasons, it can be hard. But if I were to work seven days a week, I still couldn't get everything done that I needed to. Plus, since my time is self-managed, I can jump around a lot so I don't get bored. If I'm getting sick of designing, I can play with a dye kit or do some research. That said, I do start thinking about lunch first thing.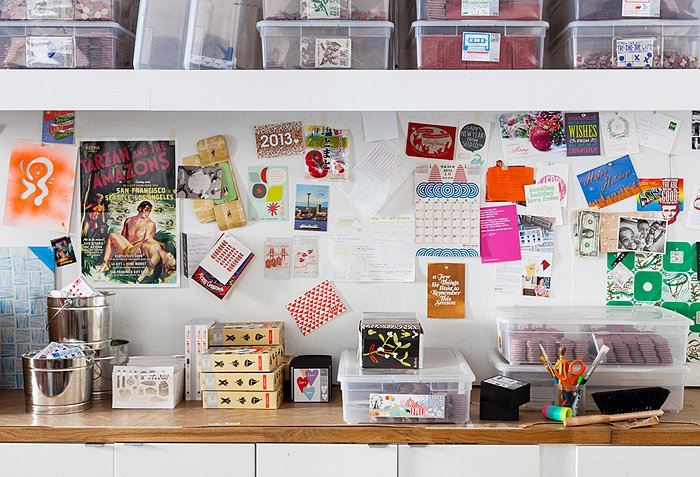 Has your process changed at all now that you have a child?
I definitely keep more-consistent work hours—I don't want to work late into the night when I could be spending time with her. In terms of my designs, I've been gravitating toward animals and more playful imagery.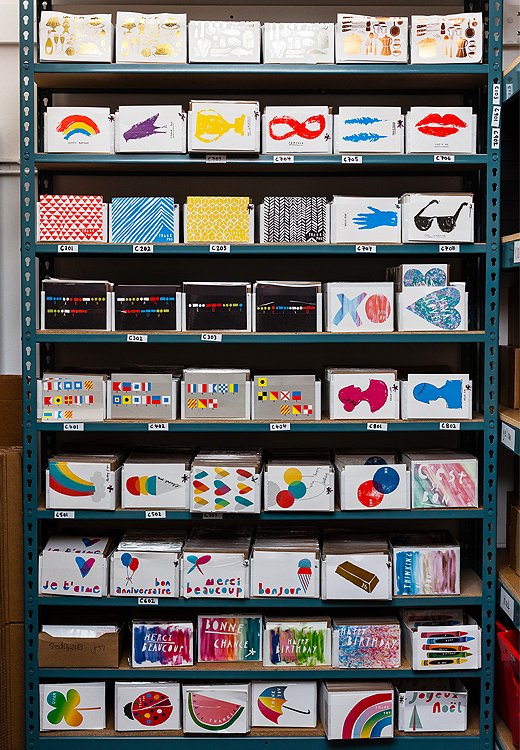 What inspires you?
It really varies. Maybe I'll see a pattern on a paper towel, or the work of a painter on Instagram. Like I mentioned, I've been really into weaving lately and scored some great weavings online. But I get most of my ideas by just sitting and playing around, doodling, drawing, and thinking.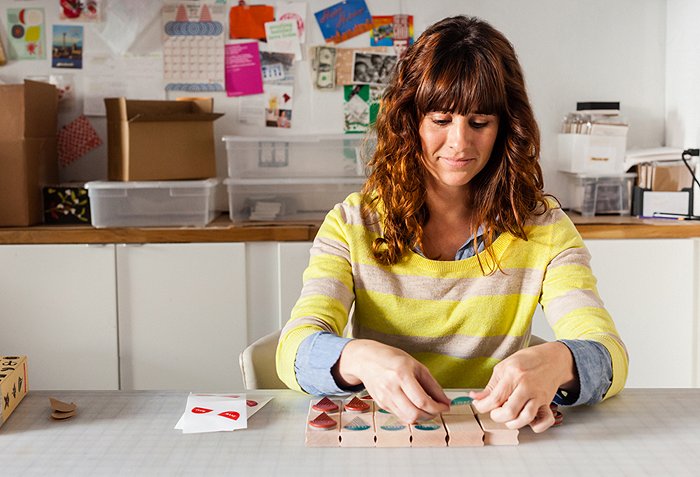 We love how you sell so many kits—is giving people the tools to be creative themselves important to you?
If someone came to my studio, I'd tell them all about whatever cool new process I just discovered. Relaying that info is exciting to me, and kits allow me to do that. I wanted to make the creative process accessible to people but guarantee that they'd still have a cool, sophisticated end product. The kits are all-encompassing—they include every material you need and are focused on really simple techniques. Simplicity lets you play more, so you're not overthinking the mechanics of the process.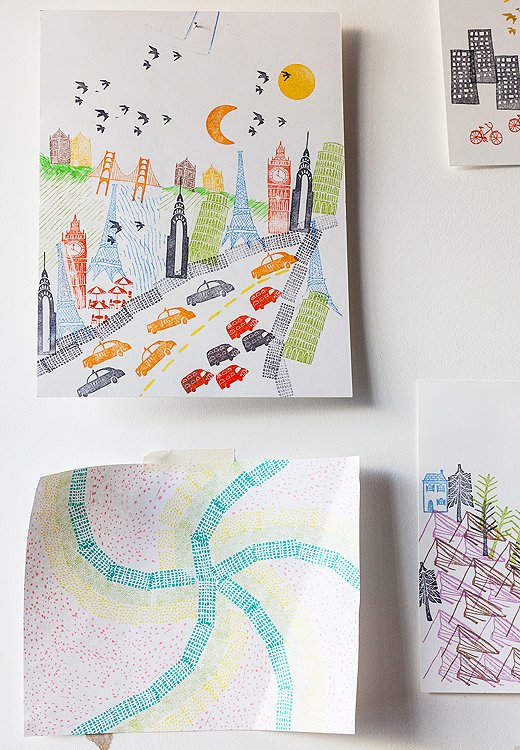 What are some fresh ways in which people can use your stamps?
On cloth the ink colors are very vibrant, which opens up a huge range of options. I love to get a piece of canvas from the art store and tear it into smaller squares and use those to make gift wrap or a bonnet for your canned goods. I've also seen people decorate a backpack or a tote bag, which looks totally cute.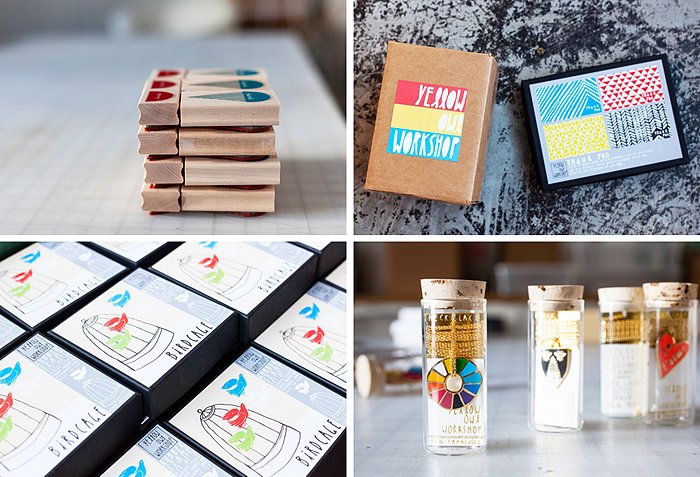 Can you stamp materials other than paper and cloth?
Totally—they also work on wood, so you could decorate a picture frame, or maybe create a wooden ornament or heart for Valentine's Day.