Cassandre Montoriol
Illustration: By the Pool
With her knack for translating fashion into two dimensions, it's no surprise that Cassandre Montoriol is based in Paris. Her illustrations appear all over the fashion universe, from Vogue to Hermès. We love seeing that savoir faire applied to the poolside—the green flora and the aqua water are nothing short of scintillating.
When's your favorite time to lounge by a pool?
"Early in the morning with a cup of coffee or at the very end of the afternoon, when one sees the most beautiful light!"
Danielle Kroll
Illustration: At the Beach
Danielle Kroll has a way with a line that is offbeat and charming—we love the squiggle of sunscreen and the blue blanket fringe in her beach illustration. To source her imagery, Kroll draws from childhood memories and found vintage treasures. After designing in Anthropologie's art department, she now works in her own space in Brooklyn.
What's your favorite beach pastime? 
"I love searching for sea glass and tiny shells along the shore."
Bella Foster
Illustration: On the Lake
Bella Foster often depicts interiors and still lifes, so it's a treat to see her monochromatic watercolor of the lake: a beautiful harmony in blue. Another chic Brooklynite, Foster sketches out scenes full of romance and wild pattern. No surprise that her favorite artists—who include Pierre Bonnard and Henri Matisse—were also romantics and unabashed colorists.
What do you love to do by the lake?
"Sit with a good book from late afternoon into the early evening."
Grace Lee
Illustration: Enjoying a Picnic
We love the line of ants marching through Grace Lee's ode to the picnic. That line sums up Lee's playful, asymmetrical style: It has all the right ingredients, from wildflowers to rosé, but doesn't take itself too seriously. The illustrator hails from Sydney and now lives in Tokyo.
What's your favorite thing about picnicking?
"Piling up the first plate of food, and then going in for seconds!"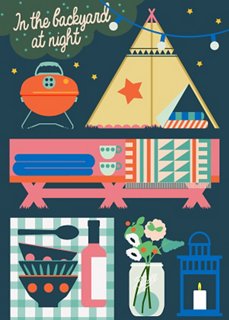 Lucy Vigrass
Illustration: In the Backyard at Night
Lucy Vigrass has an aesthetic that is both supergraphic and evocative—to wit, the Ball jar and the Navajo blanket in her backyard illustration, with each item neatly set against a blue night sky. Her background in animation shines through, with the lights sparkling above the whole scene. Vigrass works in London and counts the Victoria and Albert Museum among her clients.
What do you love about your backyard?
"I like to grow my own plants from seed each year with my daughter, Maggie. On summer evenings, I love to water the plants and see what is new. It feels like Christmas when the seedlings come through and mature into a garden."