1. In The Bedroom
While we may not all have sweeping views of the ocean from our bed, we do love the idea of adding whimsy and a bit of an island vibe to the bedroom with a makeshift canopy. Try hanging panels of mosquito netting along each side and the head of your bed. We love the look of this simple solution, where just the intersecting points of the canopy are attached to the ceiling and stylized with a decorative trim.
Tip: For a more permanent solution, hang sheer fabric (or whatever you like!) from an L-shape drapery rod that's been mounted to the celling. It will be a major transformation that is sure to impress, even if it's just you!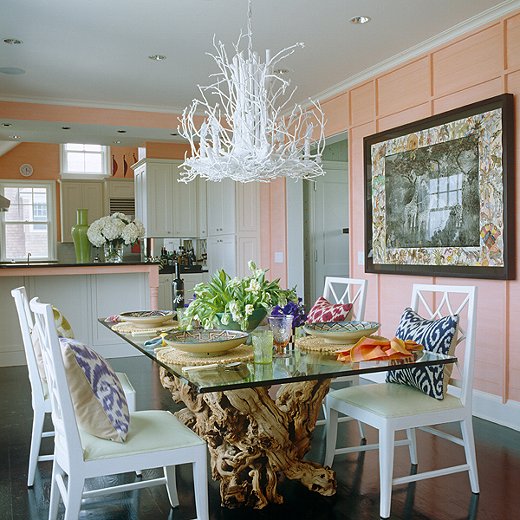 2.  In The Dining Room
The dog days of summer usually mean more guests and more impromptu meals and gatherings—which we are all for! While in many cases they'll take place on a sunny lawn or patio, why not spruce up your dining room for indoor occasions?
Tip: A more expected touch may be to add colorful pillows to your dining chairs (a great addition!), but why not go big? Switch out your overhead lighting for new pendants or a chandelier to give your well-loved room a whole new way to set the mood.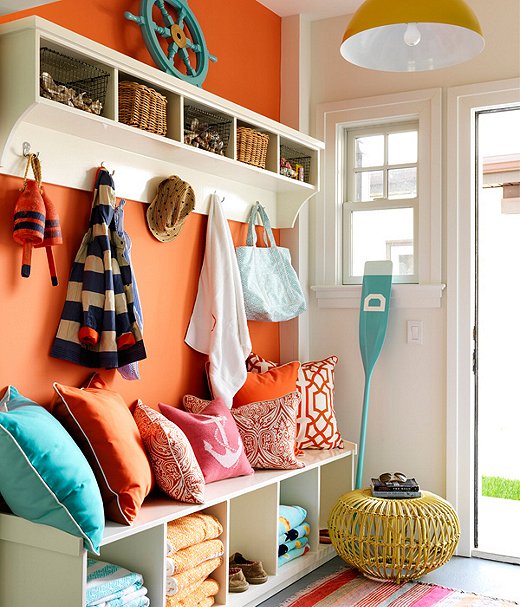 3.  In The Entryway
Paint it! No, really: Paint an accent wall a bright color in your entryway, mudroom, or even breakfast nook for little pick-me-up. It's an inexpensive way to change a room and because it's only one wall it can easily be done in a weekend.
Tip: Make sure to work with the interior architecture of your space and pick a wall that you want the eye to be drawn to—perhaps one that has exposed shelving or an A-line frame you want to show off.

4. In The Living Room
There may be nothing more soothing than a crisp, white living space. Like a good pair of white jeans, it exudes a relaxed and beachy attitude. We agree that this look may not be suitable for all families, especially year-round, which is why we recommend investing in some slipcovers for your sofa and chairs. You can easily wash and bleach them, so they're ready for all the sand, sunblock, and occasional margaritas you throw at them.
Tip: When cleaning your slipcovers at home, take them out of the dryer just before they are fully dry. By putting the fabric back on your furniture when it's slightly wet, it will take on a more sculptural fit to your piece as it dries.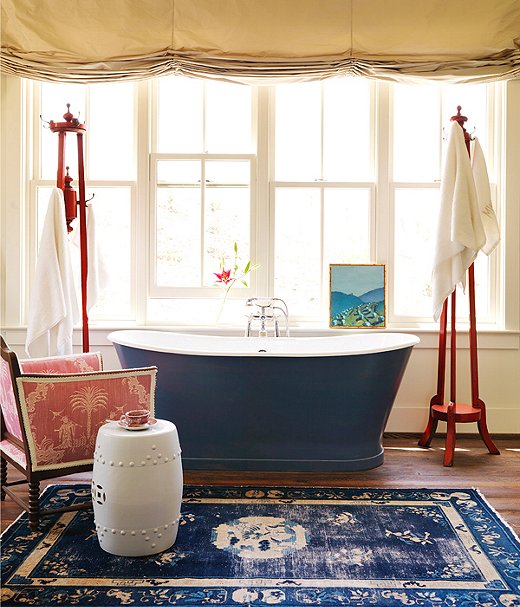 5. In The Bathroom
Adding red, white, and blue accents in one room of your home doesn't have to be as clichéd as you may think. The color combo screams summer yet can be executed with a subtle elegance that you just may want to keep all year long.
Tip: Think solids and color-blocking when putting together this look. Mix a solid blue piece next to a solid red or white. Then fill in with red-and-white or blue-and-white accents. Spread out the three colors across your occasional furniture and accents for a more studied approach to the palette.