There's something so thrilling about seeing a single piece of furniture styled in wildly different ways. Oh, the possibilities! Which is why we were so excited to partner with Taylor Burke Home on its second annual Style It Challenge  (check out last year's challenge here). The idea is simple: Three top design bloggers choose a size and fabric of the London Tufted Ottoman by Taylor Burke Home, plus a few other chic "extras" from brands such as Lacefield, Mitchell Black, Addison Weeks, and Times Two Design, then style everything together in a single room. The big reveal is finally here, and the results don't disappoint. Trust us, you won't want to miss what these three bloggers came up with.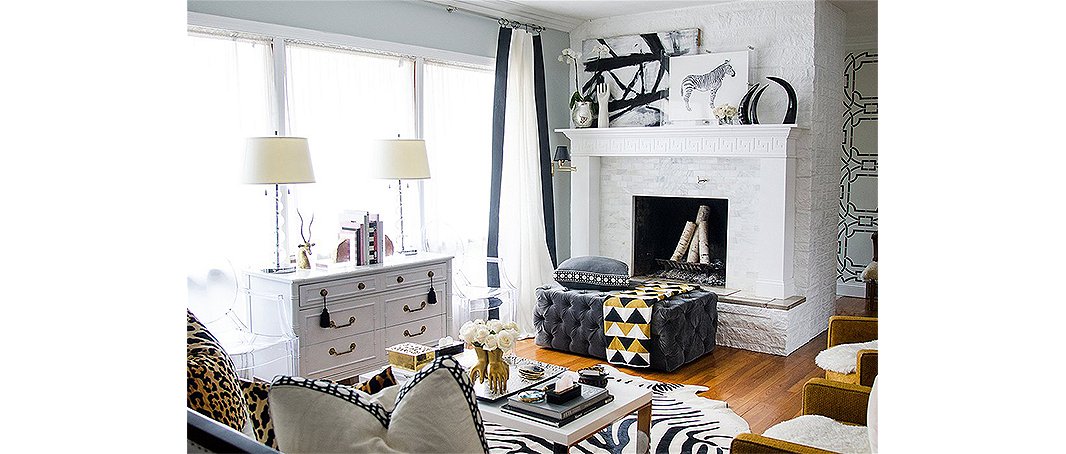 Blogger: Kristin Cadwallader of Bliss at Home
Her Design: For her ottoman, Kristin chose the 48″ x 29″ rectangular option, covered in sumptuous gray velvet. The color is right at home in the primarily black-and-white living room but also adds another tonal layer to the room. Rather than choosing just one use, Kristin shows the versatility of the piece: It functions as extra seating in front of the fireplace one minute and as a coffee table the next. The addition of a pillow and a throw make it an especially inviting spot to curl up.
Takeaway Tip: Look for pieces that can serve multiple functions in your home, and be open to switching things up. Moving things around periodically is the best way to unlock new uses for old pieces, giving your space a fresh feeling without breaking the bank.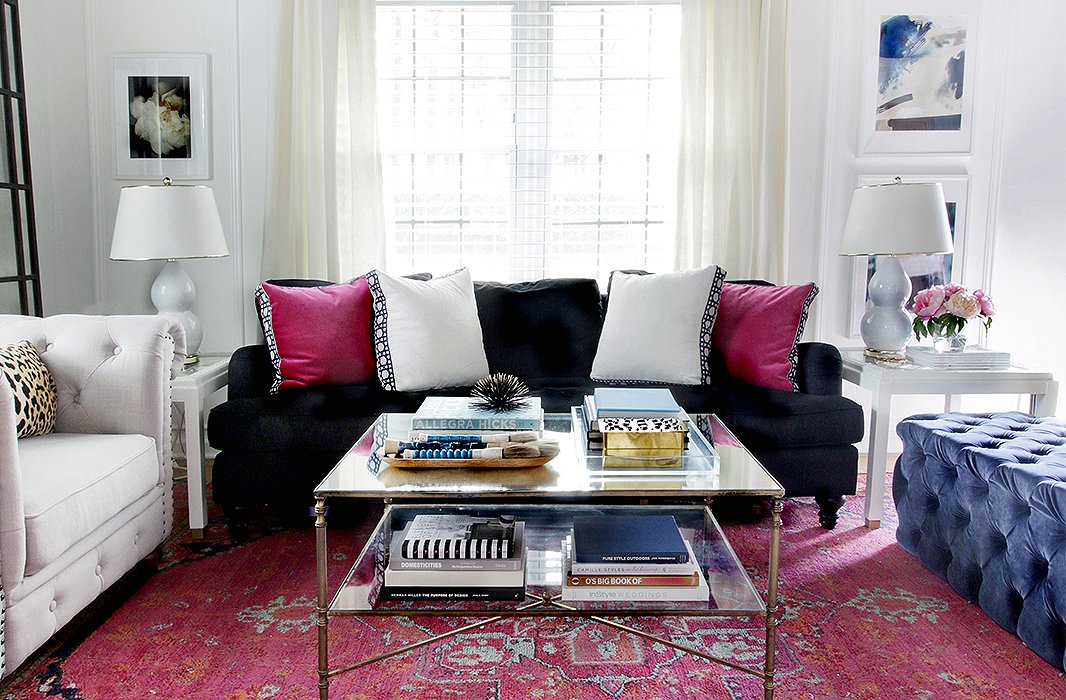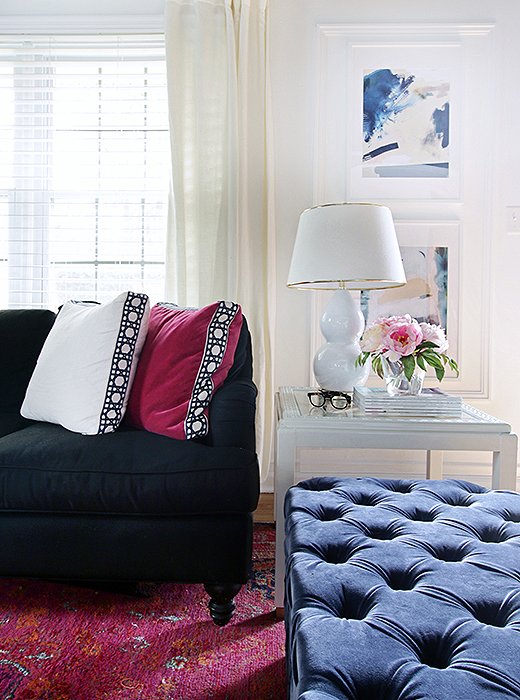 Blogger: Kristin Jackson of Hunted Interior
Her Design: Ottomans are often used for extra seating, but as Kristin of Hunted Interior proves, they can also replace more-standard seating options. Using the rectangular version of the London Ottoman, this time in a navy velvet, where another armchair would typically go keeps the flow of the seating area in her living room open and inviting. Blue joins pink as a second accent color used periodically throughout the room and ties back to the painterly print on the wall directly behind.
Takeaway Tip: Keep an otherwise symmetrical furniture layout feeling fresh by adding a wild-card choice into the mix.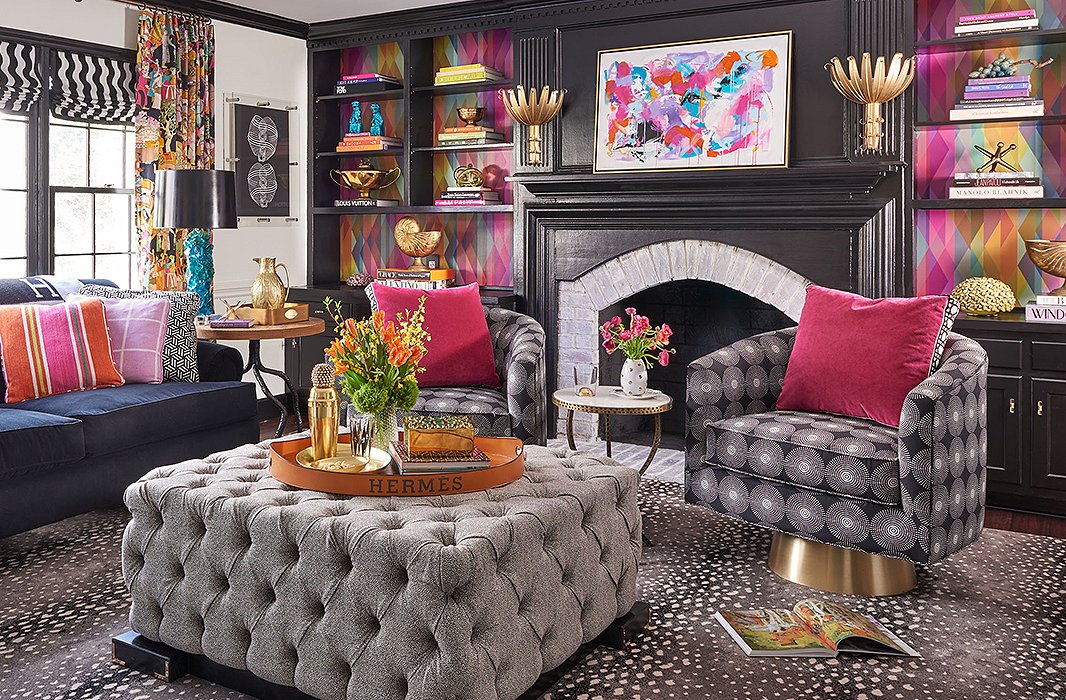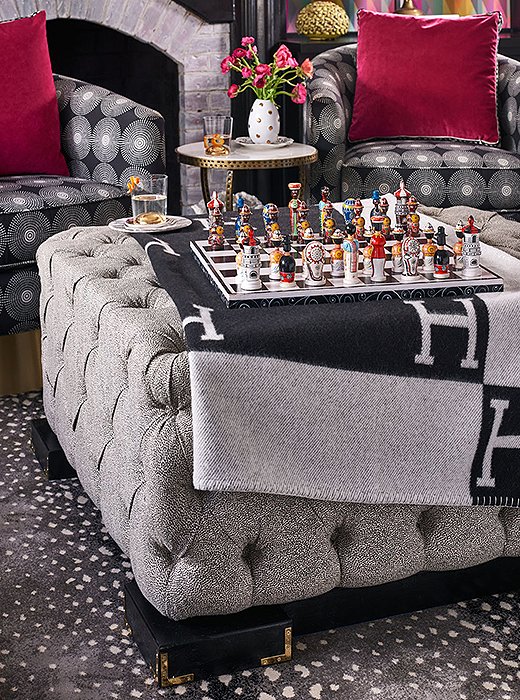 Blogger: Lisa Mende of Lisa Mende Design
Her Design: Rather than feeling large and in charge, the 42″ x 42″ square version of the London Ottoman in a subtly textured gray almost disappears into the backdrop of the gray-and-white speckled rug in this living room by Lisa Mende Design. You get all the convenience of a large piece with none of the visual heft, which allows the kaleidoscope of colors throughout the room to take center stage. The addition of a large tray instantly turns an ottoman this size into a spot for serving drinks when entertaining, and its shape and size means the ottoman can transform into a game table at a moment's notice.
Takeaway Tip: To easily dial the color palette of a room up or down, opt for furniture pieces in more-subdued hues and use accessories as your primary source of color. A hot-pink pillow is a lot easier to swap out than a hot-pink sofa if your tastes should change.