Rooted in practicality and a stylish addition to libraries or formal living rooms for centuries, the wingback chair is a classic worth revisiting for today's home. Striking, sensible, and überversatile, these winged wonders can be used in so many ways around your home.
Next to Your Fireplace
Angled in front of a working fireplace, these chairs will function as they were originally intended: to shield you from the direct heat of the fire. (History buff? Scroll down to the bottom of the post to read more.) And even if your fireplace doesn't function, draw attention to pretty detailing or a well-styled mantel by flanking it with a pair of chairs. You can always bring the heat with a bold upholstery choice.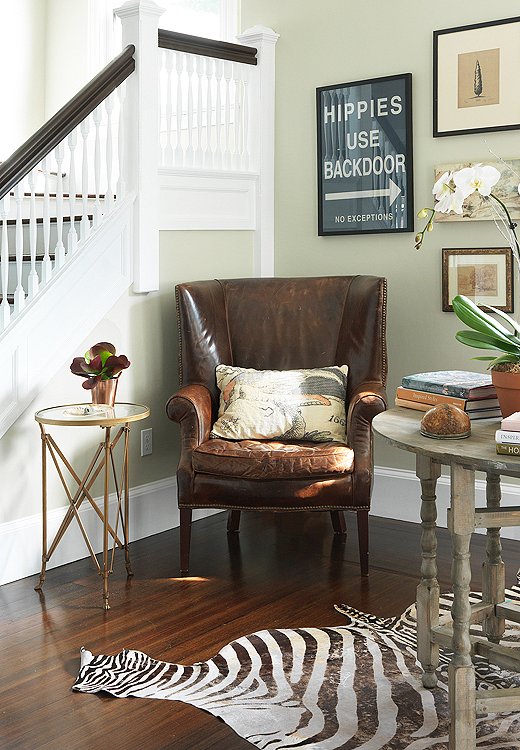 To Warm Up Your Entryway
A leather wingback placed in a foyer signals to all who enter that this is a cozy, comfy house where you can sit back, relax, and stay awhile. Plus it's always nice to have a spot on which to perch while taking off shoes or putting them on. And leather only gets better with age: Over time, a well-loved chair will develop that gorgeous inimitable patina.
In Lieu of Dining Chairs 
If you dig the look of mix-and-match seats (or your table fits eight, but you fell in love with a set of six you just couldn't pass up), consider subbing in a pair of wingbacks at the head and foot of the table. Their plush silhouettes are a fun juxtaposition against the leaner lines of more-traditional dining chairs, drawing your eyes outward and making the room seem wider.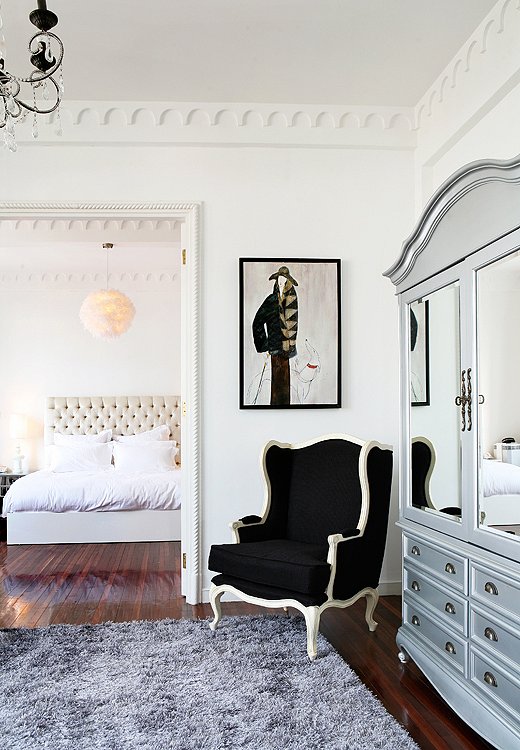 As a Bedroom Accent
There's something about these chairs that screams boudoir, especially when the style in question is an exceptionally curvy black-and-white design. If you're lucky enough to have a spacious closet, stick it in there, and you'll be sitting pretty while slipping on your shoes. Or create a lounge area in one corner of your room that's perfect for curling up with a good book. Feminine versions of this chair play well with luxe run-your-toes-through-it rugs, upholstered accents like headboards or ottomans, and sexy light fixtures.
Doubled Up in Your Living Room 
There's power in numbers: Make a distinct design statement by placing twin chairs side by side in your living or TV room. Topping them with a pair of matching pillows will further drive the point home. Generally speaking, when used in the middle of a space, lower-back designs don't break up the flow of the room; taller versions should be left to room edges and corners.
As a Stand-In for a Desk Chair
A wingback chair can make an eye-catching desk companion. It not only looks impressive, but it's also a comfortable place to park yourself while working. And the curves play well against the desk's lines and angles. Find a seat with low-enough armrests to allow you to belly up comfortably to your paperwork.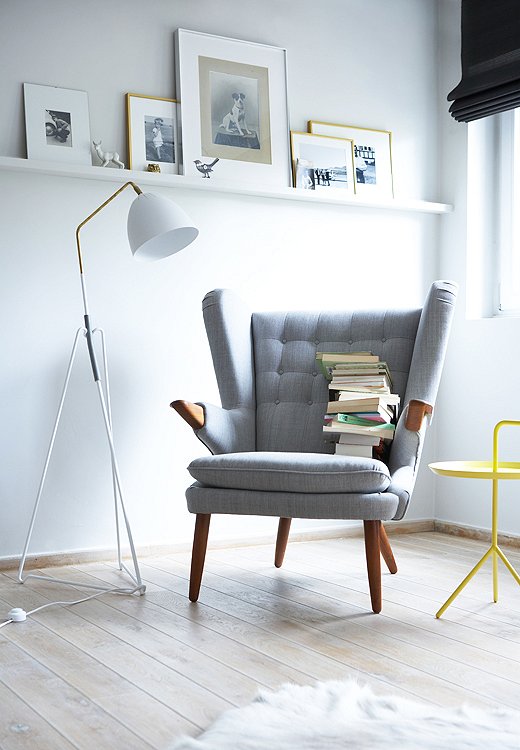 To Create a Reading Nook
Thanks to its height and stately presence, a single chair can give purpose to a hard-to-define space. Case in point: A little-used corner of a room becomes a reading nook when a wingback is flanked by a floor lamp and a petite side table. Angular, mid-century mod designs look cutting-edge when placed in sleek rooms verging on monochromatic.