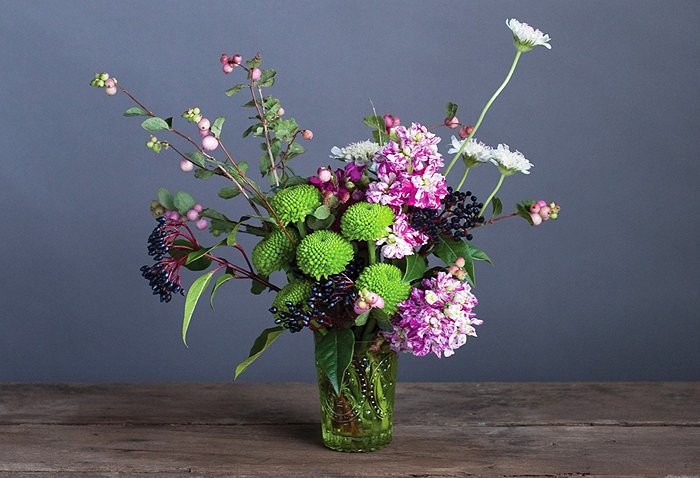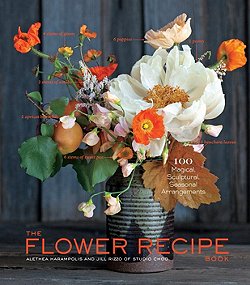 Pulling off a gorgeous flower arrangement is like achieving the perfect slightly messy updo—harder than it looks. So a couple of months ago we picked up the new Flower Recipe Book (Artisan Books) by Alethea Harampolis and Jill Rizzo of San Francisco floral-design company Studio Choo. In it, they ingeniously approach floral arrangements like recipes, including with each an ingredient list and step-by-step instructions accompanying lush photos. We've tried several of the "recipes" in the book, and no matter the fleur du jour, every last one has come out looking like we're dab hands in the flower department.
This recipe, excerpted from their book, features fall-loving chrysanthemums in a display that looks as fresh as a spring day.
Chrysanthemum Recipe 2: With Company
FLOWERS
5 branches of snowberries
3 stems of stock flowers
3 stems of viburnum berries
2 sprays of chrysanthemums
4 stems of scabiosa
VESSEL

Step 1
Choose a glass, tall enough to support the height of the snowberry branches, in the same color palette as the sprays of chrysanthemums.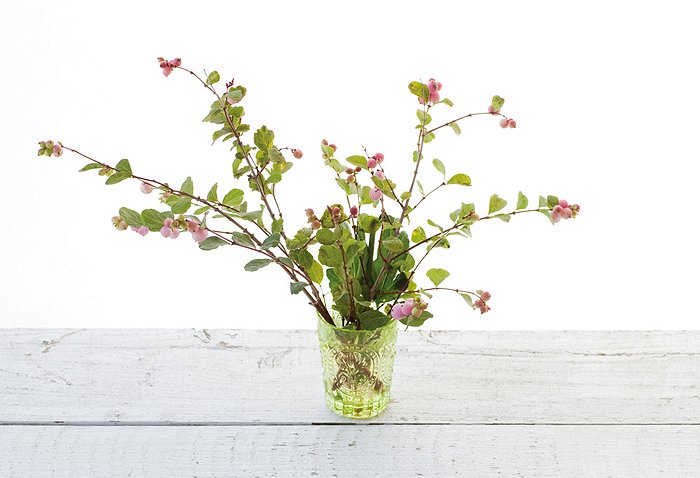 Step 2
Trim the snowberry branches so that the berries are at various heights. Add the branches to the glass so that the lowest leaves sit at the rim, placing the longer branches on the left.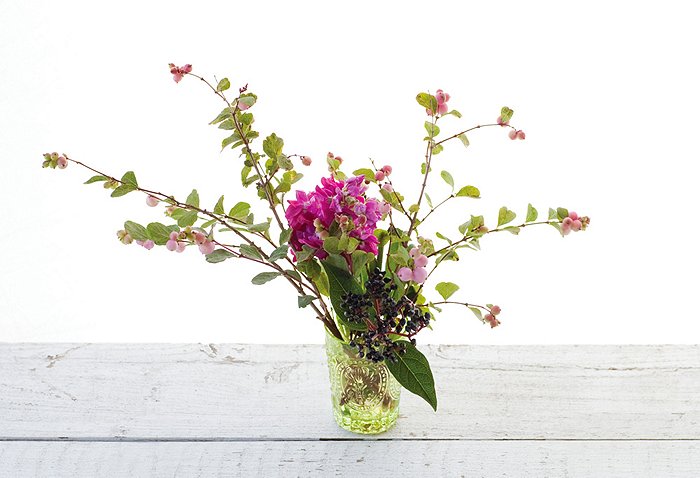 Step 3
Trim and add one stem of stock to the center of the glass and one stem of viburnum berries low in front.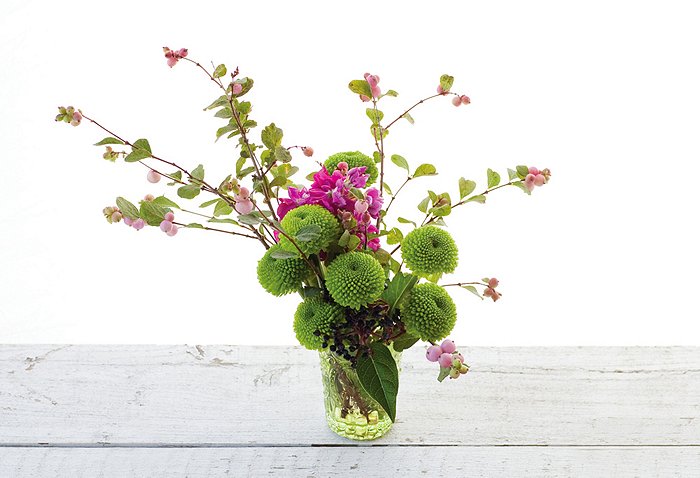 Step 4
Trim the sprays of chrysanthemums and add them to the front of the arrangement, clustering the blooms together. Trim and add the remaining stock stems and the scabiosa stems on the right side, trimming the scabiosa to balance the longest snowberry branch on the left. Finish by trimming the remaining stems of viburnum berries and placing them on opposite sides of the arrangement.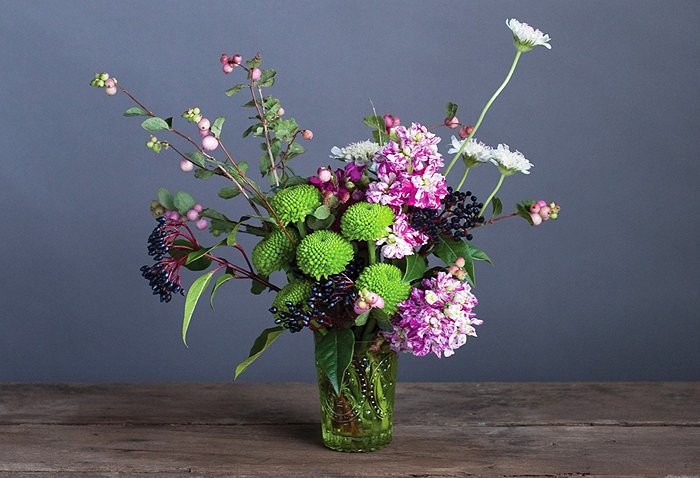 Step 5
Enjoy! (And invite some friends over to admire your handiwork.)
About the Authors
Best friends and business partners Alethea Harampolis (left) and Jill Rizzo (right) founded the San Francisco floral-design company Studio Choo in 2009 and promptly began gathering a cult following for their wild and undone arrangements of garden-fresh blooms. Today they offer deliveries around San Francisco, arranging classes for newbies, and dreamy wedding flowers for nature-loving brides. And as for their studio's moniker? It was named for Rizzo's adorably and abnormally tiny sneeze, a running joke between the pair.
Feeling inspired? Buy the book here!