I love gold leaf because it creates a surface with texture and dimensionality that you just can't get any other way. It's also a surprisingly versatile way to glam up the things you already own. After surveying the items in my house, I found three candidates that could use some gilding: the vintage darts on my pin board, a small lampshade, and a chair. Keep reading for more details on these golden projects.
The Darts
I loved the idea of gilding mundane objects. The best part is that they make an inspiring and functional addition to my pin board.
Reasorces: Widdy Darts from Kiosk
The Lampshade
To create an unexpected surface on this little bedside lamp I choose a fabric shade to gold leaf. The fabric's subtle texture highlights the imperfections in the foil and gives the shade a warm and earthy elegance.  A bonus of gold-leafing over a fabric shade is that your application can be less than perfect (ideal for first-time leafers).
Ready to get started?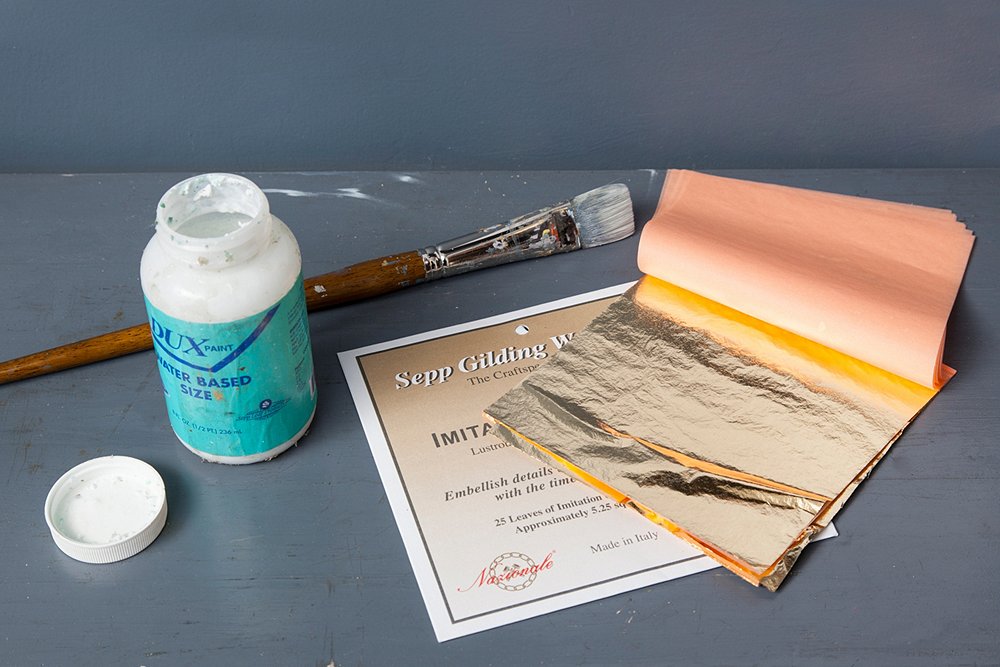 Directions
Begin by painting your surface or objects with the water-based sizing. It goes on milky white and dries clear and slightly tacky. Once the sizing is dry, you're ready to apply the gold leaf. Simply place the thin foil sheets onto the sizing until the entire surface is covered. Use a clean paintbrush to help maneuver the delicate leaf into place and smooth out the gilded surface. To finish it off, use the same brush to remove the excess foil.
Tip: The more you smooth the gold leaf with the brush or your finger, the less visible your seams will be, but be gentle.
Inspired to go a little further? Head over to Design*Sponge where I've posted all the details on this gold-leaf chair makeover!