Container gardening is perfect for small-space dwellers and those who want to have a bit more control over the look and feel of their garden space. The basics are simple: Find the right plant and match it with the correct container.
General gardening rules still apply: ensuring that the plant has enough water and sunshine to survive. Something container gardeners have to be on the lookout for more than other gardeners is rootbounding. This happens when the plant's roots have outgrown the container they are in, resulting in a matted knot of tangled roots that suffocates the plant. It can easily be mended by root pruning—removing the knots and breaking the roots apart before placing the plant in a larger container.
Container Considerations
Numerous containers, from classic clay pots to ornate urns, are suitable for container gardening. We'll go through three of the most popular below. 
Natural-material planters are your standard terracotta and other clay pots. These are a gardener's go-to for many reasons, top of the list being that the porous nature of the clay. Air and moisture move more freely in these types of planters, which benefits over-waterers. And because clay pots often have thick walls, they can more easily regulate temperature, a boon to small-space gardeners who are unable to move their plants around a large area to chase or hide from the sun.
Designer pots are a popular choice of the aesthetics-focused gardener. The best don't sacrifice function for form, however; for instance, they'll include slats in the bottom to help prevent root rot and encourage growth. Planters made of all-weather teak, like our Highland Teak Planter, are a great option for a natural look. Coated aluminum planters, such as our Frances Planters, offer an elegant addition to any garden. Cast-stone and fiberstone planters have all the patina and charm of natural planters while being as durable and stylish as designer planters. Fiberstone planters have the advantage of being lighter in weight than their cement look-alikes as well.
Hydroponic containers are the latest craze in gardening and a particular favorite of balcony gardeners. Hydroponic gardening works without soil, growing plants in a mixture of water and nutrients. This method  works especially well for edible plants. Hydroponic gardens require specially made containers that require cleaning more regularly than other pots.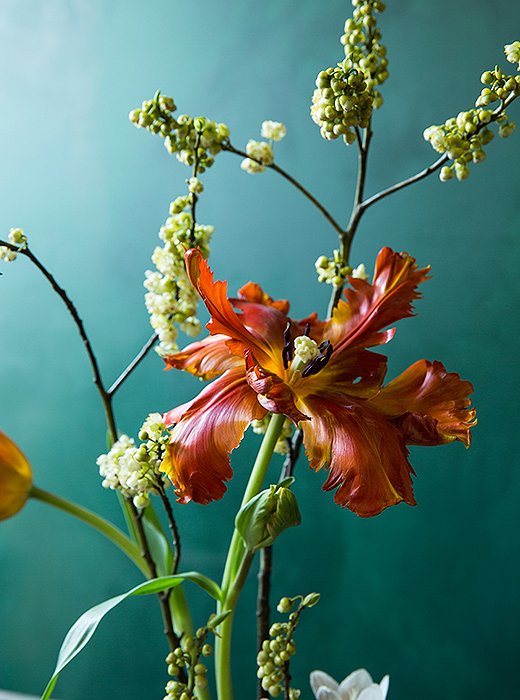 Posh Potagerie 
Not all plants or flowers are suitable for container gardening due to their extensive root systems. The larger the root system a plant has, the larger a container it will need. Gardeners should be on the lookout for roots poking up to the surface as evidence of a rootbound plant. If a plant has outgrown its pot, it may not produce as many blooms or fruits. When upsizing containers for growing plants, it is best to go at least 25% larger than the existing pot to give the plant enough space to spread out.
Large flowering plants, like the hollyhock or the sunflower, will most likely need individual containers. But flowers with smaller root systems can usually be grouped with other plants in a single container.  Below, we've listed some of our favorite flowers for container gardening.
Full-sun plants: portulaca, petunia, angelonia, lavender, geranium
Partial-shade plants: begonia, pansy, viola, lily of the valley, bleeding heart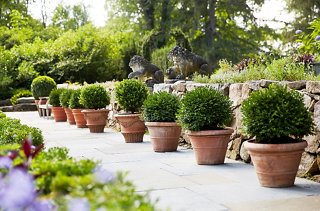 Design Decisions 
Container plants make wonderful opening salvos to formal gardens. They add the air of elegance and rigor that formal gardens require. Think no further than the French gardens with their containers of boxwood trees, manicured to perfection. For less formal gardens, container plants offer fun, movable design options. As the light changes over the growing season, you can move planters around to meet their needs. This offers an element of the unexpected to regular visitors of the garden.
Think of planters as exclamation points in your design. Use them with as much gusto, or as sparingly, as you see fit for the personality of your garden.