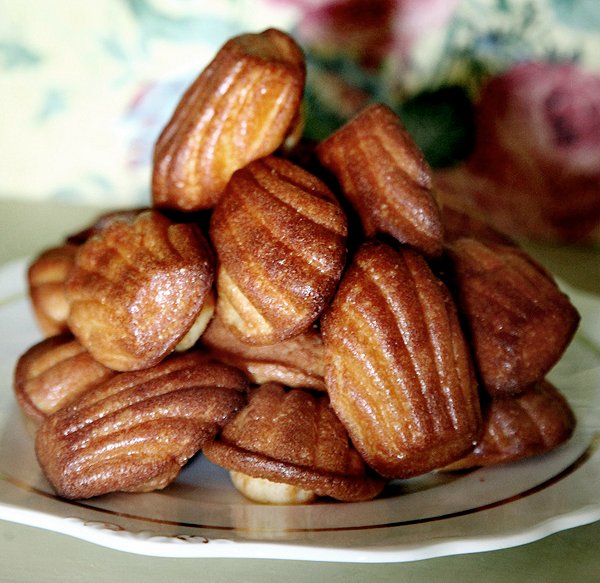 Mimi on Madeleines
I've been in love with madeleine cakes since I was a child. Today, my kids love these little treats at the hour of thegoûter, the teatime snack after school, along with a glass of milk. Shaped like elegant shells, these soft and buttery gems are suitable for any occasion.
There are various versions of this famous recipe, but for me, it has to have orange blossom. The smell is pure comfort and joy. Orange blossom is renowned for its purity and calming effects, especially when mixed with honey.

Ingredients

Makes 12-15 cakes
2/3 cup sugar
2 tbsp honey
1/4 tsp salt
3 eggs
1 1/4 cup plain flour
1 tsp baking powder
1/2 cup butter or margarine, melted
2 tbsp orange-blossom water
1 tsp lemon zest
Madeleine cake molds (I use silicone ones)
Directions
1. Whisk sugar, honey, salt, and eggs together until light and fluffy. Sift flour and baking powder together, then gradually fold in the egg mixture and mix gently.
2. Add the melted butter, orange-blossom water, and lemon zest, stir lightly, cover, and leave to rest for at least 2 hours or overnight in the fridge. It is very important for the batter to be cold before baking; the thermal "shock" is necessary for a good "bumpy," round madeleines.
3. Preheat your oven to 350°F.
4. Butter your molds and sprinkle with flour. Add one good teaspoon of cold batter into each of the molds. Bake for 10-12 minutes, depending on how big your molds are.
5. Remove from oven and let cool. When ready, use a round-edged knife to delicately lift each cake out of the mold.
Huge thanks to Mimi for sharing her wonderful recipe with us! If you'd like to see more of her delicious recipes, visit her blog Manger.