We're excited to bring you our latest venture: the second location of The Studio at One Kings Lane, now open in San Francisco! Located in an airy warehouse space in our SoMa offices, the new Studio brings together everything we've heard you ask for—a West Coast outpost that lets you touch, feel, and see our wide selection of online offerings, more design help where we solve your decorating dilemmas, and of course, new ways and places for you to discover ideas and inspiration for your home.
If you're new to our Studio design services, here's how it works: You make an appointment with one of our in-house design experts for a consultation (totally free!). And while The Studio isn't a store, your personal designer will answer your decorating questions, provide design ideas and inspiration, and guide you in shopping our vast online selection—all aimed to help you create a home you love.
Keep reading to tour our new S.F. space featuring our best and newest finds, get tips from our lead designer (in response to some of our most frequently asked questions), and book a one-on-one appointment to stop by The Studio.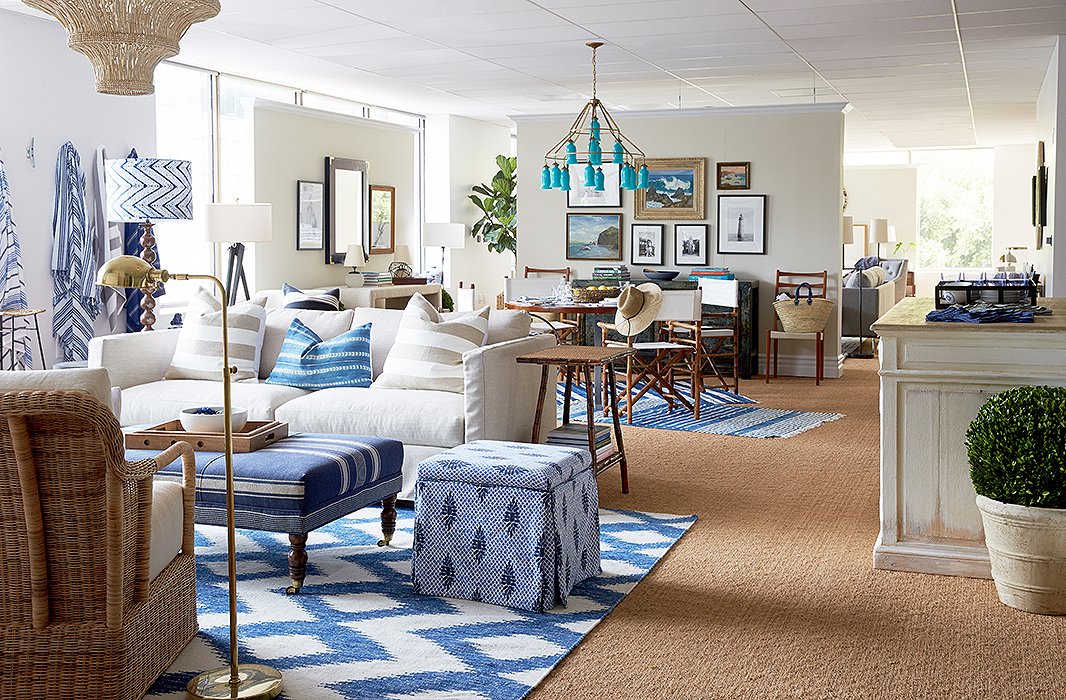 Inside The Studio: Summer Is Here!
With summer on our brain, we tricked out our West Coast Studio with the seasonal looks we're loving. One brings to mind an elegant and blissful beachy retreat brimming with gorgeous rattan and slipcovered seating, breezy blues and whites, soft rugs and other casual comforts. The other captures a light and sophisticated city pad outfitted with tailored sofas and club chairs, a mix of gleaming gold and glass, dark woods with raffia, and a chic sense of ease. Both capture the stylish and inviting mix we love to bring to every room in the home.
What's more… many of the pieces in the San Francisco (and New York City) Studio are new and existing designs that are now always available and found only on our site.
Shop Our Beachy-Elegant Summer Look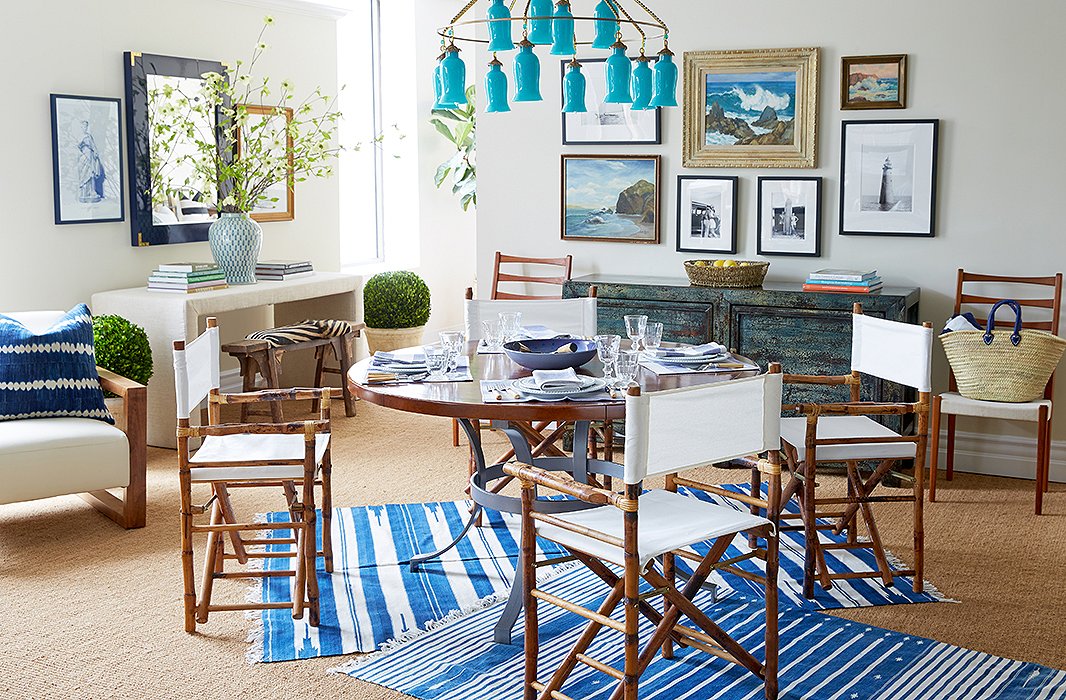 6 Tips Straight from The Studio
For some decorating guidance we can all use, we chatted with Alex Reid, The Studio's talented head designer, who has led the charge on many One Kings Lane makeovers. He shared some of his favorite tips for creating spaces that are both chic and comfortable.  
1. Juxtapose the Old and the New
Vintage touches, big or small, will always make a space more dynamic and personal. For The Studio, he brought in a simple series of vintage artworks and seascapes that he juxtaposed with black-and-white photos. The combination results in a studied display above a sideboard in the dining area. "It's fun to juxtapose designs and eras," Alex says. "Think of it as an evolved mix of elements."
2. Plan Your Palette for Prints
One decorating approach Alex abides by is always starting with a clean-slate palette. "Edit down your color scheme and then bring in texture through prints. As long as your color scheme is set tight, you can vary your prints," he explains, noting that The Studio's medley of stripes, ikats, and medallions is grounded in crisp blue and white. "This gives a space a more dynamic flavor and and lots of texture."
3. Bejewel with Lighting
"Light fixtures are really like a crown and a piece of jewelry in each room," says Alex, who hung a range of large sculptural chandeliers throughout, from a beaded horn fixture in the beach living area to an elongated bubble pendant above the city vignette. "Their statement styles really help to tie all these spaces together."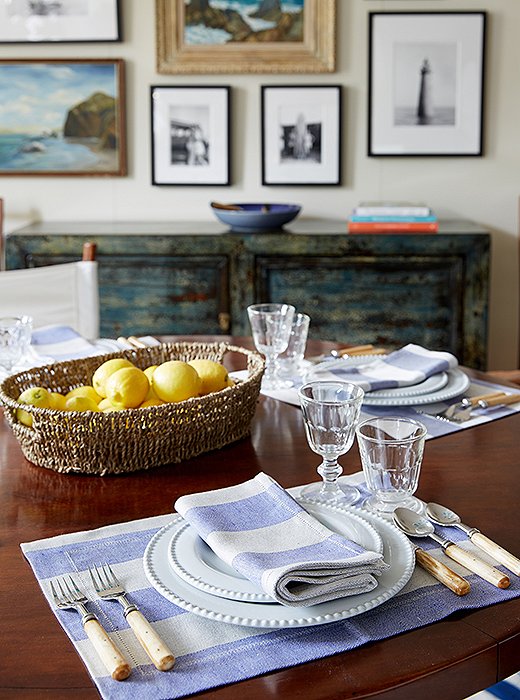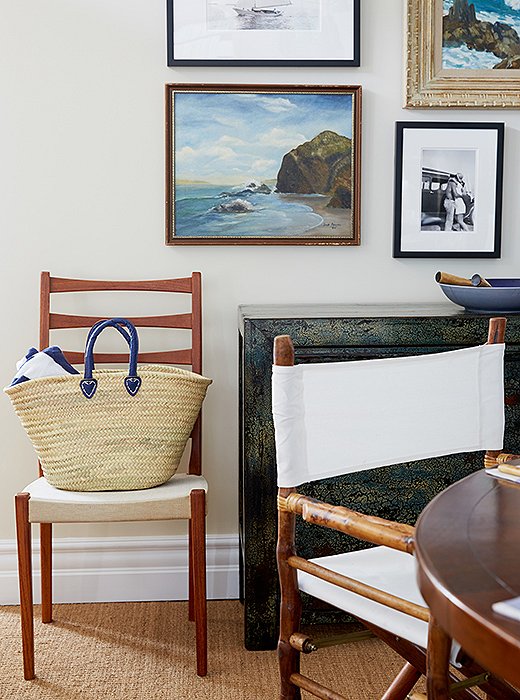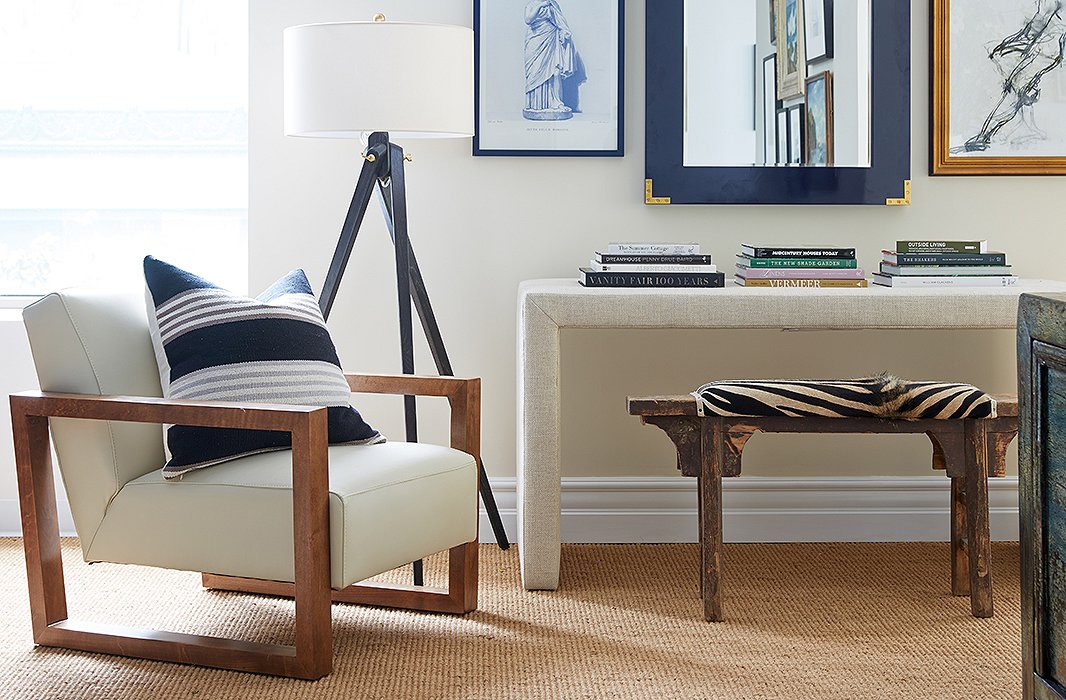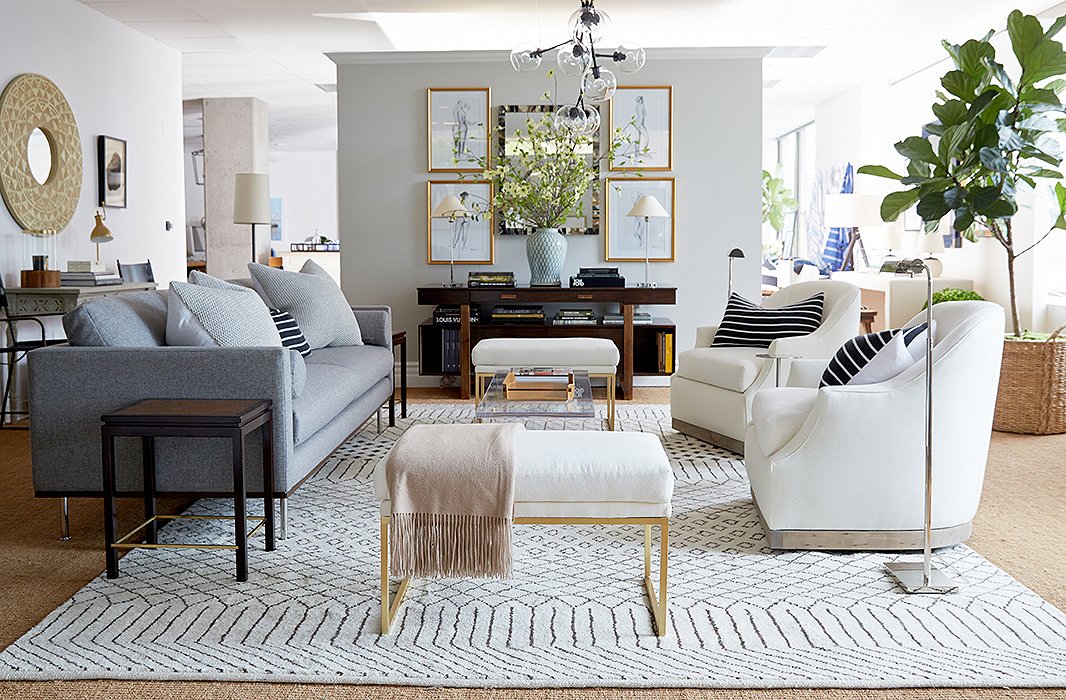 4. Explore a Modern Mix
"I've had a lot of people asking for more modern pieces and cleaner lines," says Alex of a recurring theme among visitors seeking a contemporary look that's also welcoming. "We always like to mix in modern. For instance, the city bedroom in The Studio has one of our new upholstered beds that I love that's really affordable with great brass lines, summery Matteo bed linens, and mixed dark-wood nightstands. So even though it's more clean-lined, it's still relaxed but layered."
5. Take a Step Back and Get Inspired
The one overarching (and equally overwhelming) question Alex encounters from visitors: "How do I pull it all together?" His answer often focuses on inspiring rather than providing strict instructions. "I want people to feel inspired to arrange their rooms by seeing their rooms in their entirety. Then you can take apart the space, see how you can mix things, arrange it, and then thread everything together."
6. Evolve with Your Style
"Design is all about editing what you currently have and then really taking advantage of every single inch of your room to be fully functional," Alex says. "Someone might be starting from a blank slate; maybe you're not. It's about exploring ideas, unlikely combinations of things, and trying anything once to define your style in the best way. That's where it can be a science—and we can help you pull it all together."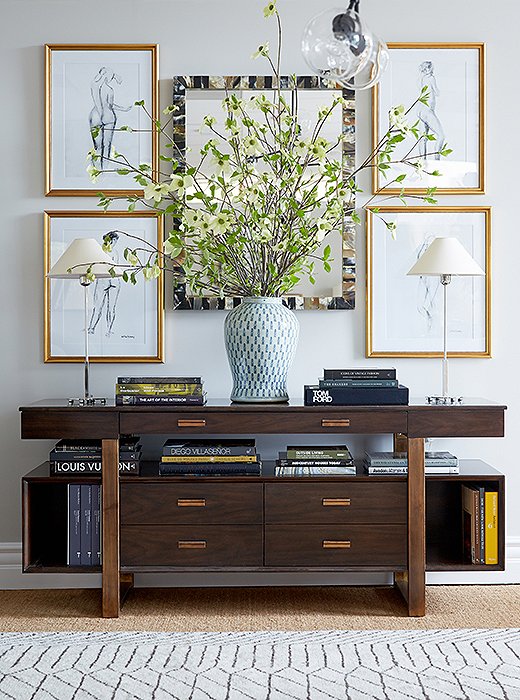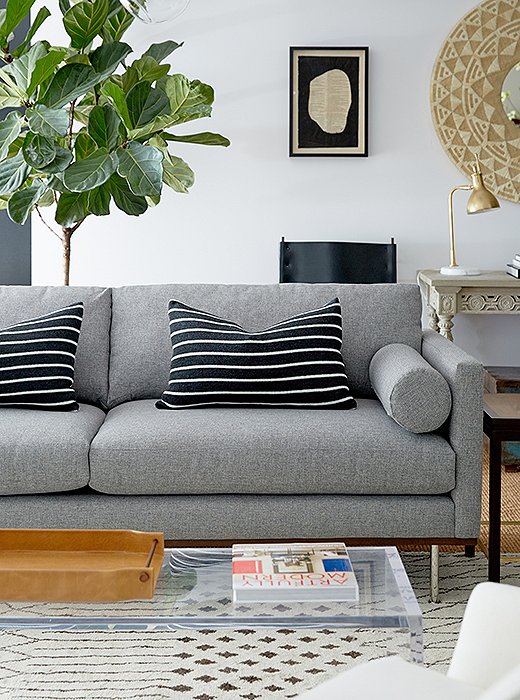 Shop Our City-Chic Summer Look